What is your favorite turkey hunting shotgun?
03-02-2011, 12:20 PM
---
My one (and only) turkey gun is a thirty-seven year old Remington 1100.

I keep saying I'm going to buy a new turkey gun every year and retire my old one, but I just haven't done it yet (and might never).
03-02-2011, 05:17 PM
---
Mossberg 835 is THE turkey gun. I'll never use anything else.
03-03-2011, 07:57 AM
---
Another vote for Mossy 835. Remington 870 is right in the mix as well.
03-03-2011, 04:00 PM
---
Whatever knocks them dead. Currently using Mossberg seems to do the job just fine.
03-04-2011, 04:42 AM
Nontypical Buck
Join Date: Feb 2003
Location: Warren County NJ USA
Posts: 3,769
---
Mossberg 835
03-04-2011, 05:59 AM
---
Favorite Turkey Gun is my TK 2000 muzzleloader
03-04-2011, 12:31 PM
03-05-2011, 06:00 AM
Spike
Join Date: Dec 2008
Location: ohio
Posts: 96
---
I cant be the only one shooting a Browning.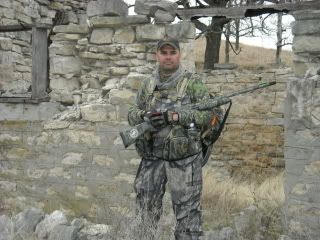 03-05-2011, 06:36 AM
---
As I mentioned in another thread, my brother has stepped down to an 20 gauge 870, laminated stock. Really nice setup. The Claw sling, Jellyhead choke, Nitro ammo. Shoots great at 40 with Nitro's and Hevi #6. He is thinking that he may keep that as his permanent turkey gun. He has shot EVERYTHING (SX3, Nova, SBEI, 870) and thinks this might be the one he marries, so to speak.

I once owned a Mossberg 835 and it shot really bad to the right. My Father-in-law shoots an old Mossberg 500 that he will probably not part with. I've considered getting a short barrel and thumbhole stock for my old 870 and making it a dedicated turkey gun.