whats everbody throwing at turkeys next spring
12-05-2009, 05:20 PM
Fork Horn
Join Date: Sep 2009
Location: maine
Posts: 139
whats everbody throwing at turkeys next spring
---
hey everybody ive been turkey hunting for a few years here in maine i do alot of scouting prior to the hunt and have got one on opening day every year, this past summer i bought a bow and have been thinking off sticking one this year with that. just wondering what everybody else is useing for broadheads or even what gun,caliber,shot size everbody uses. so far ive shot two with a browning bps 10 guage with remington #4 shot through an extra full tube wow they dont even think about up also shot two with 12 gauge mossberg 835 actually shot them with # 4 steel that i had left over from duck season Hey it worked !!
12-06-2009, 07:32 AM
Nontypical Buck
Join Date: Feb 2003
Location: Pa
Posts: 4,647
---
Dont see me ever trying a bow for spring gobbler... Hard enough with a SP turkey gun!!

My gun of choice will prob be my old 870 with a 26" barrel teamed up with a Rem Ventilator choke and Win 3" HV #5's... Good out to 45 yards...
12-07-2009, 02:31 PM
---
I assume you mean in addition to several strings of curse words.
I got a hold of some Rem. Wingmaster HD. I dropped a few long beards with Hevi-shot and can't complain. I can't wait to see how the HD compares.
Just so the message doesn't get lost in the bragging about this shot or that super-duper alloy, lead works great too.
I've spent a few $$ on heavier-than-lead shells and specialized chokes made for 'em, I'm bound to try and get my moneys worth from the investment. That said, I dropped my first two birds with Win. Supreme 2.75" #4 shot, 'cause that's all I could find at the store for turkey loads....you could not have made them any deader with any shell.
---
Last edited by JoeA; 12-10-2009 at

02:42 PM

.
12-07-2009, 08:57 PM
Fork Horn
Join Date: Apr 2009
Location: central wi
Posts: 245
---
as far as a bow goes....they say stick with a turkey head aka like gullitine or other brands like that. or an expandable. you dont want the arrow going threw the bird you want it sticking in the bird as long as possible.........i guna use rage 3 blades this spring on my gobblers
12-08-2009, 10:09 AM
---
12-09-2009, 07:17 AM
Nontypical Buck
Join Date: Feb 2003
Location: NewLowell ,Ontario ,Canada
Posts: 2,765
---
Originally Posted by
superstrutter
Joe, I also shoot the Rem. Hevi shot, the ones they don't make anymore. I still have a couple boxes of them in 3 1/2" 5 shot. The HD's actually pattern better in my gun than the hevi's, but I'm still going to use the hevi shot while I have them. They have worked great for me throughout the years. I will probably mix the HD's and the Hevi shot. I shoot an 870 12ga. SPS-T thumbhole with a Jellyhead choke. The HD's pattern better than any other load I have tried, including the Hevi 13's, which by the way pattern horrible in my gun, and the Win. Xtended.
SS what Hevi 13 shells have you tested ? The 1 5/8 are not a good shell. A great combo is the .665-.670 Pure Gold with the Hevi 13 #6 2 oz loads.
I'll be holding up my Benelli Nova 20ga with a .570 Pure Gold and 3 in, #6, 1 1/4 oz Hevi 13 loads with patterns like this at 40 yards why carry a heavy 12 gauge...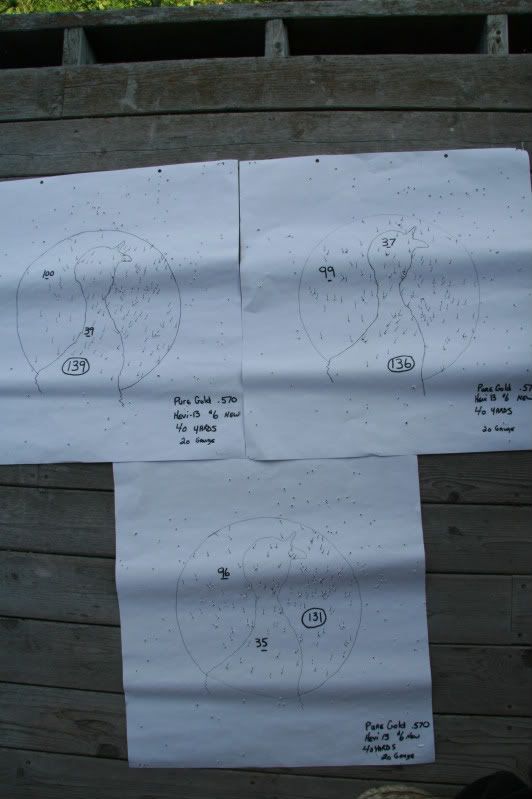 ---
Last edited by Adrian J Hare; 12-09-2009 at

07:27 AM

.