I'm tagged out....
04-26-2009, 04:55 PM
I'm tagged out....
---
Hello everyone! I haven't been on here much but I thought I would share this years turkey season with you. I don't think I did to bad considering this is my first year turkey hunting.
------------------------------------------------------------------
First turkey of the year (March 22nd):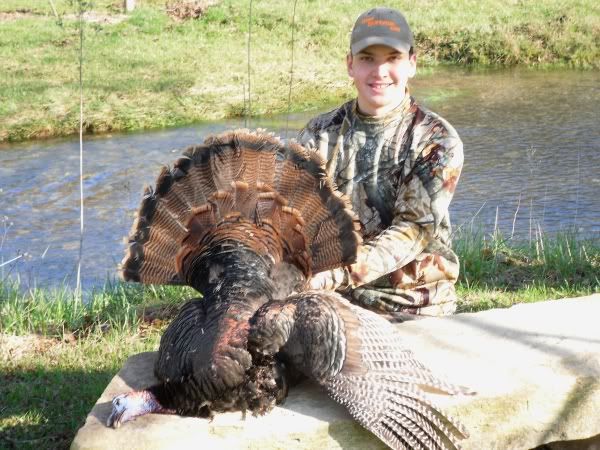 Story: John, Larry, "Shorty" & I got to our hunting spot at the break of dawn and setup in a tree line with a field to our back and a field in front of us. We setup the decoys in the field in front of us.
After we got settled down John started calling and got about 20 turkeys gobbling! At this point I was pretty excited about this hunt. After about 15 minutes 3 turkeys came flying in overhead. The 3 hens landed about 100 yards from us but didn't come any closer.
Ten minutes later 3 more hens came walking in from the field behind us and walked by within 15 yards! Still no toms or jakes.
After about 20 minutes of nothing happening John decides to go ahead and scout the other fields where we heard some turkeys gobbling. About five minutes after he left, Larry looks behind us, (in the field that was to our back) when he spotted 10 turkeys heading our way! We quickly turned around and got ready for the incoming turkeys. A couple of them were toms and Jakes! Woo-Hoo!
When we finally got in position and all settled down. The turkeys were only 100 yards away and closing the distance fast! When the turkeys got within 30 yards I got ready to shoot. I asked Larry, (who was filming) if he was on the tom to the right that was strutting. He replied he was, but there was a tree in the way, so therefore I couldn't shoot, Then finally Larry could see the Turkey but I couldn't! He was now behind a tree in front of me so AGAIN I couldn't shoot! (Keep in mind this Jake is with 9 other turkeys who are only 20 yards from us and all walking right at us!) When the Jake reached 15 yards, I got the O.K. from Larry.......BANG!........ Turkey down! As soon as I pulled the trigger, the Jake hit the ground and never moved again!
What a great way to start the turkey season! I would like to thank John for taking me out there and guiding me on this awesome turkey hunt!
------------------------------------------------------------------
Turkey Down! (April 11th)
STORY
------------------------------------------------
As I walked to the top of the "mountain" a blanket of heavy fog covered the ground. It was a beautiful morning for turkey hunting, but a little on the cold side for what I was wearing.
Once I reached the top of the mountain I started to call with my "H.S. Crystal Call". I would walk 75-100 yards, stop, call, and listen for a response. On my third stop I called and heard a faint *
gobble gobble
* in the distance. Upon hearing this I slowly waked halfway down a hill in the direction of the turkey(s).
Once I got all settled down I called again and almost instantly, I got a response! *GOBBLE GOBBLE*
These turkey were still a ways away as I could only faintly hear them. After about 7 more minutes I called again and instantly got another response! After 45 minutes of this the turkeys sounded like they were getting closer.
I put down my call and shouldered my shotgun as I waited for the turkeys to emerge from the thick vegetation and branches below me.
Finally I saw four jakes walking towards me at 75 yards. (I quietly waited as the turkeys closed the distance.) At 45 yards the turkey angled away from me and started walking straight up the hill from where I came from.
When the lead turkey reached 40 yards I fired.... the turkeys ran around in circles but the lead jake only walked a few yards away as though nothing had happened. I quickly chambered another round and gave him two follow up shots, which sent him to the ground flopping.
After all the commotion of three shots being fired and a dead turkey laying on the forest floor thrashing in the leaves, the three other jakes that were following him were all staying put. 30 minutes later they finally walked away and I retrieved my bird.
I went to where I last saw him by a log but he wasn't there! After a few minutes of searching I saw his fan sticking out from underneath a log! This jake had somehow managed to get himself behind and underneath a log!?!
------------------------------------------------------------------
Big Turkey Down! (April 25th)
Story:
Friday morning, my dad (Airborne Willie), little brother (Thor) and I were hunting a field without much luck. We called and called without one single response. We only saw a few hens - no jakes or toms.
Saturday morning we decided to sleep in because the turkeys weren't responding to our calls. To make a long story short I woke up at 6:45 and walked out the back door of my house only to hear *GOBBLE GOBBLE* This is ridiculous....
I run into the screen room, throw on my camo, (I think I broke some sort of record for how fast you can get fully dressed in camo.) Loaded the 870 EXPRESS 20 gauge with 3" magnum 6 shot, and I was off to the four wheeler.
Upon arriving at my hunting spot I get off the four wheeler and walk about 200yards up a trail. I hit my call and immediately I get a response, *GOBBLE* *GOBBLE* it sounded like he was only 80 yards away! I quickly keeled against a fallen log and waited for the turkey to make his way towards me. After about 2 minutes he came running through the woods straight at me!
I picked a spot between two trees........ *BOOM* I dropped him at 35 yards. This hunt took a grand total of 5 minutes from the time I got off my four wheeler to the time I killed him. Overall this was a very short but sweet hunt!
------------------------------------------------------------------
(April 26th)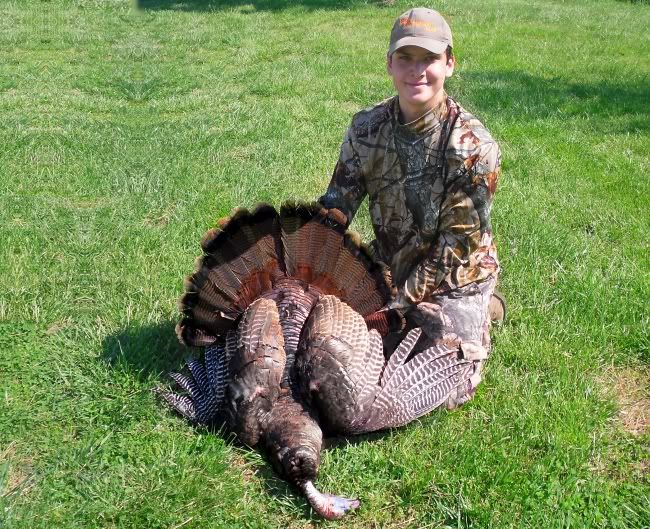 This morning we all got up early, (Airborne Willie, Thor, and I). We were trying to get Thor, a.k.a. (Davey) his first turkey. We got to our hunting spot right at daybreak. Davey and I setup along a trail were I've been seeing a lot of turkeys, while Airborne Willie headed up the trail.
I called and nothing happened. Then about 5 minutes later...
*GOBBLE* *GOBBLE*
Five minutes later a nice tom emerged from a thicket 50 yards away. I told Davey not to take the shot because that was really pushing the limits of the little 20 gauge. The tom walked past us just out of range
and then proceeded to gobble it's head off behind us... :crazy:
After waiting another 15 minutes(grrr) we heard gobbling behind us down a ridge. The gobbles seemed to be getting fainter and fainter, and moving away from us. I knew where they were going so I decided to try cutting them off.
Once we got to our new location I hit my call followed by a few gobbles. This continued for 45 minutes then nothing, no response. It was obvious that these turkey weren't going to come any closer. Dave wanted to go home so we packed up and moved out...
After I dropped Dave off, I returned to the woods. I hit my call again and, got an immediate response. (The gobble was from the same direction that I heard when I was here with Dave earlier. I quickly headed in the direction of the gobble and then hit my call again.... nothing.... I continued to slowly walk to where I had last heard the gobbles.
Then.......... just as I was scanning the woods, I saw 3 jakes and a hen looking at me... :shock: They all saw me but they couldn't tell what I was! I held perfectly still. They kept on walking back and forth at 30 yards trying to figure out what I was. I slowly raised my gun and took aim at the biggest birds head.....Boom......Bird down! What a way to end the season... :thumbup: (I filled my quota.) :thumbup:
Not bad for my first year of turkey hunting...
Next Year if when I get the hang of my back tension release I may try to fill my quota the HARD (er) way!! He He :lol:
Thread
Thread Starter
Forum
Replies
Last Post
Posting Rules
You may not post new threads
You may not post replies
You may not post attachments
You may not edit your posts
---
HTML code is Off
---