Hevi-Shot...really that amazing???
04-04-2008, 04:27 PM
RE: Hevi-Shot...really that amazing???
---
The Hevi-shot has been amazing through our turkey guns, in fact other brands don't even begin to compare. From both of our favorite turkey rigs,a Benelli SBEII and a T/C Encore Pro Hunter, the Hevi #6 shot incredibly well out to any range we/ve tested them. I've found that I can get more pellets in a pattern target at 60 than I could traditionally at 35-40 with standard lead factory loads!
Heres a good side by side comparison between standard Winchester XX and Hevi-Shot..... no contest!
above group fired fromT/C Encore Pro
[email protected]
40 yards using Black Diamond Strike custom choke from Indian Creek
I have NO reason to ever shoot another load from my turkey guns!
04-09-2008, 09:36 PM
RE: Hevi-Shot...really that amazing???
---
ORIGINAL: mouthcaller

Strut Stopper

"Oh brother let's go down, let's go down come on down, Oh brother let's go down, down to the Hevishot load".

In the immortal words of Delbert in Oh Brother Where Art Thou, "ThatNitro preacher done washed away all my sins from usin' them lead turkey loads".

Sorry, I couldn't resist.

I promise you won't regret it. I have an 835 with the ported 24" barrel. It shot lead "OK" with a StarDot .676 choke but the difference between the Nitros (or Hevi-13 for that matter) and lead was like night and day. My forty yard Nitro pattern (see page 1 of this thread) looks like a lead pattern shot from 20 yards.

But don't just take my word for it - see for yourself. Prepare to be amazed.
mouthcaller - I saw the light! I was holding my target up and the light was shining thru all of those little hevi-13 holes! In fairness, I hadn't tried any 3.5" shells in lead, but the best I could do at 40 yards was 68 pellets in a 10" circle. 3" hevi-13s put 102 pellets in the same sized circle. 3.5" Hevi-13's put 165 pellets in the same 10" circle at 40 yards. Here's a pic: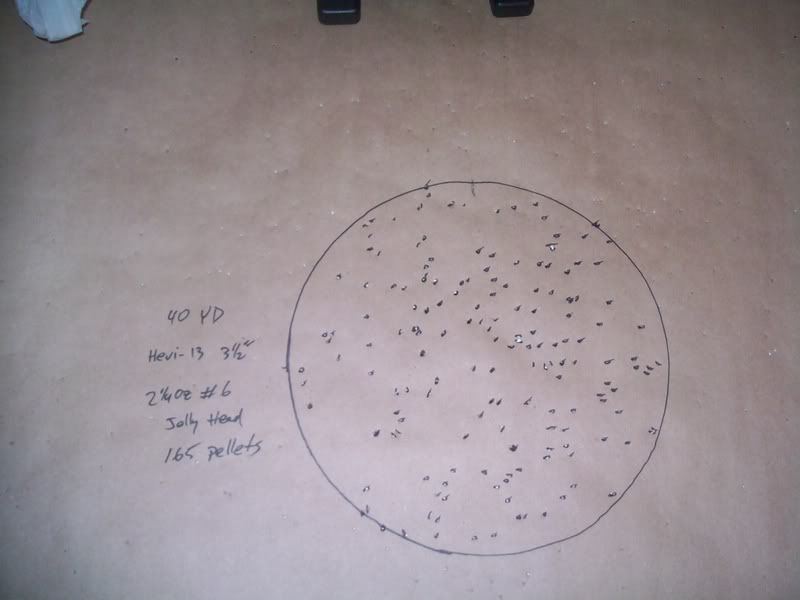 04-09-2008, 10:14 PM
RE: Hevi-Shot...really that amazing???
---
Stopper,

Glad that your pleased with Hevi-13's performance and saw the light. Huge difference, isn't it? Now, if you want the ultimate, step up to the Nitro 4X5X7 2.25 oz 3.5" load and prepare to be further amazed.ou may just double those 10" circle hits at 40 yards.

Either way, a dead turkey will be the result for about the same investment.

Mouthcaller

04-10-2008, 12:09 PM
Fork Horn
Join Date: Sep 2003
Location: Jamestown, KY
Posts: 207
RE: Hevi-Shot...really that amazing???
---
My good friend and neighbor, Steve Conover had held serval of the World Records.He shoots for Indian Creek Shooting systems. Serval of the IC guys have either won World Championships or set World Records shooting his guns. Hevi-13's are awesome. Steve put 250 pellets in a 10" circle at 40 yds, with a stock Browning Bps with an Indian Creek choke. Last night I put 208 in a 10" circle at 40. I slightly missed to the right or the count would have been higher. Shooting a Mossberg 935 & Indian Creek choke. I was shooting a Hevi-13 3.5", 2&1/4 ounce of #6's.
When chosing a Hevi-13 load there 4 to pick from, but only 2 are good. Only shoot the 2oz load in the 3" shell and the 2 & 1/4 oz load in the 3.5" shell. Don't waste your money on the other 2. The 3" shell is bronze & the 3.5" shell is gold. If you can find the old white shell, buy what you can. It is an awesome shell.

04-15-2008, 08:20 PM
RE: Hevi-Shot...really that amazing???
---
From my 11-87 turkey gun I am getting anywhere from about 150-180 pellets in a circle that's close to 10 inches at 40 yds.. hs strut turkey targets I'm getting about 40 or so pellets in the kill zone.. This is with Hevi Shot 2-1/4oz #6's.. 3-1/2inch chamber.. Using the Primos Jelly Head .665.......

Now the #5 and #6 in the 1-3/4oz load shot really well too from Hevi Shot but the 2-1/4oz sneaked past it so that's what I went with.. Dead turkey with any of it though...

IN comparison with a standard Winchester lead ammo #5's I was getting about 60 pellets at 40 yds and about 10 in kill zone, same setup...

It's worth the $$$in IMO...

Posting Rules
You may not post new threads
You may not post replies
You may not post attachments
You may not edit your posts
---
HTML code is Off
---