Rob/PA scores late almost too late...(pics)
05-26-2005, 08:43 AM
Rob/PA scores late almost too late...(pics)
---
Hey all, I know I haven't been on that much but the season's been busy. Long story short, I've chased this bird all season and had him under 60 yards on more than a half dozen times and even had him too close one day when he spooked and I missed due to a fogged scope..lol It was fogged cause of my heavy excited breathing...LOL First miss of my life but I wouldn't have missed, missing for the world. This bird was extremely call shy from the get/go. I'd get in tight on him and make suttle calls, he's clam up and walk away. I even chased him one day for 5 hours all the while he gobbled all most non stop from the tree, to 10:15 when I was at 40 yards and tried to coax him. He'd usually clam up and walk away.
The day I missed him, a week ago I set up on him on a number of occassions and he'd walk away, I figured where he was going and got in front of him. He showed up under 20 yards and that's too close for my gun/choke combo and with a fogged scope I heard a putt and sent a wad full of #5 passed his head....I layed on the ground laughing and trying to compose myself.....
Well this morning he made his mistake....he frequented a field where he liked to strut.....so I got there first. When he started gobblin off the limb I let him gobble and then gave him a suttle yelp with my
River Valley Sweet Talker
mouth call from my setup with a hen decoy in the field and a jake decoy on her tail. I never said another peep, he knew where we were and with his history it was time to let him come to me on his own. The sun was coming up and it was extrodinarily beautiful when suddenly he was silhouetted in the sun at 100 yards. He noticed the decoys, gobbled and went into strut....as he disappeared over the knoll I wondered if he would come back. He gobbled around the field for a while when they seemily became closer and closer....suddenly tail feathers and I heard him spit and drum. He was already in range but could see me easily if I raised my gun in all this sunshine. Trust your
ASAT
camo I said to myself. When he went behind a shrub at full strut I raised the shotgun, he entered my scope on the opposite side and BOOOM.....he never flinched....He has a 10plus inch beard with about 1" spurs...smaller than I'd expected for such a wily bird but nonetheless a fantastic finish to a fantastic season.
Here's some pics.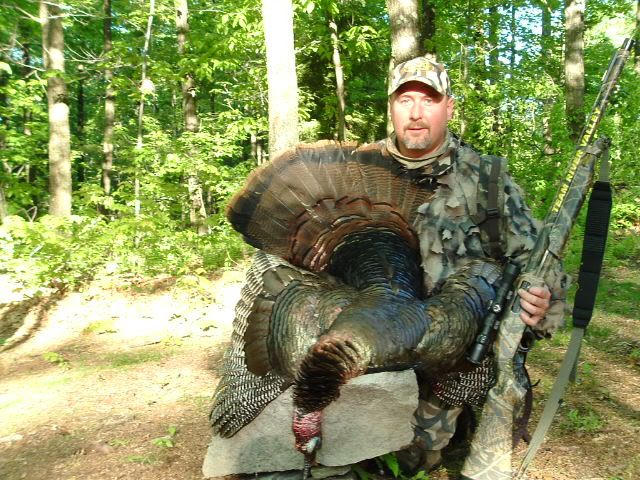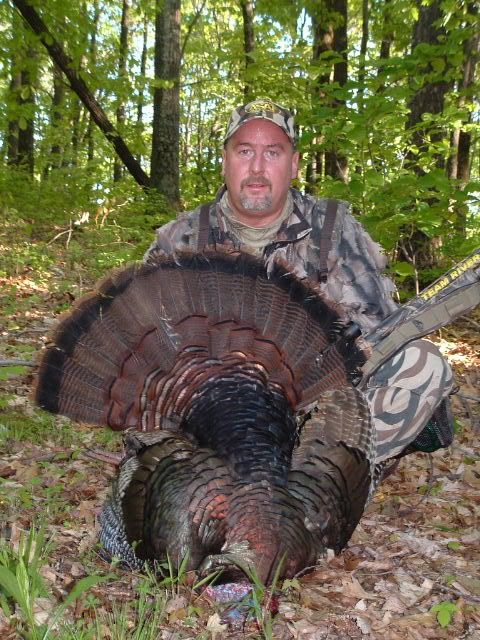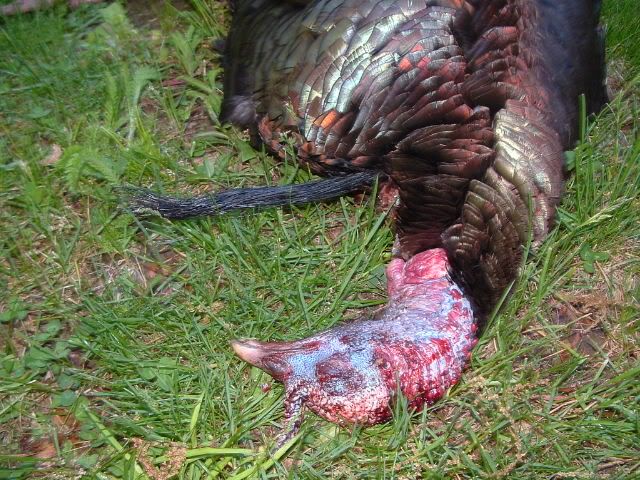 05-26-2005, 10:02 AM
RE: Rob/PA scores late almost too late...
---
Hey Rob, congrats ol' buddy on a dandy!! Let's put it this way, your one up on me this season!!! I have to admit, this was the worst that I've seen in quite a few years now here in NY. Our season ends this coming tuesday, wish me luck so I can take one for a ride in my truck as well!! Again, WTG Rob!!!!
05-26-2005, 02:24 PM
RE: Rob/PA scores late almost too late...(pics)
---
Good to see the PA birds are still looking for some action. Took a buddy out this morning and it was dead in our woods. Trying again on saturday.
Good job Rob!
Mikey