any ideas ?
06-11-2010, 07:03 AM
any ideas ?
---
what do you think is on the neck of the buck on the right ? i was thinking ticks, but it seems strange that they are all grouped up.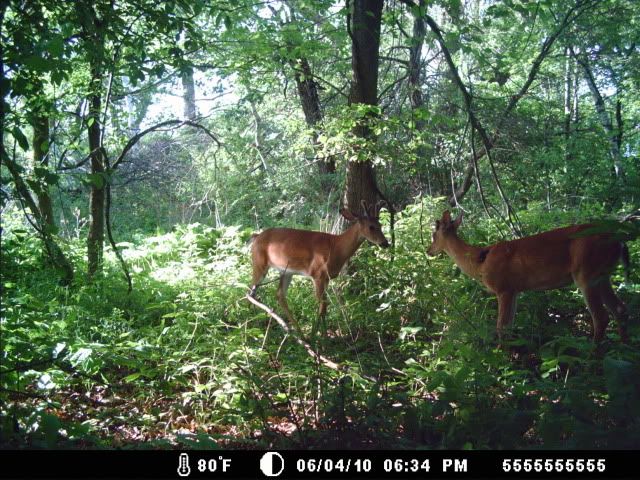 ---
Last edited by crabclaw; 06-12-2010 at

03:21 PM

. Reason: adding another picture
06-11-2010, 09:38 AM
---
I don't think its a cluster of ticks as he could rub off many of them. Looks like the skin tumors. I sawthem on deer fer abit over 50 yrs. Not the same deer but during my hunting time
06-11-2010, 02:47 PM
06-11-2010, 07:39 PM
Nontypical Buck
Join Date: Jul 2007
Location: Southeast Missouri
Posts: 2,178
---
I have several trail camera pic's of a young Spike Buck that has several ticks clustered up on the back side of each ear where he can't reach...never saw any located in a spot that close to where they could reach by raising its back leg and scratch?I bet its something else like everyone is mentioning?Keep any eye on that specific Deer and see if You get a closer picture!
06-12-2010, 08:54 AM
06-12-2010, 03:31 PM
---
Well Bloodsaw I Googled deer warts and I'm hoping thats what it is. I'm hoping its not a misplaced shot. I've never seen anything like it on any of my pics before. Thanks for the replys. I added another pic of him as well.
06-15-2010, 02:12 PM
---
Posting Rules
You may not post new threads
You may not post replies
You may not post attachments
You may not edit your posts
---
HTML code is Off
---