Yarra Pass along who's next
09-11-2009, 08:12 AM
Sweet!!!!
---
Russ,
Talk about a sweet drawing/shooting bow.... I have been practicing a bit with her and she is a shooter, I will be heading to our hunting land mid next week and I will be looking to put a swine down with her...
Here'a a couple pic's of the first ten erra's out of the yarra at about 18yds.... Not too shabby for a beginning traditionalist!!!! I think it's the bow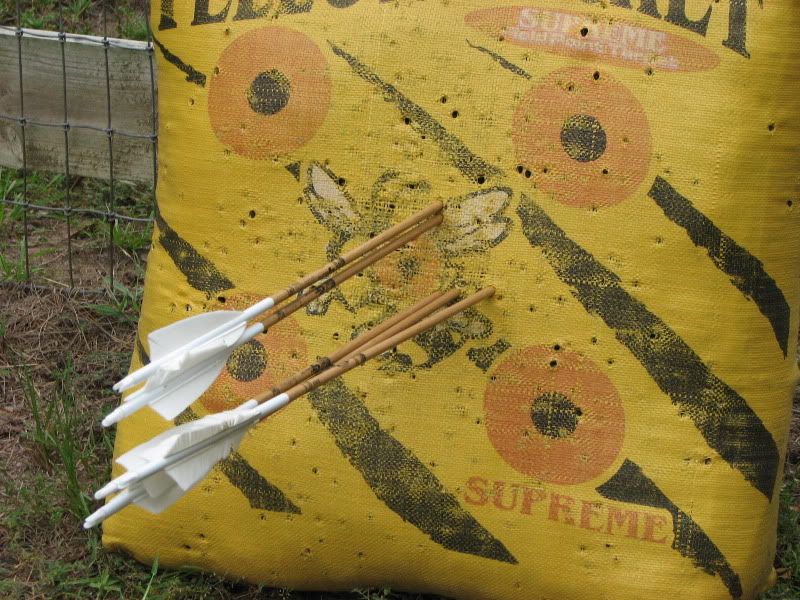 09-11-2009, 01:54 PM
---
Curtis.
Thats some fine shooting mate.
Talk about a sweet drawing/shooting bow....
Thanks mate but in all honesty the other model I make (Bogan) is the better bow IMHO
I have 2 Bogan's as my hunting bows, we'll have to get together one week end and you can try them out.
The Bogan is more radical than the Yarra
09-16-2009, 04:01 PM
---
Heading out in the morning to spend a few days at our hunting land and the yarra will be in tow.... Maybe there will be an un-lucky hog or exotic that will make it's way in front of the yarra and maybe I won't mess it up....

Russ, I need to know who is next on the list as the bow will have to be mailed out first thing Monday morning.... Need an address by then as well....

Thanks again Russ for allowing me to shoot one of your bows!!!!
09-21-2009, 12:12 PM
---
Well, I let you guys down.... I missed a white sow with the bow.... She wouldn't come in any closer than about 25-28yds... I took a whack at her and at that yardage I psyched myself out and shot over her...

Anyhow, the bow got signed and sent out this morning!!!!


Russ, it was my pleasure to get to shoot the bow.... Thanks again for the opportunity to do so...