Firsts...
08-06-2006, 03:09 PM
Join Date: Dec 2004
Location: Eastern Shore MD
Posts: 216
Firsts...
---
Who has their first trad kill? Who is hoping for their first?
How 'bout a littlepre-seasonlittle show and tell...
Aside from a groundhog and a crow, I took my when I was 15 (last year) a spike, taken on the ground at twelve yards with a Zipper/GoldTip/Magnus combo.
How about you guys...
08-06-2006, 03:36 PM
RE: Firsts...
---
Last year was my first season with the long bow.I had 3 goals for my 2005 fall seasons with the bow; I wanted tobag a grouse,a rabbit and a doe deer with the bow. Things didnt work out all that well. I missed a few grouse early in the season and also screwed up a great shoot on a nice 8 point buck. The only other chance I had was on a spike that I grunted into 7 yards, he never gave me a shoot.I got a few shoots at rabbits and missed a few more grouse in the late season, things were not looking good. That all changed some time in December, me and the old man were out with both dogs hunting the late season. By some merical The dogs put 3 birds up and one landed in a tree about 15 yards away. I tock aim at his head and let an arrow go. My arrowpassed threw its neck killing it instantly. It just fell to the ground, not one flop, the dogs didnt know what to think.

This spring I shoot a turkey with the bow. I still get all worked up when I think about that day.

I only like to shoot birds I guess.

08-06-2006, 08:05 PM
RE: Firsts...
---
It is my first season with traditional gear so I am hoping to take my first deer with a recurve. I have taken several with a compound but I can't imagine what a rush it will be to do it with a trad. bow. I am sure there will be more misses than hits though.
08-07-2006, 06:56 AM
RE: Firsts...
---
I got my first with traditional in 1979 or maybe 78 (I was 14). Still remember it like yesterday. He was a six pointer standing on his hind legs eating apple. First arrow went over his back and he didn't notice. Second shot connected.
Last year was the first year back into traditional in a while. I bagged this buck.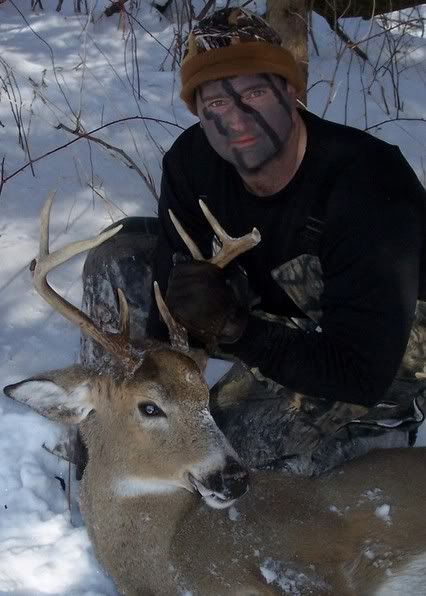 08-07-2006, 06:29 PM
RE: Firsts...
---
Haven't had a chance....hold on just a minute, I actually have taken sometihing with my recurve. I was in the backyard of my parents house about 2 weeks ago. My stepdad and I were shooting my bow and we saw a toad hopping across the yard. My stepdad bet me I couldn't hit it. Anytime I get challenged I have to atleast try. I let one fly and somehow the arrow found its mark, right through the head. Felt kinda bad after the fact, never really imagined I would ever hit it. Well, anyway, one for one for now, I guess I have to wait until this upcoming deer season to see if I can do just as good on bigger game.
08-09-2006, 09:22 AM
RE: Firsts...
---
Hoping to take my first deer with my longbow this year...Never been deer hunting before, didn't get a chance to last year so I guess I shouldn't get my hopes up. Maybe I will get lucky. I also hope to do a little rabbit hunting and possibly grouse or pheasant.
Thread
Thread Starter
Forum
Replies
Last Post
Posting Rules
You may not post new threads
You may not post replies
You may not post attachments
You may not edit your posts
---
HTML code is Off
---