TR DropZone Setup Help Needed
10-05-2004, 07:43 AM
Join Date: Sep 2004
Location: Chenango County, NY
Posts: 224
TR DropZone Setup Help Needed
---
Well, I know this is a little late in the season, but I'm going to try to set up my new DropZone this week. The instructions that came with it contain a decent amount of useful knowledge, but what I really am interested in are some detailed pieces of information from personal experience that you all have gleaned! Perhaps this switch from a WB to a DZ will be swift?! I hope so!

A few questions I have so far...

1. Which mounting hole do I use on the rest itself? I have two tapped holes in my riser for rests, and I guess I just am curious where I want the rest when it's all said and done. As close to the riser as possible?

2. The arrow guide they ship with these things is pretty crappy. I mean, really... a piece of foam? Is this really useful, or am I better off just using moleskin (with perhaps some rolled moleskin underneath it to create a grove)?

3. Any advise on serving the lift string into the cable? I'm a little concerned about how to adjust this so the rest is in it's top position at full draw. Seems like you almost need a second set of hands here to measure while you draw. Any advise?

Thanks again all! I hope you all have / are having a good hunting season?!
10-05-2004, 08:18 AM
Typical Buck
Join Date: Dec 2003
Location: Mertztown, PA
Posts: 970
RE: TR DropZone Setup Help Needed
---
The foam guide looks like garbage, but it's really useful when you put it on. One tip here, put the foam piece as far forward on the riser as possible, toward the front of the bow.

Use a brass nock to help set the chord on your lower cable. Set it so that the launcher arm comes into contact with the shaft at a point between 2/3 and 3/4 of the way to the tip of the arrow. Once you have the position, then serve it in. I just burned a mushroom on the end of the chord, then ran it through the center of the cable. This keeps it from slipping through the cable, and the brass nock keeps it from moving up upon the draw. Again, replace the nock with serving once your position is set.

As far as the mounting hole you use, I think it's a matter of personal preference. Mine is attached so that the rest is closest to the riser.
10-05-2004, 08:25 AM
Join Date: Sep 2004
Location: Chenango County, NY
Posts: 224
RE: TR DropZone Setup Help Needed
---
Thanks! The brass nock idea is really interesting. Sounds like the easiest way to me too.

My only concern is that there is very little give in the rest cord when it is pulled all the way. I don't want to damage the rest by serving it in such that I am pulling really hard on it at full draw. At the same point, one of my biggest reasons for going with the DZ is to eliminate fletching contact and therefore, I want the rest to lift as much as possible.

Guess I'll just have to play around a little.

Thanks!
10-07-2004, 12:08 PM
RE: TR DropZone Setup Help Needed
---
fritz just about said it all. Here is my $.02:

1. I shoot a razortec and in order to be able to adjust the rest both directions I used the hole towards the back (string side). This also allows you to shoot a little bit shorter arrow if you wish.

2. As far as the little foam thing, I pitched it and got a trophy taker guide from shop. Generally they will give it to you. Next I put mole skin in that then over the whole arrow shelf. It works great.

3.Fritz's answer is pretty good as far as the cable as well.

I will post pics later if you would like to see how mine looks.

good luck
10-07-2004, 03:00 PM
Join Date: Sep 2004
Location: Chenango County, NY
Posts: 224
RE: TR DropZone Setup Help Needed
---
Thanks for the info.

I got mine all setup and shot it a few times. I'm very impressed by the action and smoothness of the whole thing.

My first impressions are as follows:

1. Very well made. Solid construction and you can feel it by it's weight. Not that it's too heavy, but if you are very weight consience, it's not the rest for you. The whisker biscuit was lighter.

2. Setup wasn't too painful! Having done very little serving before, I had a bit of an adventure with that step. Also, at the place where I had to serve the cord to the down cable, the up cable was right next to it. Made serving a challenge. I think I did a good job though, so we'll just have to see how well its holds up! I may put a drop of super glue on the serving if I think it's slipping.

3. This rest is not quiet as far as nocking an arrow is concerned. The aluminum is not coated in any sound supressing material. This was easily fixed with some camo moleskin / felt material. I started by putting it on the riser. I then did the entire inside portion of the rest where you lay the arrow and cut out the necessary slits for the arm to raise and lower. Seems to be decently soundproof right now. Still not as quiet as the biscuit.

4. Shot quality: MUCH BETTER!!! I was having a hard time with my biscuit since it was the cheap model and didn't have seperate windage and elevation adjustments. This DZ is awsome in that sense. Also, I eliminated all clearance issues I was having with my fletchings.

I haven't fine tuned the rest yet, but my initial shooting experience was well worth it. I would definitly go with it if I were to do it all again. I am a pleased hunter!
10-07-2004, 08:44 PM
Typical Buck
Join Date: Dec 2003
Location: Mertztown, PA
Posts: 970
RE: TR DropZone Setup Help Needed
---
Glad to hear it worked out for you. Add some fleece to this thing and you'll make an already quiet rest dead silent, as in cold winter morning and there's a buck under your stand silent. At least I can't hear my own draw.
. Here's a photo of my "dressed" Drop Zone.......I made the clothes myself.............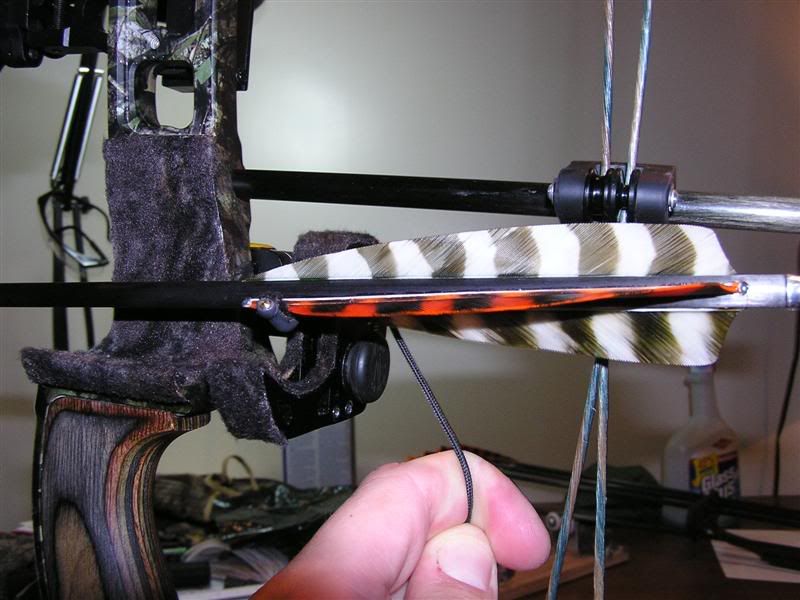 10-08-2004, 07:06 AM
Join Date: Sep 2004
Location: Chenango County, NY
Posts: 224
RE: TR DropZone Setup Help Needed
---
mrfritz44:
That's about what mine looks like now too! Your picture is worth a thousand words for my description of where to put the fleece.

I notice that your riser already has a nice dip in the shelf to help with the arrow staying put. I really wish mine were that way. That's the one problem with my bow and a DropZone... my shelf slopes off away from the riser. Perhaps I can construct something to put under the fleece to "build it up".

Thanks again! These things are really nice and after some more playing, I'll be confident in my equipment this season!
10-08-2004, 02:46 PM
RE: TR DropZone Setup Help Needed
---
Great posts buys! It certainly sounds like everyone who tries a DZ becomes a fan. It really is a great performing rest. It has truly established itself in just it's second season as a top quality product thatnks to its flawless performance. I have DZ's set-up on ALL my rigs.