Getting the Skull completely clean(pictures added page 2)
11-02-2009, 04:37 AM
Getting the Skull completely clean(pictures added page 2)
---
I am euro mounting the 7 point I shot this past week, no I have boiled the skull sprayed with a pressure hose, used a tooth brush, pliers and fillet knife to get about 95% of all the flesh off this skull. I have having trouble with the little parts now, underneath the skull where there are all those crevices I can not seem to get that off. Is it important to, or will it dry and flake off? And how? if I need to get it off there should I do it? If there is no special way other than old fashioned elbow grease. I'll try and take pictures tonight of it so you can see what I'm talking about.
---
Last edited by daveyrock; 11-04-2009 at

08:25 AM

.
11-02-2009, 10:24 AM
---
Yeah, what he said. I`ve got a nice 5 point that is 95% complete also. I`ve boiled mine three times and have used dental picks to help but some stuff still sticks. Any help would be greatly appreciated.
Ron
11-02-2009, 10:42 AM
Typical Buck
Join Date: Nov 2005
Location: Wall NJ
Posts: 705
---
European skull mounts
In my shop I use 35% peroxide. First take off most of the meat and brains, cover the skull not the horns with the peroxide, use rags around the base of the horns so the peroxide can leech up to the underside of the burr. After a week or two (depends on how well you cleaned it) rinse it in dawn dish detergent and water till it comes out clean, place it in the sun to dry. If it is the way you want it, then cover it with modge-podge high gloss and it will be sealed and stay clean forever. If you used bleach the modge-podge will seal the skull and stop the flaking that can go on forever. You can put the skull back into the peroxide as many times as you like, but if you notice the skull is falling apart take it out, you have left it in too long. You will have to glue the teeth into the skull. Never use bleach because it will continue to breakdown the bone forever. We do not boil the skull as most of the time it will fall apart if kept in too long. To restore the color to the horns use Potassium Permanganate available from Research Mannikins or Jonas Bros co.
Rich
Brown, Polar and Grizzly bear skulls.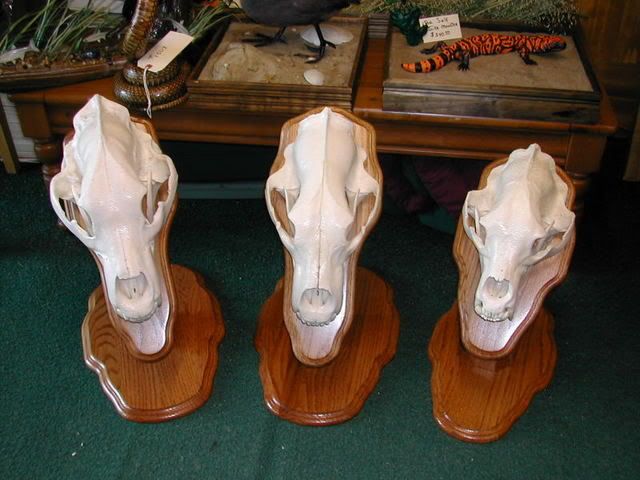 Whitetail Buck on plaque.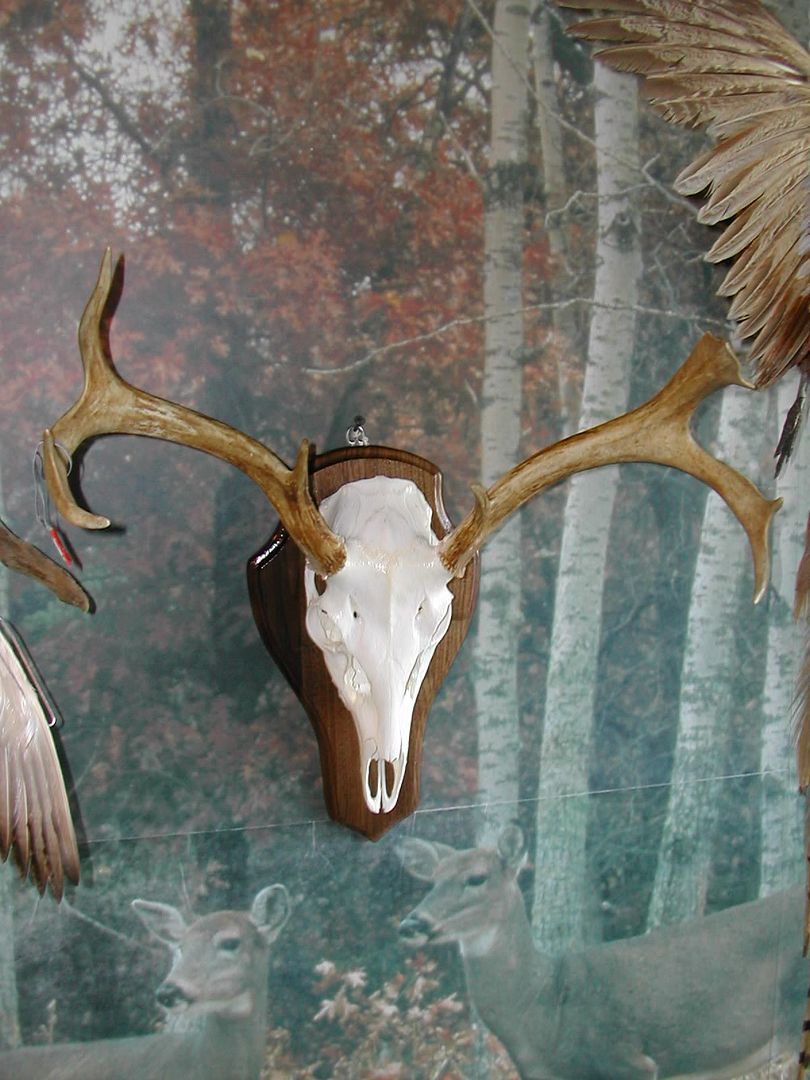 Male and female African Lion skulls.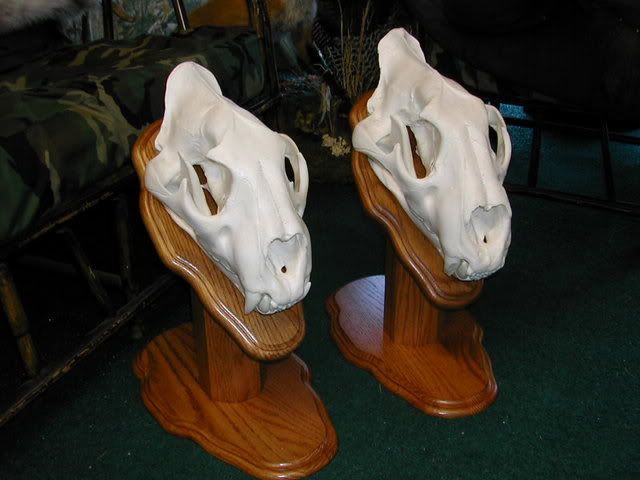 ---
Last edited by rgswildlife; 11-03-2009 at

06:41 AM

.
11-03-2009, 03:18 AM
Spike
Join Date: Nov 2009
Posts: 6
european beatles
---
I m a taxidermist out of Indiana. That is actualy what i started out doing few years ago. the best way to do it and the right way is to use beatles. they eat every thing you see and lots of stuff you cant see. if you would like to do something about them email me .
[email protected]
11-03-2009, 04:47 AM
---
11-03-2009, 05:43 AM
Typical Buck
Join Date: Nov 2005
Location: Wall NJ
Posts: 705
---
the right way is to use beatles
This is what I was refering to.
Plus any time you put a skull in boiling water for any time you risk damage, and yes there are many wrong ways to do anything.
11-03-2009, 08:22 AM
Typical Buck
Join Date: Feb 2003
Location: Cambridge Ohio USA
Posts: 744
---
Originally Posted by
Kosherboy
Yes there is a wrong way and that is to boil 2-3 times as someone said, Second it is best to Set the water to boil and when it is boiling put the Skull in it, add a little bleach or degreaser,in 15 minutes one should be able to remove all the meat, soak in Bleach water for an hour , set in the sun and Brush on 40% Peroxide every day , sometimes I do it 3 times a day.
There's a wrong way alright, and your way is most certinaly
WRONG
. Never,
ever
use bleach. All these reponses, and not one acutally answers the question.
The "best" way to get everything gone at this point would be to go ahead and finish with maceration. Put it in a bucket of water for a couple weeks and any remaining tissue should rot/soften enough that a garden hose should remove it. Then you can soak for a week in dishsoap/water to degrease. After that you can whiten.
11-03-2009, 10:48 AM
---
Ummm, thanks for the advice boys! I like the variety, one I don't have access to beatles and don't want to send out for any. I did boil my skull because that is the way I found to do it online here, I understand the risk of damage so I kept the water below boiling it was more of a simmer. I put in about two cups of borax with the water and let it go for about a 1-2 hours. I pulled it out and removed a lot of flesh, sprayed it out scrambled the brains. What I'm left with is and what seems to be is cartlidge in the nooks and crannys of the underside of the skull. Not to mention a bit a membrane left in the brain cavity.

Will the remaining flesh/cartlidge dry up in the drying period(which I have it sitting out now) enough to scrape away with lets say a wire brush or knife?