My Big Fat Shooting Form Thread!!
03-02-2008, 05:47 PM
My Big Fat Shooting Form Thread!!
---
I had an idea to condense the popular "
How's my form
?"threads into a more helpful formatand at the same time createsort of all in one place reference guide.
We can all see what each of us looks like, what the shooter is trying to accomplish, skill level etc.
Here's how I wantthisto work. Post a single picture of yourself and you shooting form to start if you would like some feedback.
List the following above your picture:
1. What your main shooting goal is with the form we see in your picture(3D, Spots, Bowhunting)
2. Draw length / Draw weight
3. Your bow's ATA length (axle to axle)
4. Experience level shooting in yrs and your perceived ability level (beginner, weekend warrior, average, above average, advanced)
*Some tips:
Take a picture in an uncluttered area, some straight reference points behind you like in my example helps for geometry and stance. Try to have someone else take the picture (Trust me running around with a 10 second auto shutter sucks!) Also Aim on a level line ! Don't aim down in the picture because the camera exagerrates off level angles.
We have some seriously talented shooters here who I'm sure will be more than willing to offer their help and advice.
What I want THEM to do is please keep all discussion private with the shooter and not on the open forum.
I would like this thread to be an uncluttered collage of guys and what they look like shooting only. If you get some constructive criticism and would like to post another picture with improvements by all means please edit your original post with a new picture but LEAVE THE OLD ONE!! so you can see progress.
I think this can be a really nice source for info!! I'll post the first one below here and everyone have a good time with it.I hope it helps a little with your shooting.
03-03-2008, 10:12 PM
RE: My Big Fat Shooting Form Thread!!
---
UPDATED: 3/5/08 Worked on balanceand closing my stance.
3-D/Indoor Spots
29" factory, haven't check actual lately. (Have 28" cams if needed)
58#
38" ATA
2 yrs, average abilitywilling to improve.
These were taken last night. I have since corrected a few things I noticed after taking the pictures. Willing to see what the masses think as well.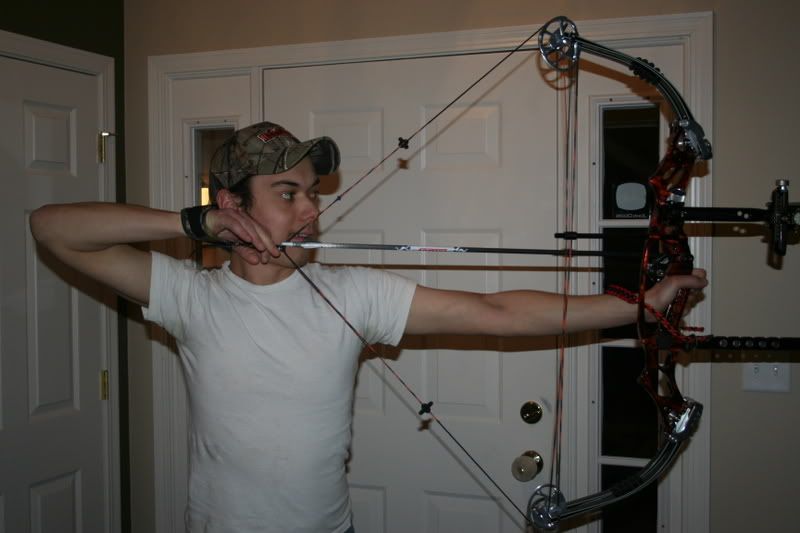 03-04-2008, 10:25 PM
RE: My Big Fat Shooting Form Thread!!
---
3d and hunting (same setup)
30", measures to be 31" with loop
67 lbs.
15 years, above average, working on advanced.
31" ata (i think, someone correct me if I'm wrong)
03-04-2008, 10:32 PM
RE: My Big Fat Shooting Form Thread!!
---
I'll put myself up here to keep things going.
15 years
hunting and occasional 3D
hopefully I am at least above average.
31" ATA
70.2 pounds
30" draw
short loop
Scott silverhorn release on shortest setting.
03-04-2008, 10:53 PM
RE: My Big Fat Shooting Form Thread!!
---
3D shooting
30 3/8" AMO/ 70# + string loop
38" ATA
17ish yrs, Advanced
3D shooting
30 3/8" AMO/ 63# + string loop
38" ATA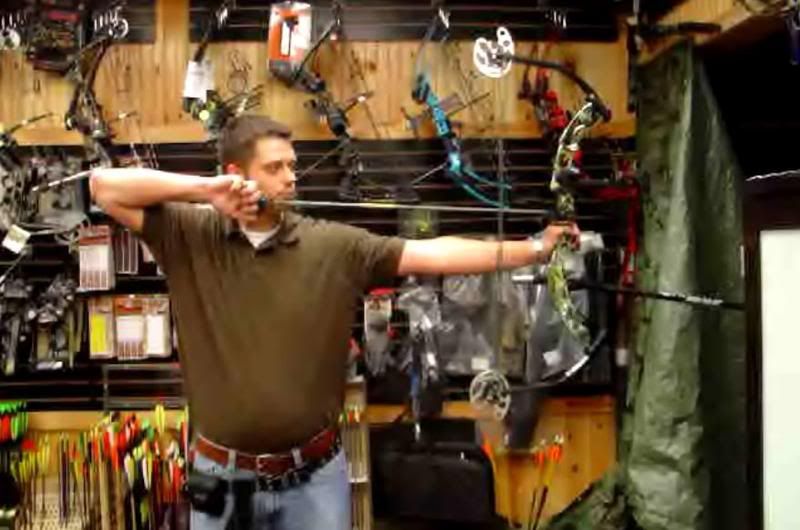 Indoorshooting
30 1/2" AMO/ 54# + string loop
38" ATA
(I'm the guy on the left, and yes, that's Doug Williams next to me [8D])
Outdoor FITA
30 1/2" AMO/ 53# + string loop
42" ATA