English Springer Spaniels?
09-10-2010, 05:32 AM
Spike
Join Date: Sep 2010
Posts: 1
English Springer Spaniels?
---
Hello all. I am new here and have read some post.

I like these kinds of Forums for there great deal of experience and know how.

Which leads me to my post. My wife and I want another pet/Companion/Hunting dog. I really like the Spaniels.

The problem we are facing is the cost and time to get the dog. Plus there are no Field breeders in our area of New Mexico. They are all Bench dogs, From what I have read that is not what I want. Right?

My next question is; how old is to late to start training a dog? 8 mths, 10 months, 15-24?

I have found some that look promising but are a little older.

Thanks for your time and reply's

Armyhooah out.
09-11-2010, 03:41 AM
Nontypical Buck
Join Date: Jan 2008
Location:
Posts: 1,408
---
I would stick with field bred. Mine cost $300 but that was 2003. Regarding training, these dogs have great instinct. Now mine was the first bought of his litter (bought by someone else), when we visited his littermates who were still with the mother and grandmother they were about 9-10 weeks old and already mimicking the adults with decoy carrying and retrieval. We bought the already-sold pup to get him out of a bad situation (locked in a garage for past 6 weeks), the difference was amazing, he was far behind on field skills. There seems to be a very early window!
However, their instinct is amazing. I did not put much time into training him and we had few birds to hunt, yet I took him out with 6 trained dogs one year and he out-hunted them all. He just didn't retrieve as ordered! With a dog with that kind of instinct, even late if you work with them you can train an adult.
As a family dog, springers are pretty high-energy, they need space to run (not "walk"). Some claim there is "springer rage" but I think that is hyped. Ours exhibits some male-male aggression if he gets scared -- he has growled and nipped me but never my wife, daughters, or any other female. We were a bit concerned when we started having kids because of this but he has been a great family dog. They are his "puppies" and he is incredibly defensive of them. Last year two stray dalmations went after my 2-yr-old in my own yard and he got in between and took them both on while I got her to safety. He is sleeping across the threshhold of her bedroom right now.
MTA:
http://www.terrificpets.com/dog_bree...er_spaniel.asp
This link nails the breed on the head. Mine's aggression/dominance issues occurred during its early life, when it had been confined without companionship by its prior owners, and during its "teen" years.
---
Last edited by spaniel; 09-11-2010 at

03:56 AM

.
09-11-2010, 07:23 AM
---
I have a Springer that turned 8 years old in May. We got him from a friend when he was 11 months old. He was never exposed to any type of hunting. I took him out that first Autumn and he had no clue what he was hunting for, he never seen or smelled any birds. Once he "got it" he began to do what he was bred for. Today he's a dedciated, relentless bird dog that lives to be afield. Very little bird training was ever done. I hunted with a close friend that taught both my dog and I what's to be expected when we hunt birds. He also went through 3 levels of obedience training, beginning - intermediate and advances. To me, that's THE most important part of the training needed to be a good hunter. Your dog must always obey any and all commands given to him.
Our Springer has great lineage. His dad was a ch composition dog as was 5 of 8 on that said but his mother was a ch field dog, with 7 of 8 field ch on her side. What we got was a "pretty, bird dog", that loves more to hunt (for me), than anything else, when we go chasing those NH pheasants. We usually do very well in those few short weeks and he has gotten his share without our help. Since most pheasants would rather run than fly, he goes into the nastiest stuff, loaded with briars and thorns to get that bird. He has caught them as they were beginning their flight.
He is also a very loving, family dog. Dedicated to his family every minute of every day and dedciated to hunting birds when the leaves start to turn.
Here's a pic of Ranger Pete: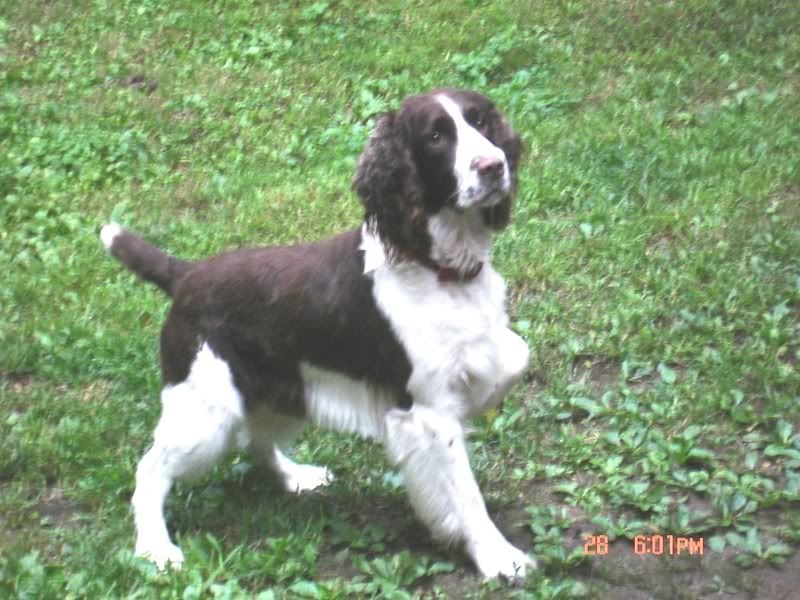 ---
Last edited by Jimmy S; 09-11-2010 at

07:26 AM

.
09-16-2010, 06:44 AM
Typical Buck
Join Date: Oct 2004
Location:
Posts: 860
---
You may want to re-evaluate the type of dog you want to get. Correct me if I'm wrong but New Mexico is wide open desert country like Arizona. I'm assuming the game is California quail and chuckar? My advice would be to check out english pointers or german shorthair (although, with all those jack rabbits may sideline them).

I only made the suggestion because both are shorthaired (tolerate heat better) and can cover alot more ground than the spaniel. If you didn't know, the spaniel is a flusher which means it has to stay close within gun range or you won't get a shot. A pointer on the other hand, runs out and when scenting game, stops and points til you get there.

Concerning prices, the initial cost of a well-bred puppy from a breeder is small compared to the overall cost of maintaining the dog's health. Quality dog food prices will cost you a tidy sum. Vet prices...no limit (you can reduce the chances of inheretiable diseases with a good breeder.) Training costs, materials, etc.

Your other question on how old does the dog has to be for training, I would say for stricter (in a sense) training atleast 6-8 months to any age (although harder for older dogs). It's more of a gradual process. Teach the dog the lesson then when you are sure he's learned it, make sure the dog complies. You can condition the dog from the beginning like turning mealtime and playtime into learning come, fetch or whatever. The other stuff (bird, gun intro) I like to do as dog matures, ie. starts getting birdy, introduce birds.

Goodluck in whatever you decide.
10-01-2010, 02:18 PM
Spike
Join Date: Jan 2005
Posts: 97
---
I am Springer guy. I have three and others in the past, all but one from trial lines. They can be hunting machines. If you are looking for field dogs try the ads on
http://www.essft.com/
. They are the field trial folks. Be advised that there will no bargains there but the dogs tend to be good.
10-03-2010, 09:17 AM
Banned
Join Date: Sep 2010
Posts: 220
---
About 27 years ago, my brother in law RAY, who is a died in the wool outdoors man bought a Springer Spaniel - Katie.
About the same time his wife started to have children - my sister if you want to get technical.
Well they decided that their careers were more important to them then their children or their dog so they brought both up to my mom's house to be raised by my mom and my sister Jackie.
Ray only came for the dog in hunting season and my sister had to use her babysitting money to pay the numerous vet bills and food bill.
This dog had no obedience training.
Because it lived in the house, it treated the house as if it was it's own dog coop. When the UPS man or the garbage man came to the house - it would practically tear the curtains off the windows.
It would attack anyone that it did not like.
It was always coming into heat, round about hunting season.
It had several false pregnancy's and had to have numerous operations by the time it was 5 years old.
We took it hunting and in a thick field it was great. It would stay a normal distance in front of you and would flush out the birds and all was well. It would sometimes retrieve and sometimes it wouldn't.
Sometimes it would take a bird and run in the other direction and eat it. It all depended on what kind of a mood she was in.
No amount of obedience training would stop her from doing what she did. She slept on my sisters bed at night and ate off the table and made messes and got into trouble and no one wanted to put up with her when she got old and sick.
In a open field - forget it. She would run for miles and would chase everything in sight. At least once a year, she would find a porcupine and would attack it and would have to go to the vet and would have to get all the quills removed. It was all a part of going hunting with Katie.
I think the thing that took the cake was one day when my brother in law came and got her and I ended up hunting in the same field as he was in and when it came time to go home - the dog jumped in the truck with me and refused to get out.
When Katie turned 10 - she had arthritis really bad and couldn't run anymore and my brother in law quit coming up to get her for hunting and my sister had her put to sleep and a week later they got another dog. A German Short hair.
My mom refused to let it come to the house after all the episodes with the last dog and my sister spoiled it long before my brother in law had a chance to train it and it is afraid of gun shots.
You can run the chain saw at the camp all day long and it will just sit there and look at you funny. As soon as you pick up a gun, it runs for home!
10-03-2010, 09:23 AM
Banned
Join Date: Sep 2010
Posts: 220
---
At the same time, I bought a 1 year old dog Ernie.

By the time Ernie was 1 year old, it already had 3 owners before me.

It hated kids and would bite them for no apparent reason.

I paid $250 for Ernie and tried to break him of his bad habits and the neighbors thought that I was being cruel to him and they stole him one day and I have never seen him since.

There is all kinds of nut bag dog lovers in this world and some of them do not understand that a working dog has to be trained and has to be obedient or all it is - is something to pet and to feed and to clean up after.

A dog like that should be out in a coop and not in the house.
A dog like that should be trained from the time they are born.
A dog like that should never be shuffled from one owner to the next - they are a one man dog.
Posting Rules
You may not post new threads
You may not post replies
You may not post attachments
You may not edit your posts
---
HTML code is Off
---