English Springer Spaniel
01-21-2009, 09:02 AM
Spike
Join Date: Oct 2008
Location: illinois
Posts: 77
English Springer Spaniel
---
I got a pup at six weeks. He is currently about 5 months. he has the basic sit stay come down very well. Plays great fetch. All the easy stuff. I was wondering if you guys had any tips on training for birds. I plan to start in late march with wings, and scented bumpers. I have never had a springer. does any one have any good advice?
01-22-2009, 08:41 AM
Spike
Join Date: Jan 2004
Location: Cental Wisconsin
Posts: 67
RE: English Springer Spaniel
---
I have had several Springers and they just need to be introduced to birds. Visit a shooting preserve where you have a field to yourself. Go along with the operator when he plants birds so you know where to go and the dog learns that if he stays with you he will find birds. Before field experience though make sure he is not gun shy, though I never had a Springer that was gun shy but it does happen. I use take mine to a gun club and park down the road aways from where they were shooting. Let the dog out of the vehicle on a leash and walk him around. He will hear the shooting in the distance, the dog maybe wary at first but will quickly learn it does no harm. Walk him closer, if he dosen't get skidish take him as close as you can. Don't over do it the first time, several trips of repeating this procedure if needed. Eventually you can get up close and personal. When introducing your dog to birds take along a partner, that way you can work the dog and your partner can harvest the birds. Make sure your partner understands that this dog is learning and make sure he dosen't shoot too close to the dog. I use to train my dogs in areas where their was no hunting. That way I just consentrated on training the dog not about bagging a bird, their is plenty of time for that over the course of the year. Take your time, be patient the dog will figure it out if you do your part. There are some really good DVD's on dog training find one that applies to Springers or labs for the field if you can't find one on Springers. Good luck.







01-22-2009, 12:32 PM
RE: English Springer Spaniel
---
I also have a Springer, he's a 6yr old intact male. He was started on pheasant wings and that worked out well. Since Springers are bird dogs, they already know how to hunt, in timethey will understand what they're hunting for.
The only pieces advice I can give that has worked well for me over the years with my dog are:
When first introducing wings to your dog, make it fun. Put them where it's easy to find and praise him everytime he returns with one. Make it special and you will see the excitement. He will thenhave a a good idea what's to come when he finally goes afield. Make any and all training sessions fun and short. 3 sessions at 10 min each is better than 1 session lasting 30 min.
Make certain he obeys. Starting to hunt with any dog that is obedience trained is paramount.
Staying close is crucial. Train him not to range too far, out of gunshot range.
Whistle train him as well so he comes at once everytime he hears your whistle. The worst sound in the field is another hunter yelling for his dog to come.
Training to hunt close and respond to a whistle is relatively easy to do. Iwill be happy tohelp.
Once he understands what he's hunting forand understand the pleasure he gives you, he will then realize he is hunting for you, not for him. Praise and reward are awlays key especiallythe first time in the field. Springers are very intelligent dogs and will soon realize what is expected of them as well as doing what they were bred to do. He will soon get to the point where he realizes a gunshot equals a down bird. My Springer always looks the bird down and waits for my command to fetch. Once he retrieves it, he is alwlays praised but once the bird is put away, he is ready to begin again. He's a great meat hunter that is absolutely relenltess.
Your little guyalready knows how to hunt, it's up to you to teach him the rest.
Good Luck with your Springer. You will soon have a dog that will bring a smile to your face for years to come.
Here's a pic of my wet, tired dog from last season: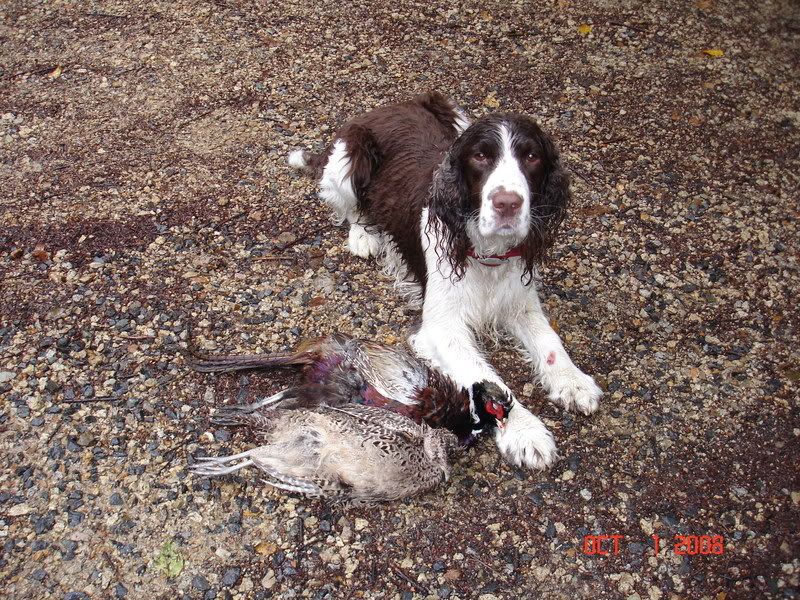 01-23-2009, 06:26 AM
Spike
Join Date: Oct 2008
Location: illinois
Posts: 77
RE: English Springer Spaniel
---
thanks for the response. I hadn't thought of the whistle training. He knows sit, stay and come with hands and words I wouldn't think a whistle would be too hard.
JimmyS that's a nice looking dog there.
01-23-2009, 08:35 AM
RE: English Springer Spaniel
---
ORIGINAL: Redskin_Archer

thanks for the response. I hadn't thought of the whistle training. He knows sit, stay and come with hands and words I wouldn't think a whistle would be too hard.
JimmyS that's a nice looking dog there.
If he understands and obeys the basic commands, you are definitely starting off right before he starts hunting. It was very easy to whistle train my dog. I started with a very short check cord, whistled for him and gave him the command to 'come'. He was rewarded each time. I gradually increased the length while staying in sight. I was finally able toput him at a stay command and went out of sight and again blew the whistle. It was not long before he associated the whistle with the command to come. Even when hunting season is over, I always work with himfor reinforcement.
Like all hunters, we are proud of our dogs. My Springer now is a very competent hunter that loves doing what he was bred for. But, that took time. I learned that when he first went hunting, he was very excited and definitely worked too fast. I had to try to slow him down. I learned that now, before we go out, I let him run to get rid of all that energy. When they are very young, it's a learing experience for both you and the dog. It was actually the 3rd season hunting that my dog became good at what he was doing. He finally understood what was expected of him while enjoying chasing those birds. As an example a friend, who had a stroke a few years back, began hunting with us. He never thought he could ever enjoy bird hunting again. His left side was affected and he walked very slowly. He was able to use a 20 ga and shoot with the gun under his right armpit. We kept the dog close to him and my buddy soon understood when the dog was into birds. As soon as the dog got birdy, it gave my buddy enough time to get ready for the shot, which he did successfully EVERY tme. We are allowed 2 birds a day/10 per year and he tagged out every time with us. I give him a lot of credit because he was hunting over a flusher, not a pointer.
Take yout time, enjoy being with him during hunting season, especially while he is very young and continues to learn.
01-25-2009, 07:10 AM
Spike
Join Date: Jan 2005
Posts: 98
RE: English Springer Spaniel
---
I have springers from trial lines. I have hunted with them for more than 20 years. I have three observations. First is that dogs are like us. They need to grow up and they need experience to learn. For the first couple of years your dog will have flashes of brilliance, if you are lucky, and moments of sheer stupidity. Just be patient. Second, is that hunting primarily consists of the dog working with the hunter for hours even if there are no birds. Train all year, even if training consists of hour long walks without birds through filed and forest. Focus on keeing your dog close and having it take directions. Third, hunting is a hard business. Condition your dog all year. Adjust it a bit if it is too hot or too cold but try, if at all possible, to let your dog run at least a few times very week, more if possible.
01-25-2009, 02:16 PM
Spike
Join Date: Aug 2008
Location: every where wild
Posts: 80
RE: English Springer Spaniel
---
If you have a farm around get some pigeons. They work great: wind them up, put some secnt of choice on them and turn'em loose your dog will love them and if you need to buy a trap from Gander Mnt. or Cabelas' it fairly cheep way to train for a long time for fun or training..
02-02-2009, 09:09 AM
RE: English Springer Spaniel
---
I love my ESS Riley. Hes only 10 months, and is so smart. Although he is obsesses with shadows on walls.
If you want some good reading material, my second bible is "Hup!" by James B. Spencer. I got a lot out of reading and refering to it while training so far.
02-06-2009, 12:28 PM
RE: English Springer Spaniel
---
i've grown up with 7 soringers and we started them on BIRDS! lots of em, shoot em and work with the dog. any thing works, in my eyes. my dogs , for some reason, know when that orange is on that its game time.