Coyote Down Again !
02-20-2012, 08:13 AM
Nontypical Buck
Join Date: Feb 2003
Location: NewLowell ,Ontario ,Canada
Posts: 2,765
Coyote Down Again !
---
yet another great morning but a late start. 7:30am I get up, get ready and off to find a place where I could set up for a hunt or two. I got to a place where I have taken down 3 yotes and setup in a fence row with fields on both sides of me and started the set with distress Jack and after 25 minutes I decided to end that set and walk a bit farther back as there was a hardwood ridge and valley I could see back in the far field.
I got setup and decided to do a locate call starting off with the Lone howl a few times and then I sat quiet for about 3 minutes. After no sightings I turned on the distress Jack again on vol 20 and ran it for 10 seconds and volumed up to 25 and left that for about 20 seconds and then volumes up to 39 and left it for 30 seconds then back down in volume for about 15 seconds and pause.
After 3 minutes I decided to change to Lightning Jack which is a louder and longer cry and I turned up the volume to 24 and left it running for about 1 1/2 minutes and as I slowly scanned the wood line I spot a yote step out about 150-200 hundred away and stand looking.
I moved the tripod to the right as he was slightly up wind and steadied the the gun on the front shoulder and WAM ! The 270 WSM does it again.
Yote down around 9:00am
Great hunt on a great day
The Kill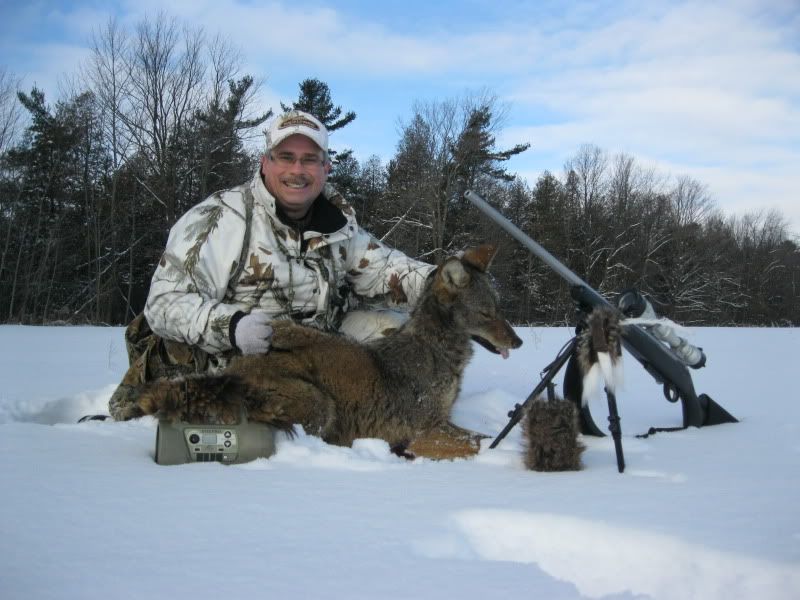 this is the setup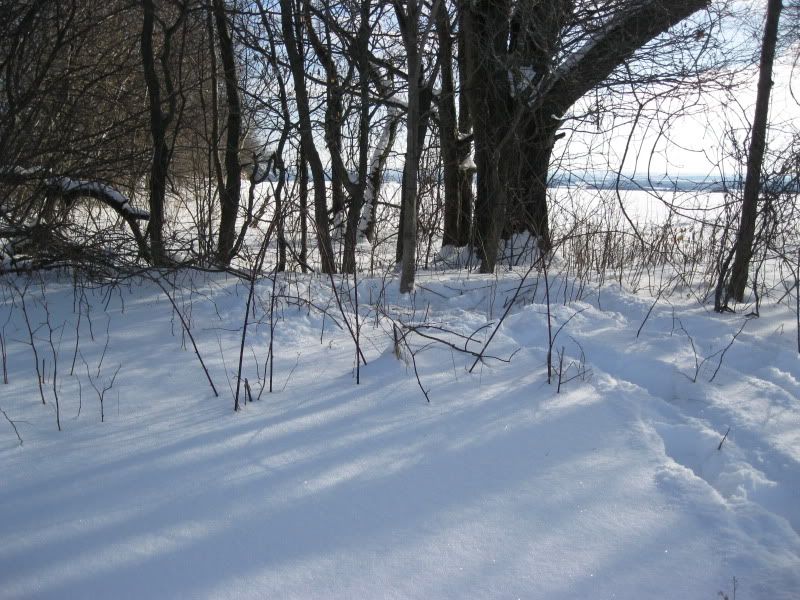 a pic from the coyotes view to my setup at the large tree in the fence line at the end of my tracks in the snow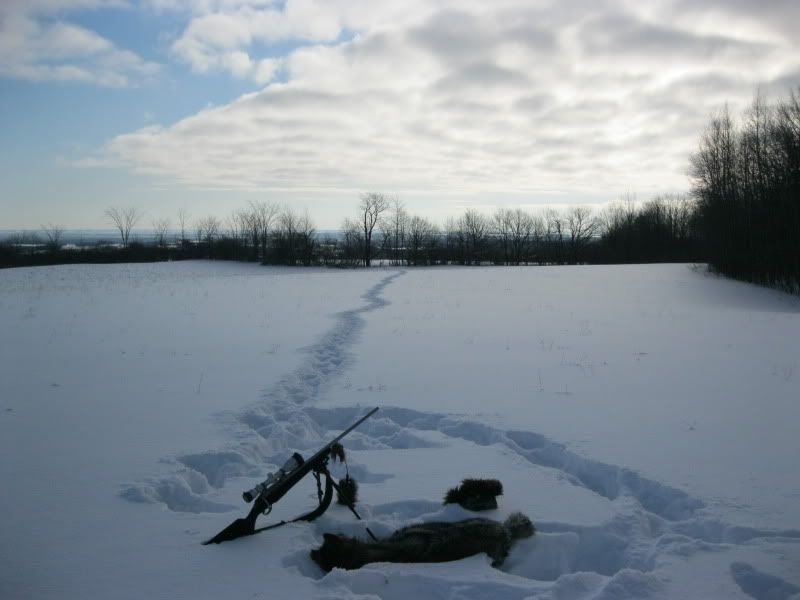 Taking him out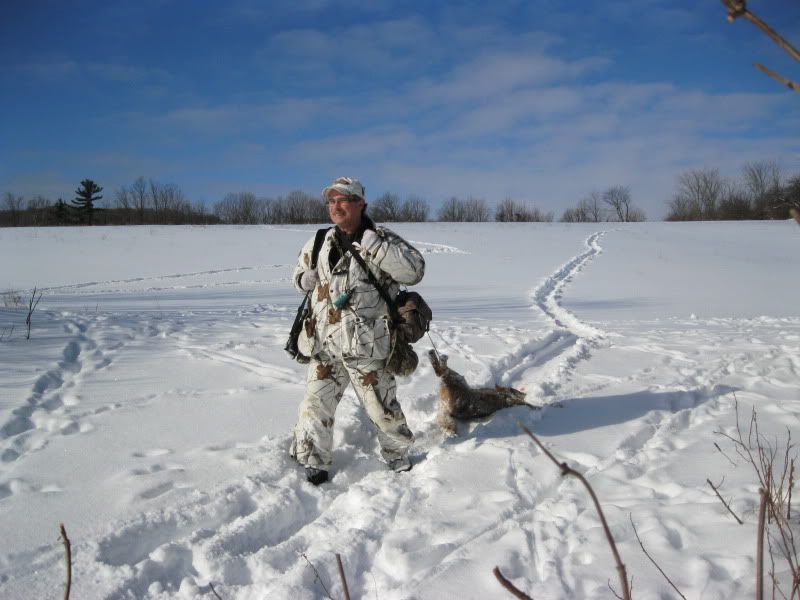 02-22-2012, 05:43 AM
---
It's not much of an issue this year, since we haven't had snow on the ground for more than 15min this winter, but these pics reminded me of something about coyote calling that just always makes me itch (and I'm not talking about fleas!). More of just an observation than a real comment one way or another, but it might be fun to get more input from other hunters about it...

I can never decide in the dead of winter over a clean snow blanket whether I'm for or against breaking a trail to go place an e-caller or decoy in the field. I really feel like if a coyote sees the trail, if he looks DOWN the trail he'll spot the decoy, which is good, but if he looks UP the trail, he'll spot ME, which is bad. I've had success and I've been busted both ways, not breaking the blanket or going ahead and walking out to place items, so really, I don't think it makes much difference, but it's just something that even after all these years and all of these dogs, I'm never quite confident that I'm making the RIGHT call one way or the other. Maybe there isn't a RIGHT CALL, but like I said, every time I get to the field with an e-caller or a decoy in hand (decoy comes along 100% of the time), I always cringe just a little before I drop tracks through a fresh blanket.
02-23-2012, 03:27 AM
Nontypical Buck
Join Date: Feb 2003
Location: NewLowell ,Ontario ,Canada
Posts: 2,765
---
Sheridan , I love that gun ! Congrats on your yote. Wish I could get out this week but I'm stuck at a show until next week.
Nomercy448, I understand what you mean, remember that I walk into the area and stop and call without any tracks but behind me. Most times when I setup I kick the snow off the area of the caller and it looks like a struggle at the noise.
Thanks guys, hope I can put up so more pic's next week...
Posting Rules
You may not post new threads
You may not post replies
You may not post attachments
You may not edit your posts
---
HTML code is Off
---