Sold my fur today
02-15-2008, 04:49 PM
RE: Sold my fur today
---
I sold two 15 lbs. bobcats in February for a total of $100.00
I killed a third bobcat with my bow, but my broadhead tore it up pretty good. I only got $20.00 it...[&:](All were sold whole.
)
Here are some pictures...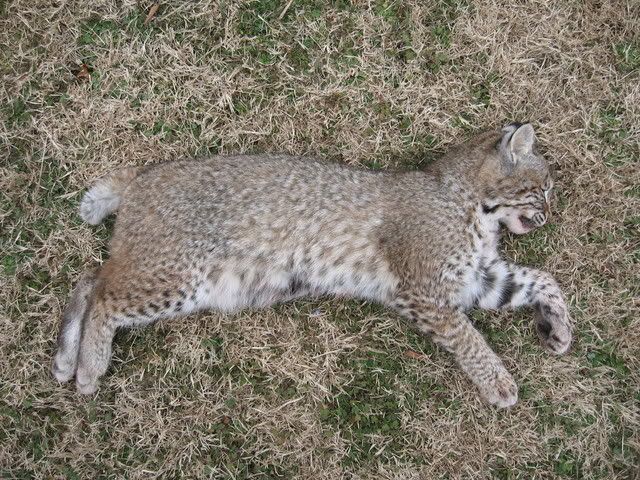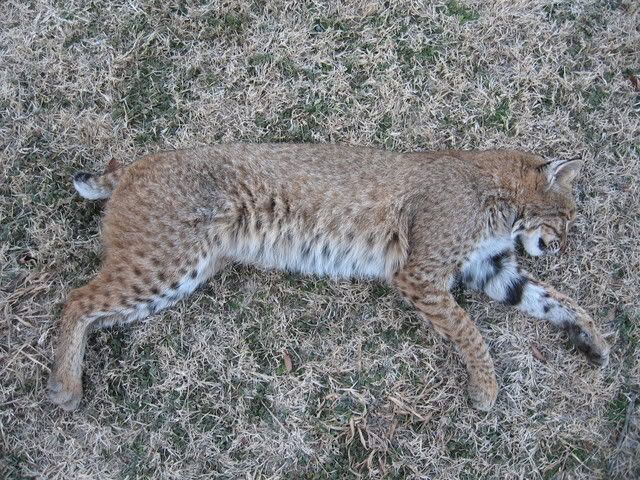 Here's the one I shot with my bow.....
02-22-2008, 05:25 PM
RE: Sold my fur today
---
I think that bow shot cat was worth more than $20. for sure. An arrow makes anice, easily stitched, hole. The other cats were small, but I little surprised that you didn't get more for them too.
I hope I don't hurt anyones feelings, BUT I freeze my coyotes whole all winter long and then haul them to KS. when I go back there to hunt. I averaged nearly $20/ea. for my eastern CO. coyotes this winter. My cousin only averaged about $10/ea. for his KS. coyotes this winter. It's amazing the difference in fur quality and color betweem these CO. coyotes and the KS. coyotes.
My nephew shot a 26# bobcat afew weeks ago in KS., I haven't heard how much he sold it for, but if he didn't get $100 for it, I'll be surprised.

02-28-2008, 03:32 PM
RE: Sold my fur today
---
I talked to my nephew on the phone last night and he got $150. for his 26# KS. bobcat. That is unskinned!!
I think someone got the short end of the stick at $20 for any bobcat!

04-09-2008, 06:11 PM
RE: Sold my fur today
---
yes I do. An arrow cuts the hide and leaves a much cleaner and easier to sew hole compared to whatan exiting bullet will do. Any fur handler could've easily sewn that hole shut.
That cat was worth well more than $20 with his nicely spotted belly.

Posting Rules
You may not post new threads
You may not post replies
You may not post attachments
You may not edit your posts
---
HTML code is Off
---