did i break my scope???
08-24-2013, 08:39 AM
did i break my scope???
---
So I was out shooting my savage .243, and as luck would have it with two months before the hunting season out here, my simmons 3-9x40 just goes blurry after one of my shots... I didn't drop it or anything and the focus lens won't work. It just looks completely blurry and I.can't see a thing! Did my scope crap out on me or what? I already have a Pentax Gameseeker 4-12x40 brand new coming in the mail on Monday only cause I need a scope asap to sight in, and can't afford a really good one now. Can someone please tell me if there's a way to fix my simmons, or is it finally just crapped out? Had the simmons ever since I bought the savage used maybe 5+yrs back (same scope came with it and had no issues before). Thanks guys for any and all information!
08-24-2013, 09:00 PM
---
Its done, dead, history, gone with the wind like scarlett o'hara. I have two simmons scopes. Neither one will hold a zero, one of which never did out of the box, the other one was subjected to the abuse of a braked 7mm mag, and an unbraked 300rum. The latter also is blurry. To me, it is typical of the quality of simmons and their price point. The pentax hopefully will be better quality. If you have a warranty on the simmons, use it, get it fixed, then sell it. I've had good luck so far with the new redfields, I stuck a 2-7x on my 375H&H, and managed this 4 shot grp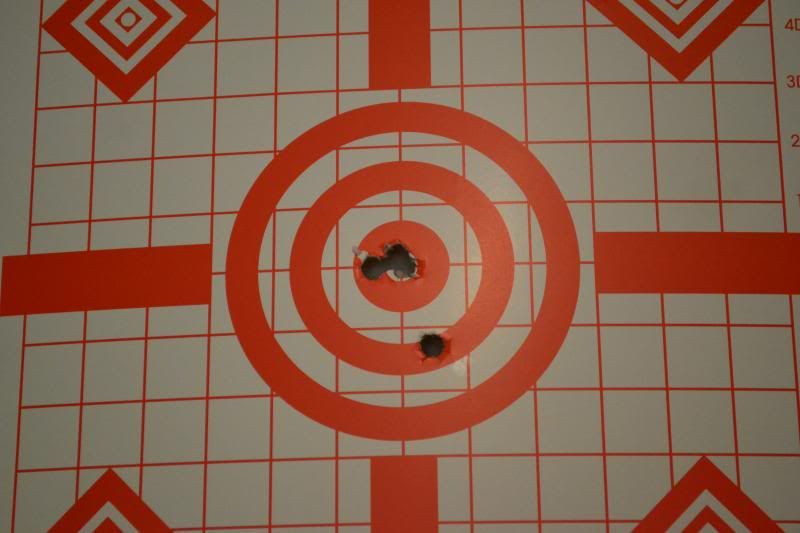 Other than that, you get what you pay for on cheap scopes. Best to save the money and get good glass, so it is less likely to fail on an import hunt.
08-25-2013, 06:33 AM
---
08-25-2013, 09:37 AM
---
+1 Sheridan!
I have a couple Simmon's scopes in the box of parts that have come off of rifles I bought...I shot through one of them once, it was supposedly pretty new and I was so unimpressed I didn't even bother using it on a 22 or anything else, just tossed it in a box with a few other crappy scopes (BSA anyone???...hahaha). You get what you pay for with Simmons.
Save a few bucks over the next year and invest in something with a lifetime warranty...a good 3-9x40 can be had for under $200 from places like Swift (Premier line) and Nikon (Pro-Staff 5's) and a few other places on sale.
I have never had nor looked through a Pentax...hope it gets ya through your hunt.
08-25-2013, 01:52 PM
---
I had a Simmons Aetec that just went out of focus when I turned the power ring up. Moving the power ring, I could get it to focus, but the power was not moving. That was on opening day a few years ago. Luckily, I didn't get a shot that day. When I got back to camp we set up a target and shots were more than a foot apart! I called Simmons even though I was sure I did not want a Simmons again. Their customer service was horrible! Which made me more determined to get the scope replaced. I finally got one about 7 months later, never mounted it on a gun! I threw it in the trash!
08-26-2013, 05:41 PM
---
---
Last edited by Murdy; 08-29-2013 at

07:27 PM

.
08-27-2013, 09:22 AM
---