Help with some pictures of cases
08-04-2011, 08:42 PM
Help with some pictures of cases
---
Some months ago I started loading for this custom 7mm STW that I bought off of a friend. His dad had given it to him and he didn't shoot it so he sold it to me. Anyway if you remember I was having some trouble with a sticky bolt trying to load my own. I was at a sports store and came across some factory ammunition (Nosler 160gr Accubonds) so I decided to give them a try. They stuck even worse than the ones I loaded. So I have been a little frustrated to say the least. I started researching a few things and came across a post about headspace being off. So I started looking at some of the cases that I had fired.
There is a 0.020 band just in front of the belt that is smaller than the rest of the case. I wanted to post some pictures for experts to look at and see what you all think. Any help/suggestions would be appreciated. Before I bought the gun I shot it about 13 times with some factory ammo that he had and didn't have any problems but those cases do have this same marks on them. Not as defined though.
From the belt the shiny area is smaller and increases in size slightly up to the end the shiny area and then it starts to taper back down as you go further towards the neck.
Thanks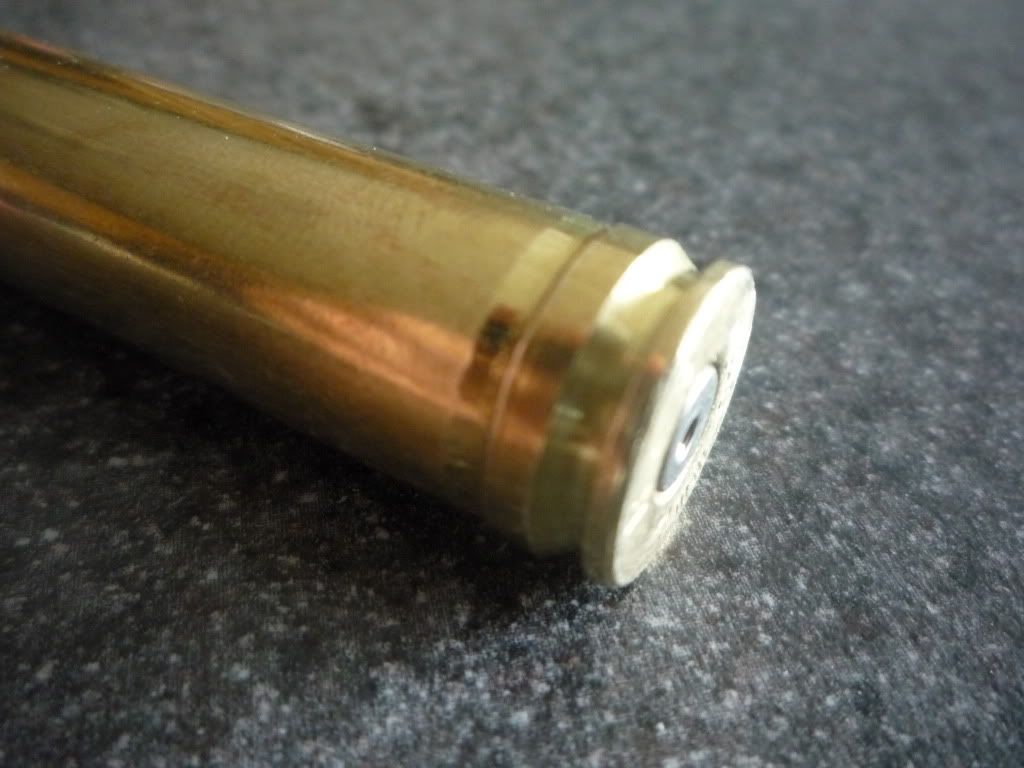 08-08-2011, 01:22 PM
Typical Buck
Join Date: Mar 2007
Location: Wide open Nevada
Posts: 515
---
What do the necks look like? You may have a chamber that is a little short on the neck portion or brass that is just a little long or a combination of a minimum chamber w/ max brass. I recently had just that very issue w/virgin brass being much too long.
08-08-2011, 07:29 PM
---
Thanks for the help guys. First answer I did use the case length trimmer on these cases after I sized them and I don't notice anything on the necks. I will inspect a little closer and see if I can find anything.

RR - Just so I understand what that would do - Will that only size the case slightly smaller than the chamber versus the standard spec, therefore not allowing the brass to expand beyond the point where it has no elasticity?

I will see if I can't get a 30-06 die from me BIL and give it a try.

Thanks
---
Last edited by Wheatley; 08-08-2011 at

07:31 PM

.
08-09-2011, 11:23 AM
Nontypical Buck
Join Date: Jan 2008
Posts: 1,320
---
I believe what RR is wanting you to do is expand the neck to 30 cal. Then size the neck back down to 7mm but only to the point that the case will chamber. This will give you a small 'false' shoulder to headspace on. This will hold the case tighter against the bolt face and eliminate excessive headspace. After firing the false shoulder will be gone and the case will now correctly fit in your chamber.
08-11-2011, 06:39 AM
Typical Buck
Join Date: Mar 2007
Location: Wide open Nevada
Posts: 515
---
That is what we call fire forming. The case now is a matching fit to your chamber. What you most likely have is a chamber that is near maximum size. I'd say just neck size and try them for fit. You may find the easy bolt drop as much as a full turn from the nominal shell holder touching the die. W/this much expansion I'd guess your cases full length sized wont last more than 5-6 cycles before you see the 1st cracks. I would also use a marker, Sharpe or the like,on the case just to check the shoulder sizing as well. See the post here about fire forming.
Posting Rules
You may not post new threads
You may not post replies
You may not post attachments
You may not edit your posts
---
HTML code is Off
---