25-06 ballistics
02-03-2008, 07:23 AM
Fork Horn
Join Date: Jan 2008
Posts: 240
RE: 25-06 ballistics
---
Mine likes 52.2 grains of H4350 CCI BRII primer and a 100 Sierra Game King seated .010" off the lands. There going 3180Fps. Thats all out of a Rem700 with a 22" barrel. Plenty accurate and devistating on a Whitetail. As always start with a lighter charge of powder and build up. The Sierra manual says 54 grains is max so you should be OK on pressure with this load.
02-07-2008, 04:54 AM
Typical Buck
Join Date: Feb 2003
Location: Hickory NC USA
Posts: 964
RE: 25-06 ballistics
---
I like the accru bonds better than the BT seems like they are more accruate.
You may want to try the load below its not max but I would start with 52.5 grs.It may be more accruate in your rifle??
I just shot some with this load tuesday two one hole groups at 100 and 1.3in at 300 yds.I got this load from someone else online.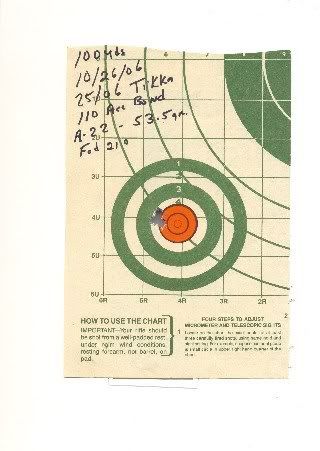 02-07-2008, 07:07 AM
RE: 25-06 ballistics
---
ORIGINAL: bobfm10350

Yep thats exactly what im lookin for. Just got an old Ruger 25-06 and im wonderin what to load in it.
I've only had one .25/'06, a Ruger No. 1V with a heavyweight 24" barrel. I used Remington brass in it, and Sierra 117-grain bullets for shooting whitetail deer. My load used Norma N205 then later, Norma MRP, powder and federal 210 primers. I was able to work up a load with this combination of bullet, powder, and primer which was about 1 MOA in accuracy, and at a MV that placed it right behind a .257 Weatherby magnum, but not much behind! I don't know, or course, what a mx. load would be in your rifle, but I started my load development workup with54 grains of MRP (or RE22) and went up from there. So if you have a powder in the same burning rate range as RE 22 or IMR 7828, or even MRP, (which is available again!!), you could start with 52 to 54 grains and see what happens as you increase.
I am a little cautious about using TOO LITTLEslow powder in a large-capacity, smallbore case like the .25/'06. I think one can get in trouble faster using too small a charge of such powders than from using too much. (S.E.E. or D.D.T. effect)
02-08-2008, 01:05 AM
RE: 25-06 ballistics
---
My 25 06's prefer either Imr 4831, or R22. The charges are fairly stout before the groups tightened up to my standards. The 100 grainers give exceptional accuracy, as do the 120's. You will have to play with it to find out it's likes and dislikes. Have fun, and good luck.
02-08-2008, 06:55 PM
RE: 25-06 ballistics
---
My 25-06 Remington M700 BDL with custom Fajen thumbhole stock doesn't like anything [:@]. It will shoot 3/4" with factory Winchester 120 PEPs but hates everything else factory or handloaded. Don't know what its problem is. Now it just gets admired at camp