2011 Canadian Hunting Adventures
10-18-2012, 01:16 AM
---
Dry cow means moose in the freezer. Cut her up tonight and have a problem....fork only...no knife required! First farmland moose I have shot, crazy tender and wow lack of fat!

Found a mulie of interest gonna head out saturday to see if I can't get closer with the smoke pole. Got a cow elk hunt for buddies lined up the next weekend so if I don't close the deal have to wait till nov. likely on the mulie!

Take care all...good hunting
11-04-2012, 09:38 AM
---
hey all!
long time now chat. hope you're all taking care of yourselves...I see that some of you still come and chat. Anything big down this year? I managed to get my first goat, unfortunately he had busted his horns from a fall (and lived). Didnt bother me too much as the adventure was in the hunt not this kill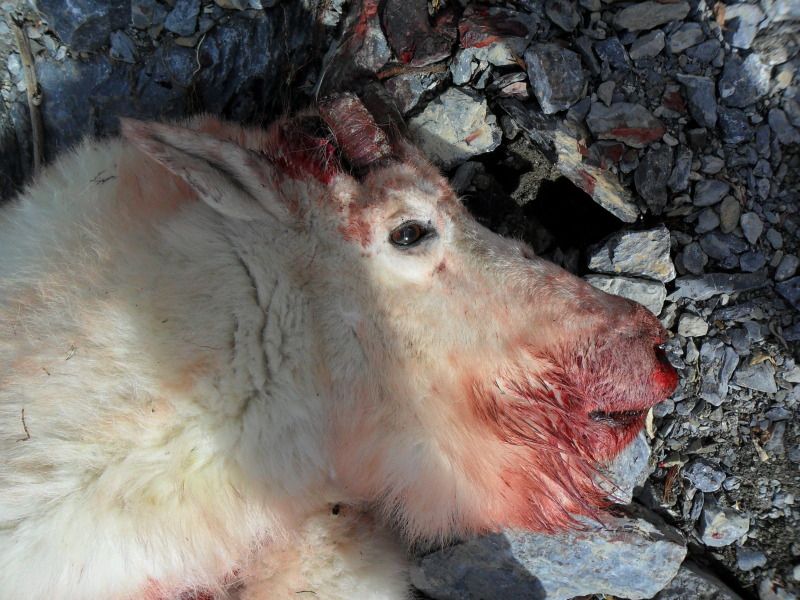 the mountain he was on:
11-28-2012, 08:52 PM
---
Hey all, not much happening I see. Hope your season has been good. Congrats AG on your goat!

Been a tough deer season for me. Started with Mulie Chasing a stud for weeks only to find out the reason he vanished was via a poacher...URG! With only a few days to hunt I went into plan B,C,D and E..ended making a snap decision on the last day I had to hunt on a buck I jumped while silent hunting. All I got was him running away at 32" wide and a corkscrew dropper I shot first and questioned later. Character, wide and heavy but not the sugar plums I had dancing in my head when I got my tag. Never saw this deer previously...which I found weird for mulie's in relatively open terrain. Guess that's hunting!

Whitetails has been a chore to say the least. I haven't been able to scrounge up anything close to a shooter in my favourite spots. My trail cams tell the same bleak picture. Numbers are actually up on does and fawns but bucks are nowhere what they should be. I have moved my cam in hopes an old haunt will produce but with only a few days available I am not overly optimistic. I have been struggling to keep motivated. My hunting buds are finding the same thing in there whitetail adventures. Any way with a week left one must remain persistent as the off season is a long one to second guess half arse efforts.

Good Hunting and be safe!

PS sorry about the field pic my daughter was along that day and assured me it was a "good one dad"! The gash across my nose is from a hockey stick a couple nights earlier, courtesy of my nephew!
11-29-2012, 03:59 PM
---
right on! hes got character in my books!
dont give up on whitetails - has your weather been warm? pic doesnt look like it... clear nights?

im planning a trip down to a family ranch in 302 - any of you guys hunt that far south west?
11-29-2012, 09:14 PM
---
No it s been below normal in fact. Last few days with windchill -25 to -30. Snow hasn't really added much since my mulie, had a short windy warm spell which moved a lot then skiff here and there since. For most part prime whitetail hunting temps just not panning out. I wont give up but its my hardest year that I can remember in a longtime to stay positive.

Good Luck Ag! No help here on your query!
12-04-2012, 07:35 PM
---
Tag firmly placed on the christmas tree now. I out in 2 1/2 more days hunting whitetails but to no avail, saw deer just nothing I would shoot. Such is life. Always next season. Time to go ice fishing soon!
Posting Rules
You may not post new threads
You may not post replies
You may not post attachments
You may not edit your posts
---
HTML code is Off
---