2011 Canadian Hunting Adventures
10-14-2011, 11:29 AM
---
Hey Boys!
Where has the fall gone? Hard to believe it's already mid October and I'm so far behind on scouting and hunting I think i'm ahead.
Nice work on the elk Skeet! You guys seem to always get into them and do some damage every year. I've got a cow tag in 54 so i'm keeping my fingers crossed that i'll put my first elk in the freezer this fall. Congrats on the moose too! sounds like a classic "he's down, sh*t! Now we have to get him out" adventure.
Awesome mount JD! I'm sure once the first few snowflakes fly you'll be itching to get out the door.
Any luck on the moose front yet YF?
As for me, have been super busy this year. We bought a new house in Warman (nice and close to the Taxidermist), so between field trips for work I've been building a fence, deck etc. We also added another little rugrat to our family in July, a little boy. I've already got him hooked on wild tv and have been trying to test eye dominance in case i have to stock up on more right or left handed firearms.
My deer season so far has been virtually non existant save one trip with my 2 1/2 year old daughter to set up a trail camera. It was her first trip in the woods with daddy so i was content to let her explore. In the end, she had a great time looking at "ducks on the wawa" and pulling out grass so daddy could set up the camera.
Other than the day with my little girl, the one bright spot in my season so far was being given the "thumbs up" from my boss (the real one, not my wife) to pack a rifle and moose tag on a recent work trip up around Uranium City. We got dumbsh*t lucky and on the fourth day of the trip a bull walked by on the burned out hill across the lake from us. I won the coin toss that morning and since we were still organizing gear on shore, I had time to grab the rifle and let him have it. With the 15 seconds of fun over, we had to take the next day off to cut up moose meat and get it ready to fly home. All in all, a pretty quick but unique hunt. The rut hadn't really got going yet so he was still fat and sassy and tastes great.
Good luck all!
P.s. I was wearing colors when I shot him ( I had put them on that morning just in case). However, I took off a few layers of clothing before we hiked up to the top of the hill he died on.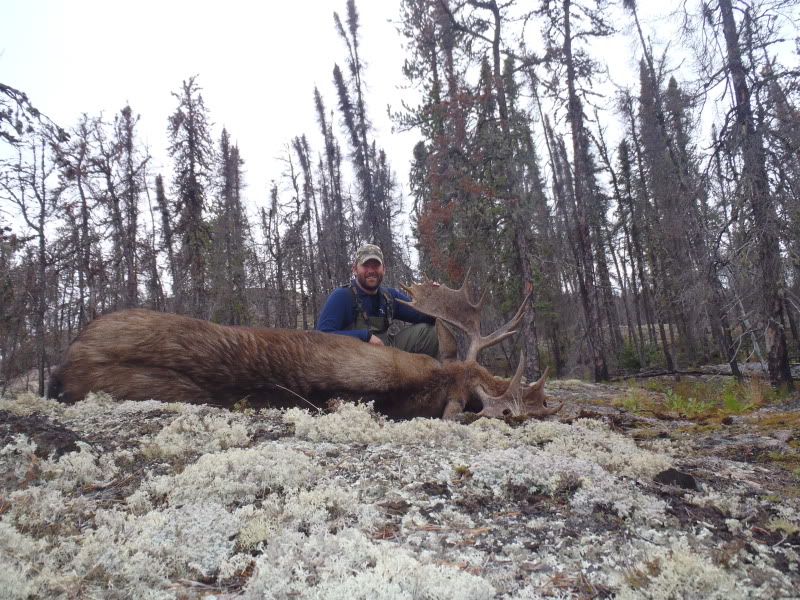 12-05-2011, 08:23 AM
A few pics from my season
---
well the season is over & I didn't get the big boys I was hoping for, but great memories none the less!
I saw more Pheasants than I ever had in my life 1 day (over 100 in one spot), didn't get much on the game cam for shooter bucks so I decided whatever I could get that was 1/2 decent was coming home with me. Got sick over the long weekend so that really screwed up my big game plans, anyhow I hope everyone had a good season!! been pretty quiet this year
12-10-2011, 01:26 PM
---
---
Last edited by youngfart; 12-10-2011 at

01:50 PM

.
10-08-2012, 12:25 PM
---
WOW
Where is everyone? Sceet? Sask? & the rest of you canucks!!! Looks to be a record year here for big deer.Already a 284 whitetail down early by Provost and a few over the 200 mark in Velvet.
Rocky
10-09-2012, 04:34 AM
10-12-2012, 06:36 AM
---
Hey fellas...I pop in once in awhile not much happening here in the past year or so it seems. Flippin insane with work these days such is life in the "boom" though...make hay while the sun shining!

I have some hunting to do this year. Filled my elk tag early with the bow, smoothed talked a raghorn in for a chip shot. Drawn for mulies, spent some time out shopping, so far its been uneventful. Gonna head to a different store(part of my zone) sunday to see if I can't find something to chase. Drew a farmland moose tag, yet to be filled but decided to hold out for a little while...no big boys found. Might just take a dry cow and call it meat in the freezer..we'll see. Seen some good whitetails running around....awesome compared to last year it was pretty bleak.

Good Hunting