South Africa - April 2010
11-22-2010, 05:03 AM
South Africa - April 2010
---
We departed sunny Arizona on April 7, 2010 for our 3 hour flight to Atlanta, Georgia then the adventure began...17 hours on a plane with little leg room and unhappy kids! About 5 hours into the flight I was done and wanted off the plane.
We watched several sunsets on the flight, were fed every 2 to 3 hours and finally arrived in Johannesburg, South Africa. Then it was off to the South African police station to retrieve our weapons. Dealing with another country and their rules and regulations is definitely an experience.
*Anyone traveling to a foreign country needs to start months ahead of time to insure they have all the proper forms, licenses and permits in order BEFORE they begin their journey. In our case we actually had to hire an outside company to process our gun permits through the SA Police. Without their assistance we could have spent hours in line waiting for a permit to bring our guns into the country.*
We had been warned about the scalpers who where not authorized to help with our bags. Luckily we were greeted by Jacque a representative of the booking agent who helped us board our bus to the hotel and avoid the "help" with our luggage and the 50 Rand to each handler, per bag ransom to get our luggage back.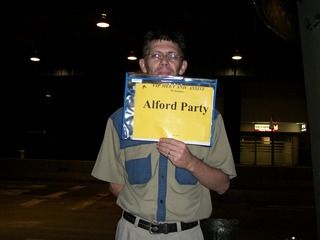 We spent the night in Johannesburg then was off to the airport early the next morning to start the process of checking our weapons and boarding another plane for a 1 hour flight to Kimberley, South Africa. I was somewhat disappointed by the terrain in South Africa. If I had fallen asleep at home...woke up there...I wouldn't have known the difference.
We were greeted in Kimberley by Jules and Madeline who took us to Klein Papkuil their farm "lodge" where we were greeted by the staff and settled into our room at Klein Papkuil. The staff and accommodations were unbelievable.
http://www.gerssafaris.com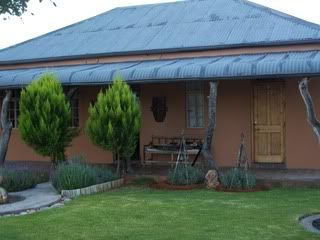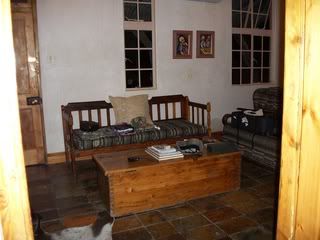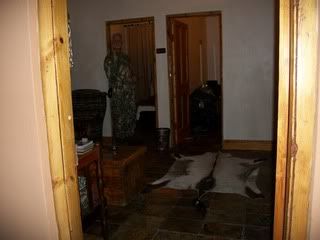 Our room
Other guest rooms at the lodge:
[imghttp://i748.photobucket.com/albums/xx126/Dark_Continent/Resized/100_0050_00.jpg][/img]
The dining room where every meal was a 3 course sit down affair with the owners, PH's and hunters: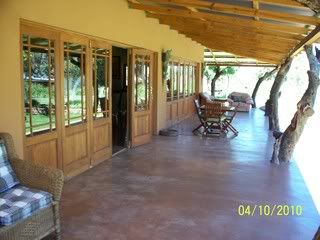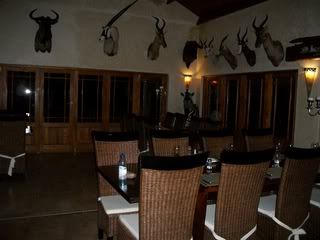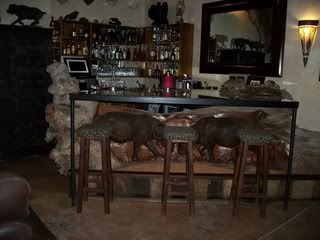 *The bar is one huge piece of carved wood with 2 cape buffalo sparring*
And of course I found my favorite place there: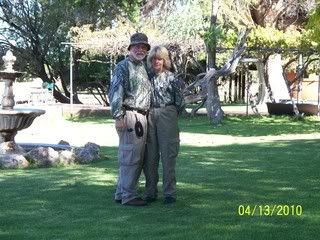 The metal doors on the right under the grapevines go down to the wine cellar.
The grounds were beautifully kept and it was an oasis with a swimming pool and weight room in a rough country.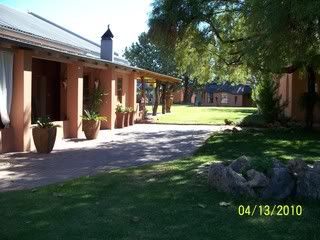 Back patio where we had coffee every morning watching the animals out in the pan and BBQ'd at night.
Everyday we saw a variety of animals out in the pan (meadow) while sitting on the patio having coffee. We watched Black Wildebeest clowning around, Bontebok, Roan and Sable. It was so peaceful there, watching the sun rise, the dew glistening on the grass and the animals roaming around. At night we would sit under the most beautiful star filled sky and watch the tiny steenbok and springbok wander around outside our room feeding in the yard.
Some of the other animals we ran into on our walk abouts in the thornvelt: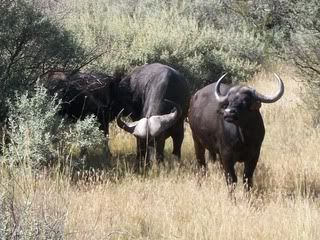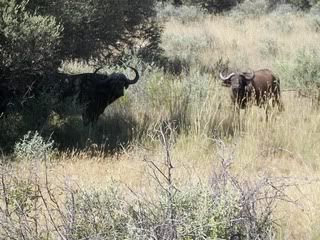 Young Cape Buffalo
Female Springbok
Go Away Bird...very noisy critter!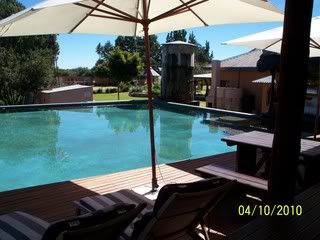 Swimming Pool.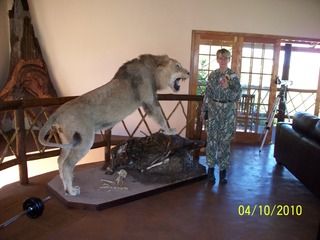 Weight Room
The staff, once we adjusted to their names...like Wonderful and Amiracle...were top notch. They went out of their way to be friendly and to accommodate any needs or wishes we had.
Someone greeted us each night as we returned from our hunt with warm, wet towels to wipe the dust from our faces. The ladies washed and ironed our clothes each day. Julius would greet us with a drink and we would all gather and relax around the fire pit at night, catching up and sharing stories with other hunters in camp.
We loved every minute of our time in South Africa. The people, the food, the songs and music and the culture. It was truly a hunt of a lifetime!
Posting Rules
You may not post new threads
You may not post replies
You may not post attachments
You may not edit your posts
---
HTML code is Off
---