South African Black Wildebeest and Kudu
11-22-2010, 04:57 AM
South African Black Wildebeest and Kudu
---
The sun was near last light when one of the trackers spotted the Kudus horns shining in the fading light. His horns reflecting and the chevron on his face was all the was visible from his hiding spot deep in the camphor bush.
Garry settled for his shot and we waited for the Kudu to provide a shot. As the Kudu turned, he fully exposed his head and neck and Garry was able to place a shot into him. We immediately took up his trail through the tangles of camphor and thorn brush. The bloodtrail was massive, covering the ground and brush on both sides.
African animals are incredibly tough. Being from the US, we were following the blood trail while our trackers were following tracks or scuffs in the sand, broken twigs, torn leaves and upturned rocks.
As the sun set and darkness was overtaking the savannah, we finally located the Kudu. He had managed to run 200 yards even thought fatally wounded.
Garry and his Southern Greater Kudu
Garry also went after a Clown of the Savannah or Black Wildebeest. His was very old and if they recognized such things as non-typical in African trophies, his would have been one! The Wildebeest was very old as noted by the seperation between his shrinking bosses and his white eyelashes. This old boy had eyelashes the girls would die for...extremely long, a beautiful silvery white.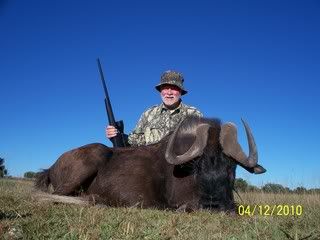 Garry and his Black Wildebeest
---
Last edited by ladybowhunterAZ; 11-22-2010 at

05:23 PM

. Reason: wrong post
Posting Rules
You may not post new threads
You may not post replies
You may not post attachments
You may not edit your posts
---
HTML code is Off
---