New raised bed garden
05-25-2022, 09:06 AM
New raised bed garden
---
I have a virus in my soil I have been fighting against for years so I bought above ground bed containers. They are all cedar and put together with dovetails, no nails or screws. I sprayed the garden with roundup then covered it with rubber mulch to prevent weeds and sat the beds on top. I filled the beds with raised bed soil which cost more than the raised beds. In the photo the first one is planted in tomatoes and bell peppers, the second with tomatoes and jalapeno peppers, the third with one Japanese hot pepper, spring onions and eggplants and the 4th with three kinds of radishes, cucumbers and leeks. In a couple of days I will be able to pull some radishes. It sure makes it a lot easier to plant while standing up. Looking forward to see how the tomatoes and peppers do. If you click on the photo twice it will get real large.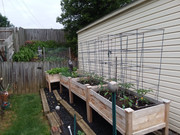 05-26-2022, 05:55 AM
Spike
Join Date: Jan 2022
Location: Colorado
Posts: 12
Salsa garden
---
I have 40 vegetable plants in raised gardens and pots. Each plant has its own personal sprinkler attached to my drip lines. Last year I jarred 40 pints of salsa. Hoping to produce much more this year. Good luck!!

---
Last edited by GreatWapiti; 05-26-2022 at

08:20 AM

. Reason: Add photos
05-27-2022, 05:35 AM
---
05-27-2022, 11:32 AM
---
Interesting garden OT. How many hours of sun per day are you getting next to the building? I do like the idea of being able to garden while standing. Seems like it would save your back some and also make it harder for slugs to get to plants.