Calling all the original posters.
09-15-2015, 11:26 AM
---
Has anybody stayed in touch with cardeer? Or metro?
Love to see Cardeer post again. I think metro was banned as I remember and came back as metro 1, 2 etc. His meltdown was epic......but he did post some great zoo pictures.
09-18-2015, 11:04 AM
---
A few other longtime members who helped make this place great and original were Stealthycat (no Ranger77), VC1111, Captain, who, datbuck, Tazman, Swampbuck, ArticBowMan (ABM), jjoel, Weasel, malonefan, TxCowboy, tschaef, royak among others and of course the afore posted sswpriz. Lot of people, lot of great memories. Definitely something to appreciate and enjoy.
09-19-2015, 03:35 AM
---
who you callin "posers"
BTW, checked in recently upon hearing some sad news, seems more and more frequent, hope all is well with each member and your families...i spend most of my time online on a bassfishing site, and some FB time, but not a whole lot on any of them, just been too busy
09-19-2015, 04:01 AM
---
Hey Keith... nice to see you show up. You were one of the members I was hoping to run into again. Lots of bass activity here on Lake Champlain. The bass guys are all over the place these days. I remember when seeing a bass boat was rare now just about every boat seems to be one. Hope your fishing is going well.

Frank
09-19-2015, 05:07 AM
---
Likewise Frank, we are doing great and hope you and yours are too, i would still love to make the trip up and fish Champlain, have a friend that went up a couple of years ago and fished the ticondaroga??? area, he mentioned it was phenominal...our fishing has been good, we have not been able to go as much as we would like, wife and i both have had some health issues, but we are doing great now...and plan on going more, hope you have a great seaon this year, any big hunts planned???i am looking at a doing one next season (whitetail, archery), maybe Canada again, Manitoba or Sask...and will be chasing our critters around here this season, i will try to post a pic of wife's bass she caught last year (8# 1oz) her new PB...Take care, Brother, been way too long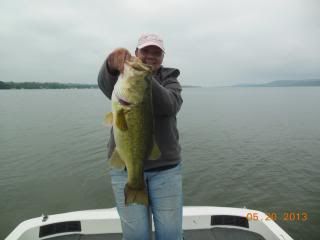 ---
Last edited by m.t.hands; 09-19-2015 at

05:18 AM

.