question on bears and fawns
08-02-2009, 07:30 PM
Giant Nontypical
Join Date: Dec 2005
Location: PA.
Posts: 5,195
poor fawns
---
do to increase in bears in pa and decrease in number of fawns do to less doe,the fawns that are left are eaten by bears.we had report 1 month ago of bear running up youngwomans creek with a fawn in its mouth.
very sad.coyotes are doing a big number on fawns too.
08-03-2009, 05:00 AM
---
Was along pine creek last spring talking to a local fly fisherman. He saw a mother and two fawns accross the creek so he figured he'd make a high pitched fawn bawl to see what reaction he'd get from the mother. He said that almost immediately a large boar came tearing out of the high brush into the creek accross from him. Luckily the mother and the fawns got away but the bear was definitely looking for a snack.
08-04-2009, 03:06 AM
---
I watched a film once made up here of a bear talking a calf moose. it was a good thing the cow had 2 calfs instead of one. I also watched a big boar chasing a large buck once while bow hunting. I do not think that the bear caught it, but they were both moving very quickly.. So it is with out a doubt they will take fawns. They also will take full grown livestock if given the chance.
08-04-2009, 06:58 PM
Giant Nontypical
Join Date: Dec 2005
Location: PA.
Posts: 5,195
---
sad isnt it douge.i was walking to put out some corn in my box for squireals ,one was sitting there when all of sudden a hawk came by my head and took benny, i named him benny for jack benny .he went by me so close i could do nothing.i had toby go after hawk over bank but hawk was up in tree with benny in his claws.
i am sick over it ,i was even crying when i came back in house.takes a lot for me to cry.that benny was there for 3 years.i took all my feeders down today after this.this hawk has killed 3 of my rabbits and many bluebirds, woodpeckers,grouse lots of grouse.
sorry i got off topic.its no wonder we have very little small game.i never thought bears would kill fawns like i am hearing from camp owners.i know coyotes are getting them,i seen that .
08-05-2009, 10:40 AM
---
Here is an excerpt from the PA game commissions fawn mortality study. They captured and collared numerous fawns and then monitored them over a period of time. This table shows the number of fawns killed in each week following their capture. You can see that while the fawns are very young it's bear that are the primary predator but that coyotes seem to hunt them until they are much older which equals out the total number of fawns killed by each. In this study bears took 16 and coyotes took 18. However, in the first six weeks post release the bears had killed 15 to the yotes 11. It's safe to assume that both bear and coyotes are pretty equal when it comes to fawn predation. Bobcats on the other hand killed three of the captured fawns.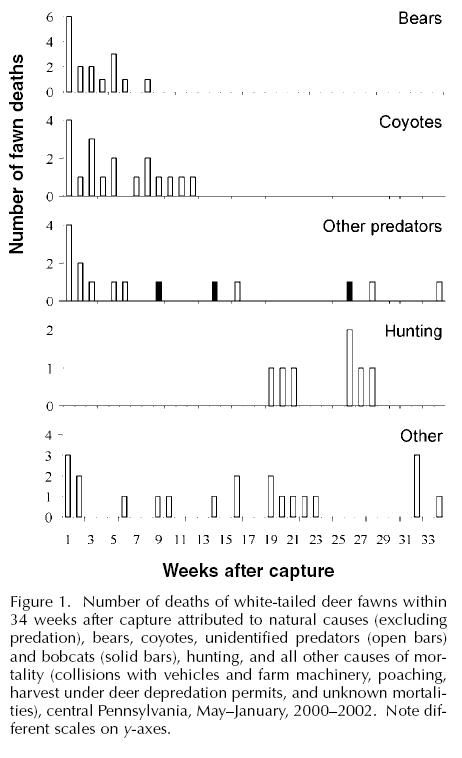 08-05-2009, 02:40 PM
Typical Buck
Join Date: Jun 2006
Posts: 882
---
wow: thank you for the reply on this subject
I been seeing a large number of bears on the mountain for the last few years and seeing less deer each year.
I will see if I can take a nice bear this year in early bow season,I would like to donate the meat,are there any programs that do that in the N.east area
I know there are programs out there to feed people that hunter do not eat the vension