Finally Our Turn MA Hunters
10-16-2007, 05:45 PM
RE: Finally Our Turn MA Hunters
---
Passed on a couple of small 8's but figure I'm gonna wait until they mature. Not really.
Been out three times and have seen one small doe. The AM sounds pretty good with a nice light breeze out of the west. That will work just fine for a stand I have in mind.
Lot's of scrapes being opened and worked on so things should pick up fast. At least I hope so but the woods here on the coast still look like summer..

10-17-2007, 04:39 AM
Typical Buck
Join Date: May 2004
Posts: 561
RE: Finally Our Turn MA Hunters
---
Greatest day I ever had afield yesterday!

I saw a doe at 7:30, followed by what I think was a small buck (it started making a scrape but I couldnt see any head gear).

They 2 small 8 points followed by a larger 8 point all hit the scrape together....the first walked right under my stand and straight from me never presenting the vitals.

The 2nd one (twin to the 1st) started to take the same route with the big one behind him....only this one turned slightly...not knowing if the big one would ever give me a shot I took the 2nd 8 point at 8 yards and made a terrible shot front of the chest but cut the main artery and he went down 30 yds out.

Saw 3 more deer in the afternoon hunt! I will post pics once I get them off my buddies digital camera.

I am thinking about getting a mount done....anyone know a good taxidermist in MA?

Jim

10-17-2007, 06:27 AM
RE: Finally Our Turn MA Hunters
---
My buddy scored on a nice doe last night in Berkshire County. We recovered her after a tough track through a swamp. She went about 150 yards.
I got a squirrel last night!
10-17-2007, 09:47 AM
RE: Finally Our Turn MA Hunters
---
Well Monday morning at 8:05 AM I had a large 4 point walk right down the poser lines and turn down the same path I came in on walked to about 28 yarda turned broadsid and I gut shot it. Didn't find it till Tues. Am and the cyots ate all the hind quarters too bad it was a nice deer all I got were the horns,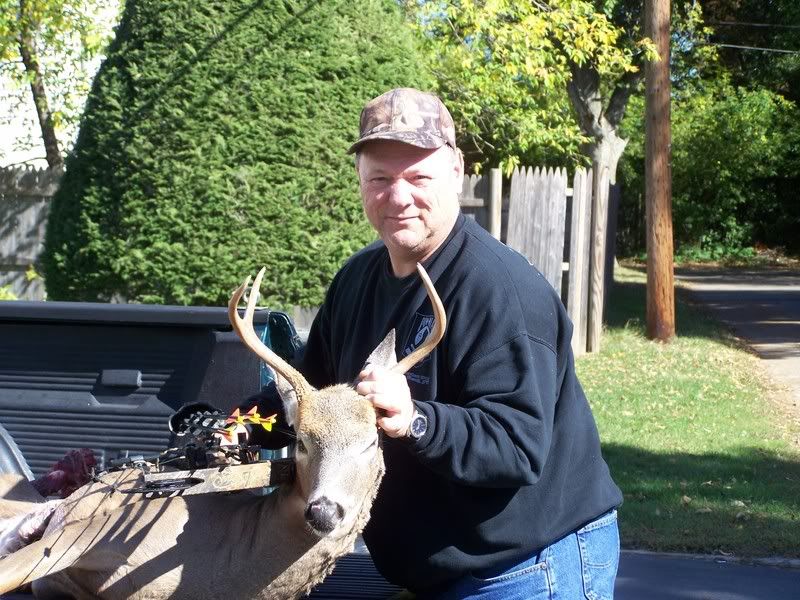 Good Luck guys I hope you shoot better then I did. And make sure you recover them right away don't leave them over night them damn cyots hunt all night and once they hit blood they stay with it. Now I still need one for the freezer.
10-17-2007, 12:06 PM
RE: Finally Our Turn MA Hunters
---
Congrats on the bucks Jim & Mike. Mike can't wait to see the pics of the 8. Sounds like a lot of action!
Mike, I wish I could say that has never happened to me. Looks like the shoulders are ok... you could still do some sausage or burger w/ him.
Nice 4 point though.
Congrats to you both.


10-18-2007, 05:20 PM
Join Date: Oct 2007
Location: Mansfield, MA
Posts: 10
RE: Finally Our Turn MA Hunters
---
Two does last night, no shot but I took a buttonbuck for the freezer. Spike came in in the AM, but no shot. Guy I know in Whitman shot a 171" gross monster!!! It went 200LBs and should be like the # 3 or 4 archery buck in MA!
I'll post some picks when I get them, they might already be up on Reedys web site.

Looks like the Coyotes are getting out of control, I heard they were going to lift the centerfire rifle ban in MA for them. I never confermed this though, still just a rumor.

10-19-2007, 06:48 AM
RE: Finally Our Turn MA Hunters
---
Congrats Knapp... My buddy took a button Wed pm too.
I still haven't seen a deer yet! I hate this weather.
Had a big fat possum come under me this AM... that was it.