R.I.P. ****xmountie****
03-28-2013, 07:05 PM
R.I.P. ****xmountie****
---
At around 7:30 this evening, surrounded by love, laughter, and the music he adored, xmountie very quietly passed away.
This was a Man among Men, with a heart as big as all the world. For those of you that knew him, you know what an honor and blessing it was to have to have made his acquaintance. I ask that you all remember his family in your prayers.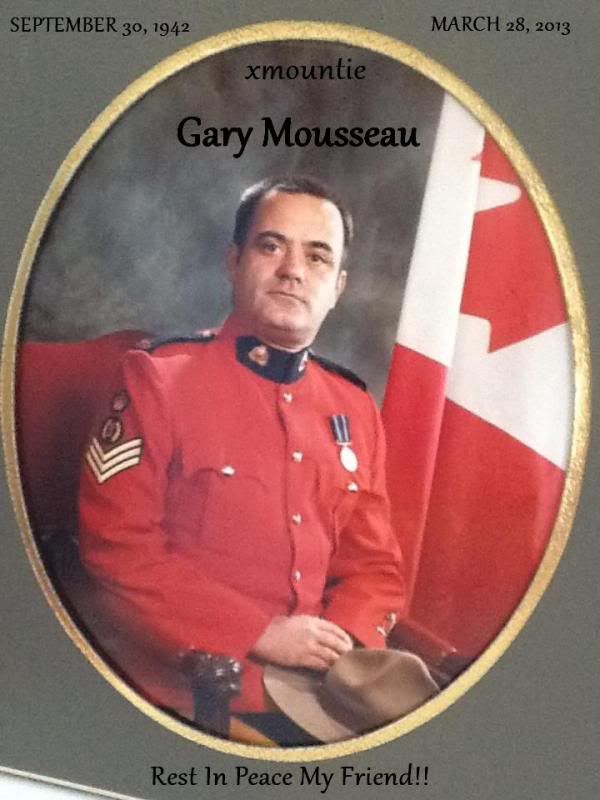 ---
Last edited by deerdust; 03-29-2013 at

02:39 AM

.
03-28-2013, 08:01 PM
---
From a post of his Daughter, This was how his last day went:::
Dad was a big fan of a local group called the Bowes Brothers - they play real, classic country music. They called and said they'd like to come and play for Dad, who was so pleased when we told him.

Dad was awake this morning, to say good bye to his friend J, then spent most of the day asleep. He woke briefly when the guys arrived, and he heard them start to play "Cattle Call". Quietly and easily, Dad slipped away.

Dad had a great life, and a good end. It was just as he would have liked. If there's any joy to be had, there it is.
03-28-2013, 08:29 PM
---
I am not a religious man so I shall remember Gary in my own way. I had the honour and pleasure of meeting Gary last year for a few hours on his way to Saskatchewan. I knew he was a gentleman the minute I met him. We enjoyed many a chat on here over the years. I shall drink a few "Blue"s in his honour as they were his favourite. My condolences to your family.
Gary, you will be missed.
Ron
---
Last edited by rbduck; 03-28-2013 at

08:32 PM

.