Who's going out this weekend?
03-06-2009, 12:33 PM
Fork Horn
Join Date: Feb 2006
Location: Central Illinois
Posts: 229
RE: Who's going out this weekend?
---
ORIGINAL: HNI_Christine

Rodiller, never heard of it. I wonder how it works.

Dave is Weldon ramp open yet? I thought it didn't open until April 1st.
Parnell Ramp on the East end where the big 'ens hang out. Just checked the weather and its a go! No rain till after midnight. Leaving now. See Ya.
Dave R
03-06-2009, 02:06 PM
RE: Who's going out this weekend?
---
We're on the road right now. Boat is following us. We're going to shoot techno hunt and then, if the weather holds, we'll be going to Clinton Lake. We'll be launching from Mascoutin.
03-06-2009, 07:28 PM
RE: Who's going out this weekend?
---
Well i didn't get out to shoot any fish tonight but i did go buy a new trolling motor. So i am gonna rig that up tomorrow along with my lights and i will be on the water next weekend for sure. On my venture north on I-55 i saw someone out bowfishing the des plaines river. So at least someone is getting out.
03-06-2009, 07:48 PM
RE: Who's going out this weekend?
---
I have way to much stuff going on this weekend to go.... plus I only need to do a few things to the deck to finish it. I will be working on the deck. Next weekend will be a no go for me also. I have 2 blues games to go to. I will mostlikely be done with the deck next weekend. I think the first lake we are going to hit up is washington county lake. They have a pretty bad carp problem and its a really nice place if you have never been there. Only 1 bad thing about that lake is I can only use my big motor to load the boat. 10 hp limit sucks but the lake isnt all that big so it doesnt take to long to get on fish with a troller.
03-07-2009, 10:24 AM
RE: Who's going out this weekend?
---
Mark and I got on the water at about 7:00 or so. Right off the bat, we had problems. The generator wouldn't run, so we had to take the float apart and clean it off a little. Actually, Mark did it. I just hang close for moral-support.
Next, when we got the genny to run, we found we had no power coming from it. I had replaced the outlet and wired it wrong, so as soon as it started it fried itself. No power for the halogens. I remembered I had a 1,000,000 candlepower spotlight in the van I had won at one of our shoots last year. I cut the plug off one end and wired it to the spare trolling battery and we took turns shining for each other. We ended up with 13 commons and Mark shot a small mouth buff. I think we both lost 2 each and missed a few more (but less than we missed last year). Mark has his bow dialed in and I'm getting mine dialed. I took the No-Gloves and putty rest off and put the Fishook on. I did alot better than I did last year. My arrows were hitting where I wanted, but I didn't always want them to hit in the right place. [:@] Alot of too-lows and too-highs, but it was the first trip of the year. I think we're going to be something for you all to worry about this year.
Anyways, here's the fish of the night. I didn't weigh or measure it, but you can see by the bend in the arrowhow heavy it was. The water was so cold we didn't get alot of fighting-fish, but this one had the arrow slicing through the water so fast you could hear it. That was pretty cool.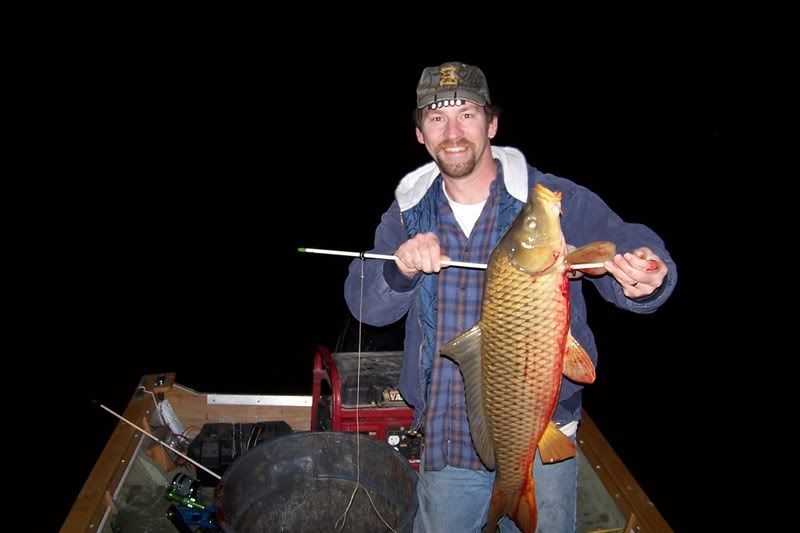 All in all it was a good night for a first trip. Hopefully I didn't hurt anything in the genny that'll keep me from fixing it. I can't afford another one.
Anyone have one sitting around not running? Maybe I can scavenge some parts.
03-07-2009, 04:44 PM
RE: Who's going out this weekend?
---
ORIGINAL: deer_predator
Way to go guys.....Steve..I only have one question for ya......
What is that that crawled up on your face and died!!
You couldcall it a ****-eatin' grin...
03-07-2009, 06:11 PM
RE: Who's going out this weekend?
---
I just got that hat last yearI think.

We put in just down-stream from Big Basin marina,about half a milewest of the I-55 bridge. It's a little primitive launch, but I think you can get some bigger boats in there if you tried. It's a shallow-angled-launch, but it's free. The marina wants $6.00 or $7.00 to launch and another $6.00 or $7.00 to retrieve your boat.