OutfitterPros.com - Find your Deer, Elk, Moose, Bear, Turkey, etc. hunt here
02-18-2010, 10:43 AM
Spike
Join Date: Feb 2008
Location:
Posts: 44
OutfitterPros.com - Find your Deer, Elk, Moose, Bear, Turkey, etc. hunt here
---
We match your hunt request with reputable outfitters using the 4 simple steps below. Each outfitter in our database has been pre-screened. At this point, we have nearly 100 outfitters signed up and offer nearly all N. America Big Game hunts, with Elk and Whitetail deer hunts making up the bulk of the hunt offerings.
Step 1: Enter Your Hunt Data - You will enter your hunt details into our easy to use form that only takes a minute or two to complete:
Primary Species
Location (Up to 3 states/provinces)
Weapon (Bow or Gun)
Hunt Timeframe (Month or Season and Year)
Budget per Hunter & Party Size
Additional details about what's important to you on this hunt
Your contact information
Step 2: Matching Outfitters Receive and Optionally Purchase Your Hunt Lead
The outfitters will be able to view all of the hunt information you provide to determine if they are a good match to fulfill your hunt request. Outfitters that can best fulfill your hunting party's request will purchase the lead by clicking a link in the hunt lead email.
Step 3: You Communicate with Best Match Outfitters
For each matching outfitter that purchases your hunt lead, the site will send the outfitter an email with your contact information. You will also receive an email for each outfitter that contains their contact information. You and the outfitter(s) will communicate by email and/or phone to help you make a decision on which one best matches your hunt objectives and budget.
Step 4: You Contract For Your Hunt
You will contract directly with the selected outfitter for your hunt.
Visit
OutfitterPros.com
and find your next hunt!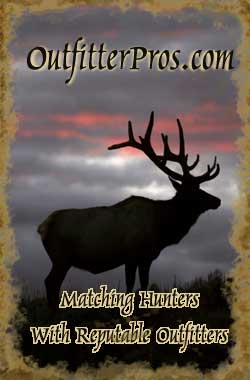 Posting Rules
You may not post new threads
You may not post replies
You may not post attachments
You may not edit your posts
---
HTML code is Off
---