Kansas Archery/Rifle Deer Hunting
02-06-2011, 09:53 PM
---
I killed this 17 point grossing 192 in 05'
These replica sheds were found locally several years ago, the nontyp. side measured over 140 and the typ side went over 80"
This buck was killed locally in 2009,....It scored just over 203 with 28 scorable points,....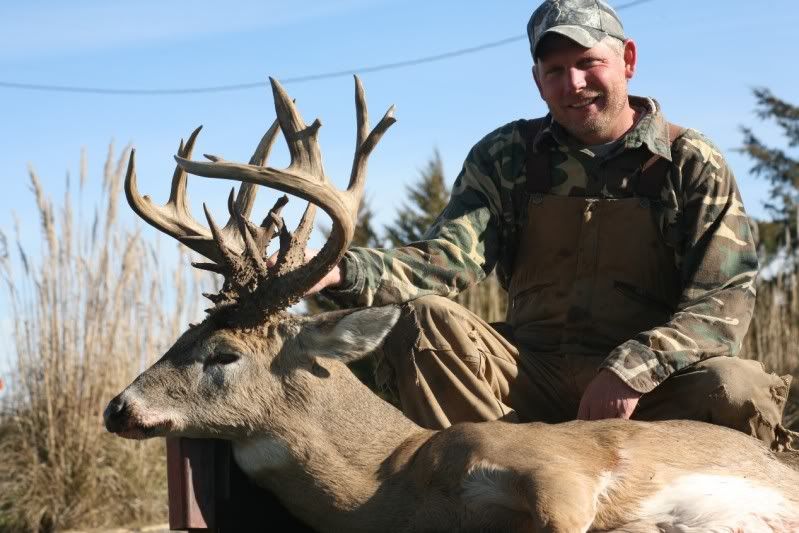 02-07-2011, 01:10 PM
Spike
Join Date: Feb 2011
Location: Pennsylvania
Posts: 3
Awesome hunt/Great guy/lots of deer
---
My father and I were 2 of the 5 who connected this past hunting season with Brian. I met him on an archery website and wanted to go on a bow hunt but my father doesn't shoot a bow so we went on a rifle hunt. Brian told me up front it was his first year doing it and that he would do his best to make sure we get a deer and let me tell you he went above and beyond. When we arrived he showed us the properties and by the end of the day we couldn't decide on where we wanted to hunt because every place looked so good. We are from Pennsylvania and have some nice deer here but looking at the trail cam pics he was sending me all summer and fall long I could not wait to get to Kansas. The first night we got there that evening we scouted because the hunt started the next day and Brian and I sat on one property and my father sat on another property just watching the fields. I think we saw 40+ deer and 5 or 6 of those were bucks. We also saw coyotes which was pretty cool. My father was texting me telling me he saw over 50 turkeys and a monster buck that Brian has trail cam pics of posted on here. The first day of the hunt my father and I saw several bucks and passed on all of them. I saw a BIG buck the first morning and couldn't get a shot. The second morning we decided to change our approach to the property to maybe get a crack at the buck and my Dad got to the area when he saw a buck jump across a gas line. Dad got excited and shot and we found his buck a few hours later. He said man why do they look so big running across the gas line but he was happy with the deer he killed. It was a very large bodied deer with a nice set of antlers. That evening I hunted where my Dad saw the big boy Brian had trail cam pics of and with 5 minutes of light left this big fella came out and I could not pass on him. It took 4 lethal shots with the .300 WSM and Brian can vouch for me all 4 were good shots before this big guy went down for the count. He weighed in at approx. 220+ lbs. and his neck was 36 in. around just below his white patch on his throat which was impressive. I will post pics when I get him back from the taxi. this summer. If anybody is wanting to book a hunt with Brian you will love the accomodations and he goes above and beyond to make sure you are seeing deer. His knowledge of the area was impressive and he knows how to hunt the wind and is all about scent control to get you close to those big KS bucks! Enjoy and if you have any questions about the hunt send me a private message.
02-07-2011, 08:16 PM
---
Property #2, totals approx. 160 acres. It has about 70 acres of timber, many Oaks and cedars, and creek bottom. Deer densities are very high in this area.
He could be right below you.
This is the view to the nnw from the stand. Currently, I have 6 stands on this property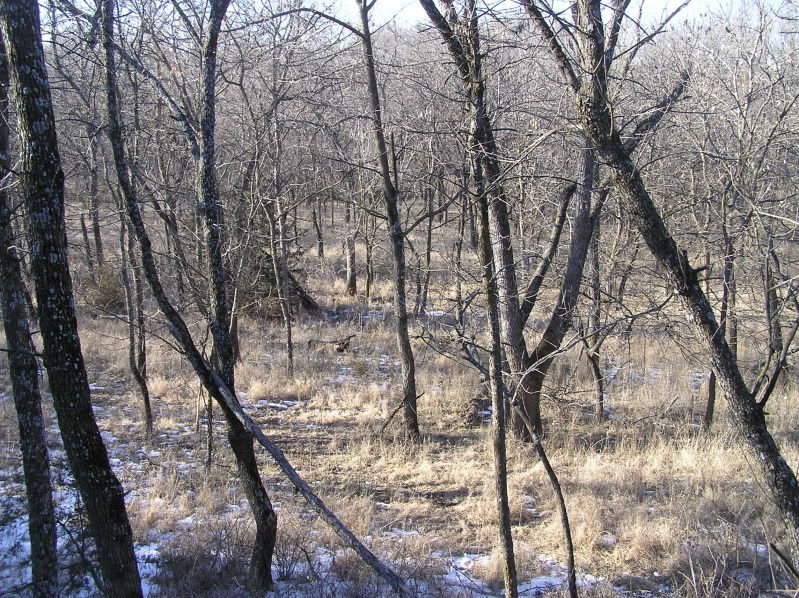 There are some serious rubs in here If you notice the cedar in the center of the photo above just a bit to the left, that is where this rub is, about 30yards
A view to the wsw of the creek bottom
The deer trails literally look like cattle paths, and no, there arent any cattle in here.
View looking north up a pipeline cut, as you can tell, the elevation changes alot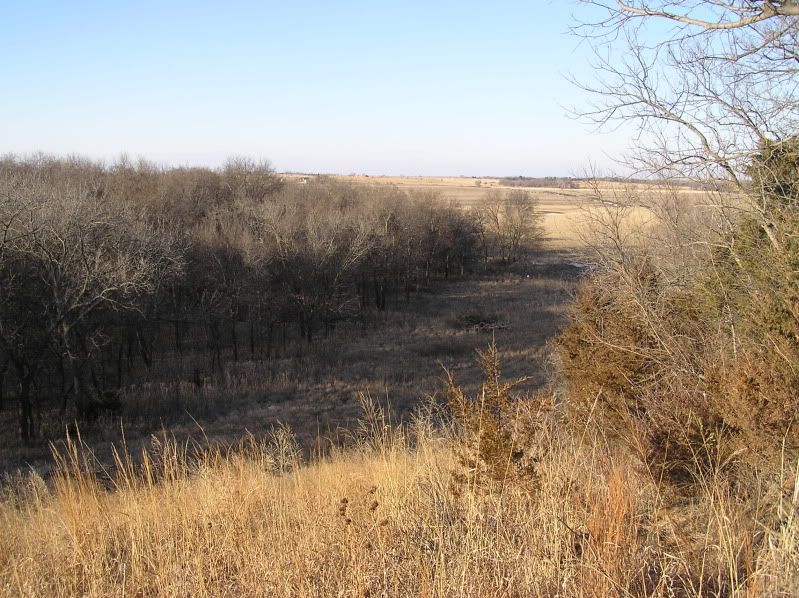 This is a hidden tillable field, the normal creek is on the left and a dry creek funnels in on the right. there are several scrapes along the tree line.
Speaking of scrapes, here is a nice one back in the timber.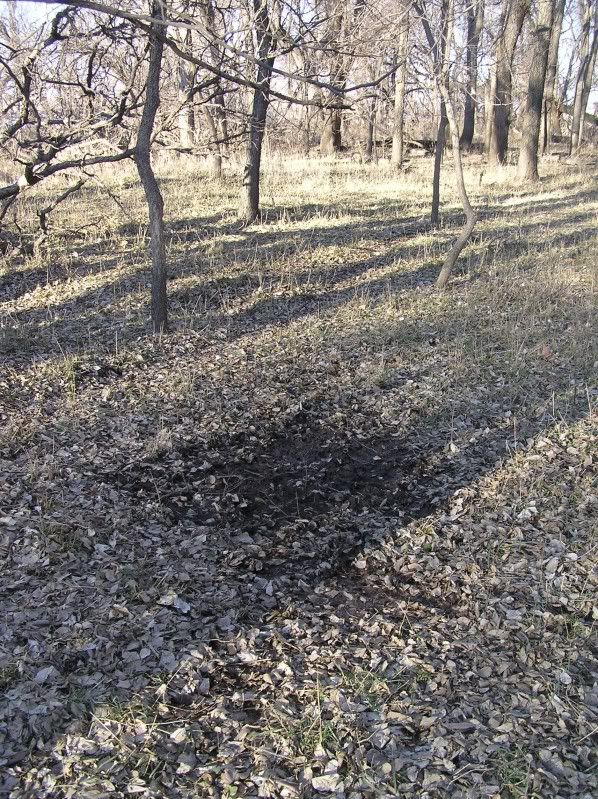 ---
Last edited by zmax hunter; 02-07-2011 at

08:50 PM

.
02-08-2011, 10:59 AM
Spike
Join Date: Sep 2008
Posts: 3
muzzleloader 2010
---
I also hunted with brian in 2010,my hunt was during the muzzleloader season(sept20 to sept24) everthing trooper08 said about Brian is how I was also treated.The weather for my hunt was brutal 90 degrees & very high south winds everyday.Brian did everything possible to put me on deer,depite the hot weather he was willing to even do a drive for me.Saw lots of deer & passed on some smaller bucks,also saw some nice shooters but out of my comfort zone for a muzzleloader.I didn"t fill my tag but will be back this year(2011)As we all know early season deer hunts has alot to do with the weather.If you have any questions PM me. (the MILL STREET INN is very nice)
02-08-2011, 02:20 PM
---
Here are some photos of the walkout basement rec. room of our Millstreet Inn.
Mudroom
Kitchen Bar
Kitchen
Pool table
Dart board
Pool table and dart board
Recliner and sectional relaxation center
There is also a bathroom with shower and complete laundry room in the basement for your use.
I will get some photos of your suite which are also viewable on our website
www.millstreetinn.net
I typically book the Sportsman Suite for your stay.
---
Last edited by zmax hunter; 02-08-2011 at

02:28 PM

.
02-16-2011, 06:57 PM
---
While shed hunting today, I found the right side to Nasty, (see post #19)
Base H1 mass 62/8", Total mass 21 1/8", Total Gross score of 70 1/8"
I hope to find the left soon
I also found a small 4pt
02-19-2011, 01:28 PM
---
Latest trail cam buck, I hope to catch up with him again this summer. It will be interesting to see how he develops.
I still have openings for a couple of rifle hunters, Our rifle season should start on Nov. 30th and lasts 12 days.