██ HOT ██ Rechargeable Heated Clothing on Sale! Now in Mossy Oak & Realtree Camo!
08-11-2009, 07:13 PM
Typical Buck
Join Date: Sep 2008
Location: South Dakota
Posts: 993
---
Ok everyone after i sent Mike a PM with my contact info. and size (he never asked for anything more then my name and shipping address and size) he said he would ship out the free heated jacket today! (8-11-09) So we'll see. Let me remind everyone that i have NO affiliation with this company whatsoever. The only thing i did was reply to this thread and i was the lucky guy who hopefully gets a free heated jacket, the only thing i have to do is post an honest review about it. And i will do just that! After 20 yrs. of bowhunting in temps as cold as -20 wind chill you can bet i know how to keep warm. If i think theres something out there that will help me gain an advantage over a big whitetail like being able to stay in the stand longer im gonna try it! I'll post again when i receive the jacket or have more questions! Stay tuned!
08-11-2009, 08:25 PM
Junior Member
Join Date: Aug 2009
Posts: 4
---
Sounds like a really good offer so i joined the forum here. I would like to take you up on your review/discount, do you still have one for the $40 off and free shipping or am i too late? i will post a honest review of what i think of this product(i will warn you though if it sucks i am going to tell everyone). im thinking this will work awesome when i am freezing my tail off coying geese this fall. please send me a pm of what you need from me. Sorry i dont mean to be rude but im only being straight forward. Thanks
08-12-2009, 02:12 PM
---
Hello and thank you for your interest weightmanhunting,
I will get your order out once I get your info and payment (5-6 day free shipping included),
sending pm.
I am pretty sure you will like the jacket. A local unit in the US Air Force wants these for doing missile base patrols in the winter due to the fact that humvees are very difficult to heat and they freeze their tails off in them. Also we have law enforcement going to be demoing these this winter season as well. Im hoping you dont think they suck
Thank you for your order
Mike
We have 3 more orders at the $40 off plus free shipping for placing a review, any takers?.....get em before they are gone.
08-13-2009, 11:20 AM
Fork Horn
Join Date: Jan 2007
Posts: 438
---
Sounds great to have such a suit of clothing. For now I'll wait for a review from some of the "ordinary" guys that have already made the purchase. I have wasted a lot of money on boots, clothes, etc., so I am always skeptical now.

Jim
08-13-2009, 07:32 PM
Typical Buck
Join Date: Sep 2008
Location: South Dakota
Posts: 993
---
Hello everyone,
I just wanted to let everybody know i received my jacket today! (8-13-09)
And after an initial once over this jacket seems to be very functional. I checked out all the seems and pockets and it looks be put together very well. The stitching was well done, the zipper is good, and 1 thing i really like about it that the bottom of the jacket is not elastic so it wont "ride up" on you. but it does come with a draw cord (1 on each side) so you can tighten up the bottom if you like. It says the jacket is wind resistant, well i put my hand in the sleeve and tried to blow as hard as i could through it and i couldnt feel anything, so to me thats a big plus which will help keep the heat in also, especially when you're 10-20 feet up in the tree! The weight of the battery wont be problem, i dont think you'll even know its there. It took rite at 2 hrs. to charge. I will do some more testing in the days to come and post my findings here. I was in the process of taking pics so everyone could get a better idea of what this jacket looked like but my batteries went dead so i will post them tomorrow evening.
Mike i have another question, what would you recommend wearing under this jacket? Maybe just a long sleeve tee shirt?
08-14-2009, 06:57 AM
---
Thank you redmag for your interest,
i understand completely where you are coming from, i am the same way when it comes to online purchases.
hello Leadoperator,
I am glad you like the jacket so far, i am interested to see what you have to say about how it works for you, does it warm you up?
In your opinion is this product worth the investment (if you had to purchase one) for helping you stay comfortable while out in the cold enjoying or working outside in low temperatures? I am excited to hear more about what you think.
As far as what i wear underneath it is just a t shirt, when i know i will be out in really cold weather i have a gortex shell i wear over top.
Thanks again for participating in the review,
Mike
We still have 3 more Jackets for $40 off and free shipping for posting a review, anyone else interested?
---
Last edited by mjh22; 08-14-2009 at

07:30 AM

.
08-15-2009, 01:23 PM
---
Hello Scott,
Thank you for posting the pics of the jacket, i hope you like that baby
Also i wanted to post a pic of some of the other products we carry as well for people to see, if you guys have any questions about anything please dont hesitate to ask. thank you for your time.
Also we still have 3 more $40 off plus free shipping offers left, if anyone wants them please let me know, thank you for your time
Happy viewing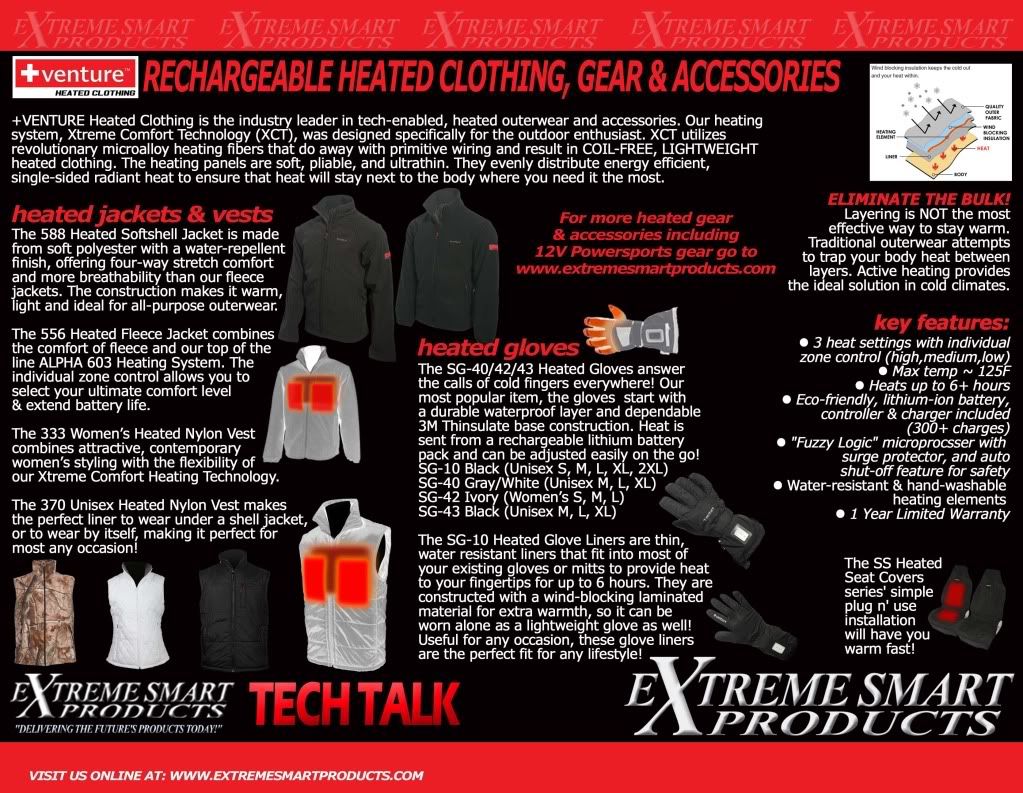 Sorry guys we dont have the realtree stuff in but its on it way.
08-15-2009, 07:19 PM
Junior Member
Join Date: Aug 2009
Posts: 4
---
Well i got the jacket, the shipping took 3 days, not bad for free shipping. The jacket does what he says, it took aprox 2hrs to charge up, also you dont even notice that you have a battery in the jacket. The overall construction of the jacket seems to be of high quality, this thing DEFINATELY heats you up. I really like the pre heat feature, like they said, when you turn it on it is at max temp and after a minute or 2 it turns itself to low. Also i like the fact that i can turn the front heating zone off and keep it on my back for when i am laying on the freezing hard ground decoying, im thinking i can get a few more hours out of the batt by doing so. I AM however going to have to get another one though and a second battery. I went to show my fiance' and let her try it on, yeah she isnt giving it back to me anytime soon so can you swing me a deal on a second one? Also i showed a friend of mine this thing as well and he would like to get 5-6 for his guys that he has doing construction work for his company, any bulk discounts? i will be sending him your way.

I would have to give this a 9/10 rating, and to your question you asked the other fella, this thing is well worth the investment, money well spent in my opinion. its about time i do business with a company online and dont get the shaft. I will be talking to you soon about another jacket, and possibly some gloves.
08-16-2009, 08:59 AM
Fork Horn
Join Date: Jan 2007
Posts: 438
---
I am very interested in these clothes since I am always cold esp. when bow hunting in mid-November and then our late seasons for muzzleloading. I'll be anxiously watching to see a report of the clothes under actual hunting conditions when it is cold, windy, rainy, etc. I have tried the Body Heater Suit and I still get cold in it with similiar clothes that my brother will be wearing (without the BHS) and he says he doesn't get cold.

Jim