Truck Caps
07-17-2010, 07:20 AM
Nontypical Buck
Join Date: Feb 2003
Location: Warren County NJ USA
Posts: 3,832
Truck Caps
---
Soon I will purchase a cap for my 2010 Toyota Tundra, I'm looking at two different brands. Does anyone have any input good/bad on either one. The actual caps I'm looking at I listed below.

LEER-----model # 100XQ

or


A.R.E.-----model # Z Series


They seem to be very similar in style, as far as price of each I haven't even looked into it, I have experience with A.R.E. with a hardcover tonneau, the LEER dealer is near my home, the nearest A.R.E. dealer is roughly 50 miles from me
07-17-2010, 08:02 AM
---
I can whole heartedly recommend the ARE series and here is why. I researched quite some time before I bought.

I got the biggest cap I could and still get in my garage. I looked at the Z series but wnet with the MX series with the front top cap window gave me that and more head room.
I also had the shop windows put on both sides that have screened slide bys in them a plus. A real plus reaching items in front of the box. Shop windows open just like the back window and are lockable. I have one key for all T type handles.
I use mine to handle dog crates and to be able to be away from the street side to open kennel doors is a plus and safe too.

The front slide window folds down for complete cleaning and is easy to put back up without crawling in the box as I use the shop windows on the sides,

The handles and locking hardware are metal and not plastic. I saw far to many Leer Caps with some type of crack or two especially around the window handle.

I had a set of Yakima roof racks installed which go off and on easily. To the inside of the cap I had it carpeted or lined as I put dogs back there. It cleans easily and I use a garden hose.

The under side of two roof rack mounts I added a galvanized garage door handle bolted in place to hang hunting and rain coats.

I have beat the crap out of this cap now 4 yrs and it is still new looking! It was color coded to the color of my truck which is a F150.

TIP - as it might still work - check out ARE webs or on line and look for a 50 buck coupon or special offers!

JW
---
Last edited by JW; 07-17-2010 at

08:09 AM

.
07-17-2010, 08:10 AM
---
07-24-2010, 04:15 PM
Spike
Join Date: Dec 2008
Location: ohio
Posts: 96
---
2008 Tundra. Leer cap but I can't remember what model. It was the top of the line with carpet interior and hinges that are on the inside. It's been a good cap for me. Rarely I'll get a little water in from washing it with a power washer. Definitely get a removable front window.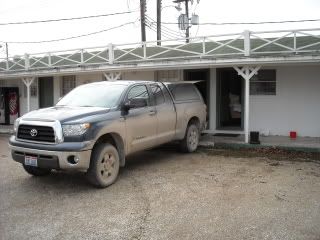 Posting Rules
You may not post new threads
You may not post replies
You may not post attachments
You may not edit your posts
---
HTML code is Off
---