Guess the weight of this piggie.
05-17-2010, 04:15 PM
---
Originally Posted by
halfbakedi420
heck ya it was the scale..i could tell it was tipped over perty far, but couldnt make out any numbers lol
as im sure we will see....i know if im close no one will believe i didnt see it lol...so before tomorrow ya better say whether im lying now, not after the pic of the scale is posted lol..
The scale wasn't readable unless you had the same exact scale and really thought about it. I cropped the photo down a little bit right after I first posted just in case though!
05-18-2010, 07:09 AM
---
Okay, here's a picture of the scale. (this is the picture that halfbaked saw for a few minutes when I first posted)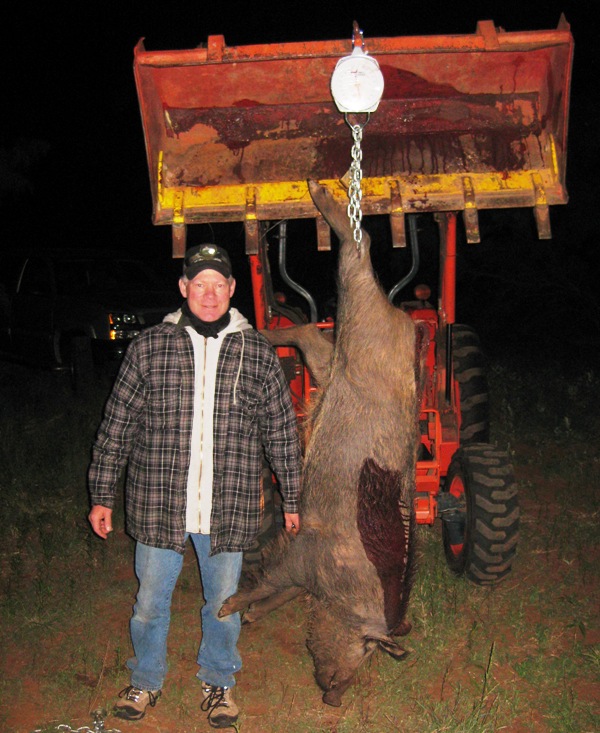 And a close up picture.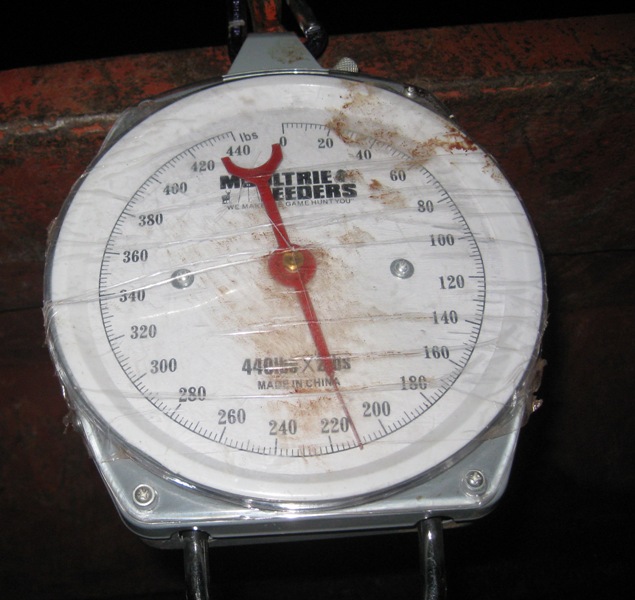 210lbs on the dot. I even made sure to adjust the scale to zero before we weighed him.
The guesses went pretty much as I expected. Most people tend to guess high on the weight of a hog. My friend was somewhat disappointed when we weighed him and he "only" weighed 210lbs. I told him that it was a nice pig and that most people who say they shot a 300 or 400lb pig didn't actually put it on the scale, they just guessed.
Based on the guesses here, this was a 220lb pig. Based on the scale it was a 210lb pig. Pretty darn close, but that isn't the case on several more general hunting forums.
However, I posted this on several other forums, and overall there were 115 guesses and the average guess was 284lbs. The highest guess was 700lbs and the lowest guess was 145-150lbs (I entered it into the results as 147.5lbs). I'm not 100% sure that the 700lbs was a legitimate guess, but the next highest guess was 470 and that was a real guess based on the comments by the poster. There were 10 guesses that it was 400lbs or bigger and 43 folks had it at 300lbs or bigger.
The overall results were brought down by the 2 places I posted this where people are more experienced hog hunters. I posted it in the Hogs and Exotics forum on
www.Huntingnet.com
where the average guess was 220lbs and I posted it on
www.Texasboars.com
where the average guess was 224lbs. Next closest was
www.predatormasters.com
in their big game forum where the average guess was 240lbs followed by
www.qdma.com
where the average guess was 310lbs and the heaviest guesses were on
www.trapperman.com
where the average guess was 319lbs.
The standard deviation is also where you can tell a lot about how accurate the guesses were Basically that is the average of how far off each guess was, If there was a guess of 110lbs and a guess of 310lbs the average would have been 210lbs, but the standard deviation would be 100lbs. The standard deviation from the actual weight for each site is as follows. Huntingnet.com = 26lbs; Texasboars.com = 32lbs; Predatormasters = 51lbs, QDMA = 100lbs and Trappertalk = 110lbs.
Pretty interesting I thought. There were 3 folks that got it right on the button at 210lbs.
Probably a lot more than you guys wanted to know. Basically it looks like the guys who regularly hunt hogs have a better idea on what they weight than folks who don't!
---
Last edited by npaden; 05-18-2010 at

07:12 AM

.
05-18-2010, 07:25 AM
---
Congrats to the folks at Huntingnet.com in the Hogs and Exotics forum for being the most accurate guessers!
The pig was shot with a .300 WSM. It was DRT.
I actually guessed him at 200lbs when my friend shot him so many of you were closer on your guesses than I was!
05-18-2010, 07:26 AM
Typical Buck
Join Date: Feb 2010
Location: central florida
Posts: 857
---
That was a pretty cool experiment with a good break down on the information. Its very common for people to guess astronomically high on hog weight. Youre right that those that see the most hogs guess better. I was a butcher for a year and a half, between hunting and butchering ive probably hung a 1,000 hogs in my life so ive got an unfair advantage. Cool post for sure.