First Axis we have seen on lease
10-09-2009, 01:12 PM
10-13-2009, 05:50 AM
---
It's hard to tell if there are more. If you're hunting in the hill country there is quite a few Axis population that have escaped high fences, but there are some of those stragglers that will get popped if you don't get them. I'd take her!
10-17-2009, 07:32 PM
---
I would say that is a younger axis doe in the second pic, not sure where your hunting but that looks a little big for a fawn in that part of Texas and there is no fading of the spots at all (check pic of young axis buck below for comparison).... I definitely would not shoot her, she will bring in the boys when April gets here....
You could have a couple of these after her!!!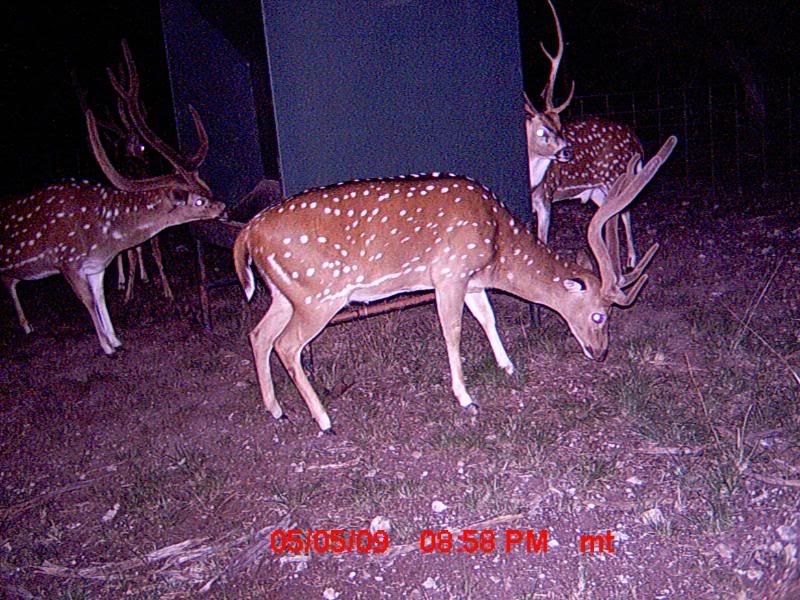 Just for comparison... Look at how the spots go all the way up to this young Axis buck's back, your pic's are the same.... You have yourself a young axis doe...
Our place is over run with them nasty porcupines too....
10-20-2009, 07:43 PM
---
But look at the picture I posted on this thread on the 9th. It's a whitetail fawn with spots high up on the back. I'm really not sure what species is in the original picture, but I lean towards thinking it's a whitetail.
Either way it's been an interesting discussion.