another pig (pics)
10-10-2007, 12:09 AM
Join Date: Oct 2007
Posts: 114
RE: another pig (pics)
---
please read my other post titled WILD HOG SIZES AND WEIGHT
i have always wondered about this, i kill 20+ hogs per year and usually about the size of that one.
good eating size, fit easily on a Tailgate of a truck.
but... they always weigh in right around 100 pounds.
but i always see people w/ pictures of hogs stating they are 200+
is this the Weight with all the guts still in it? or did you weigh it after it was gutted?
im not trying to be rude or say anyone is lying.. not at all trying to seem that way.
i have just wondered this for a long time when I see pictures and Heavy Weight numbers.
IF THESE WEIGHTS ARE BASED ON THE WEIGHT BEFORE THEY WERE GUTTED, THEN MAYBE I AM UNDERESTIMATING THE WEIGHT OF ALL THE GUTS.
when we look at magazines with pictures of Hunters... and they put weights on them like 200lbs 250lbs 170lbs..
and almost all the time, the hogs in the pictures are maybe HALF that weight. (once dressed)
i have never weighed the Guts, but i would guess on a full size boar, all the insides might weight 60lbs.
I always weigh mine after they have been gutted and an MY average Boar is 140lbs but they look much bigger.
here is an example... this Big boar.. Field Dressed out.. 170 but he looks Much Heavier than that.
i see people online and magazines with hogs Smaller than this one, stating 200 - 300 pounds.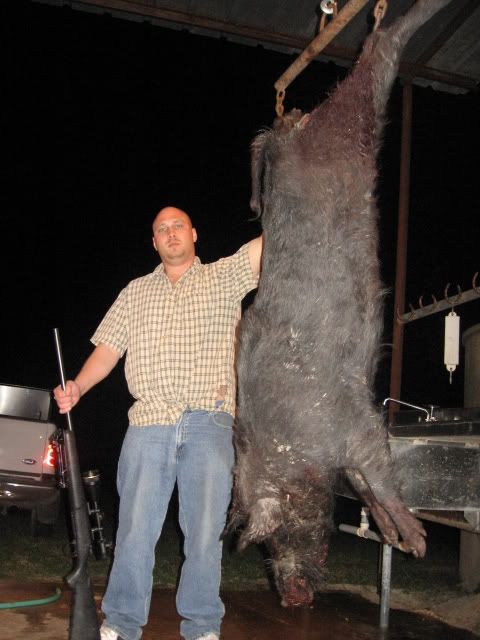 Thread
Thread Starter
Forum
Replies
Last Post
Posting Rules
You may not post new threads
You may not post replies
You may not post attachments
You may not edit your posts
---
HTML code is Off
---