Big Old Hog
06-27-2007, 10:24 PM
Big Old Hog
---
This big old boar right here completely wrecked an entire hog setup. The rope on the tree as a rubbing pole is now a ball of hair, the 250 lb. feeder that we shortened the legs on and chained to the tree is now upside down and empty with no legs attached and the spinner ripped off and carried to his wallow.The tree I had the Black Gold on has the bark eaten off of it and rubbed like crazy. This is a real bruiser. These trail cam shots caught some shots of him, but I hope to be posting pics of him with his mouth open and me standing behind him real soon.After I reset everything up of course.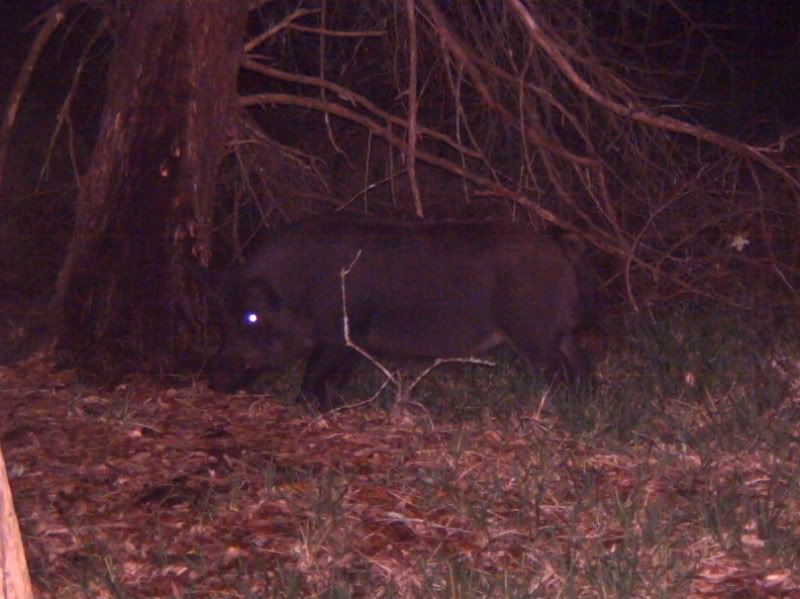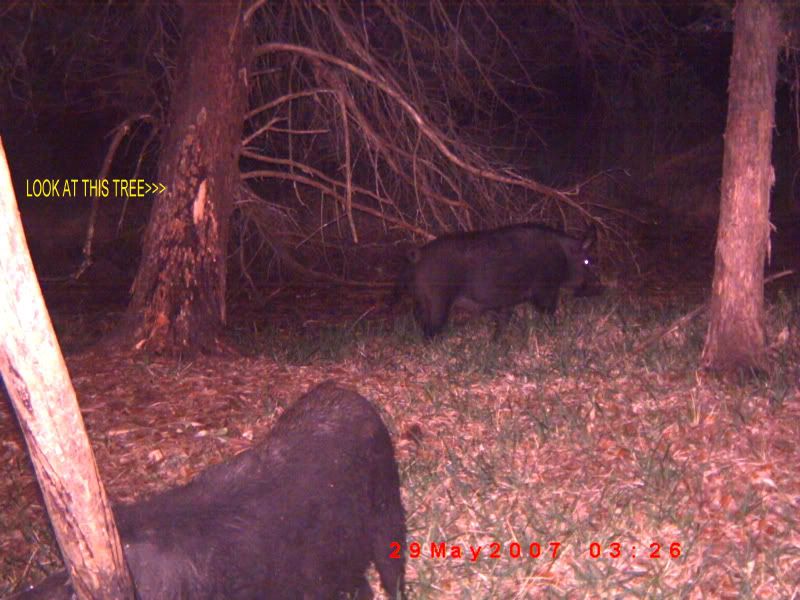 06-28-2007, 03:50 AM
RE: Big Old Hog
---
I had hogs destroy my feeder several times when I had the lease in East Texas untill I put 12 foot legs on the feeder and drove "T" posts into the ground and used barbed wire to secure the legs to the T posts.

Good luck on getting him and please post pics when you do.

06-28-2007, 07:08 AM
RE: Big Old Hog
---
I think I have officially given up on the legs. I am going to go to hanging it by cable. Not only did this hog destroy this feeder twice, but a BEAR destroyed my other tripod feeder out in Sanford, Florida where I have other proerty. I think they are great for deer, but cable hanging is the way I'm going. Not rope either cause the racoons and squirels work with the others and eat the rope so the feeder falls like a pinata and they all feast.
06-29-2007, 05:47 PM
RE: Big Old Hog
---
I hope you get him!
My buddy has been having trouble with this bigboy. I was at my lease the otherday and my buddy told me to hunt for him because he been tearing the place up. Well, I slipped into the area and checked his camera first. BIG MISTAKE! Little did we know that the hog walks in right beside the camera. I sat and hunted and at 8:30pm I hear him coming. He was actually pretty quiet and alone. He walks up about 6 feet from the camera and stops. I knew he smelled me and the game was over. I didn't have a clear shot. He takes a couple steps backwards, then turns a walks out without making a sound. I had showered and sprayed down but I was still sweating like a mule by the time I got to the blind.
Since then the feeder has been demolished. However a young kid hunting with his uncle shot the pig with a 30-30. I was glad to hear that a kid got it! I think it weighed in at 270lbs.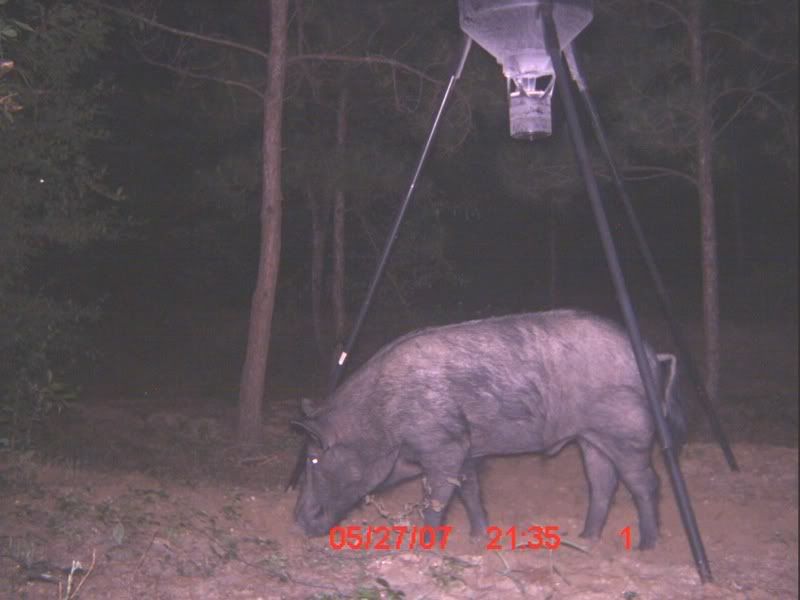 Those big hogs can sure tear up some stuff. Anchoring feeder legs is a very good idea.
Posting Rules
You may not post new threads
You may not post replies
You may not post attachments
You may not edit your posts
---
HTML code is Off
---