Yet more help needed
09-16-2005, 01:06 PM
Join Date: Aug 2005
Location: Kansas
Posts: 115
Yet more help needed
---
Going on my first hog hunt in 3 weeks. I was told not to use mechanicals??? What broadhead do you guys use. Any tips you guys could give me. I mean anything at all. Your talking to strictly a whitetail bowhunter here so hogs are very new to me.
09-16-2005, 02:37 PM
RE: Yet more help needed
---
09-16-2005, 03:35 PM
RE: Yet more help needed
---
I get asked this question all the time and everybody has their own opinion and I respect that, but with hogs in heavy cover you need blood fast. On the other hand you need a tuff broadhead to punch through them. I found an awesome head for hogs that will not dissapoint you. Game Track First Cut 125's. Here is a picture. I have seen many hogs lost even with great hits because the blood trail didn't start fast enough because of the fat. Then they disappear in to the cover and it's needle in a haystack time. these broadheads make blood trails like sidewalks.They are a fixed blade and an expandable. DEVESTATING HEAD!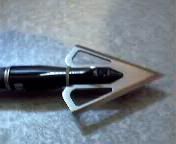 09-18-2005, 07:31 PM
RE: Yet more help needed
---
All those listed above are great. I like 125 grain Grim Reaper Mech. Broadheads, they have never let me down... But most importanly is what you can shoot consistantly. The best broad head in the world isn't going to help you if you miss or have poor shot placement. Some people have a hard time tuning their boradheads, I suggest you practice with whatever you are going to hunt with.
09-23-2005, 04:01 AM
Join Date: Sep 2005
Location: center tx
Posts: 370
RE: Yet more help needed
---
THE REV DIDNT GIVE BAD ADVICE. I USE SLICK TRICKS THEY FLY TRUE WITH MY FIELD TIPS AND ARE 4 BLADED THEY MAKE A HUGE HOLE WITH SUPER BLOOD TRAIL. I ALSO HAVE SOME VORTEX BY MARDEN EXPANDABLES THEY CUT A MONSTER HOLE AS WELL . THE BIGGEST KEY IS HITTING THE MARK. MOST GOOD DEER SETUPS CAN HANDLE A HOG . A 400 GRAIN ARROW WILL PENITRATE DEEPER THAN A 458 MAG. ON SANDBAG TESTS. GRANTED A SANDBAG IS NO HOG BUT I THOUGHT THIS TO BE OF INTEREST.
Thread
Thread Starter
Forum
Replies
Last Post
Posting Rules
You may not post new threads
You may not post replies
You may not post attachments
You may not edit your posts
---
HTML code is Off
---