enfield 1905
02-24-2008, 06:58 PM
RE: enfield 1905
---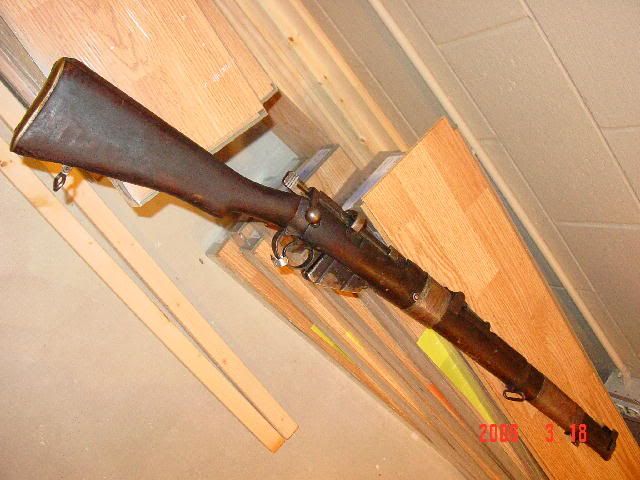 Above is a pic of an Indian No1MKIII* grenade launching rifle. If yours is a MK I, it should look fairly similar with the biggest exception that yours won't be wrapped with wire or have a large bolt through the stock in front of the receiver.
02-25-2008, 07:09 PM
RE: enfield 1905
---
Indian alsoaltered the same rifle adapted to single shots for a Brass .410 issued to jail guards.The caveman wire wrapped fore -end was suposed to prevent splitting and breaking during grenade launching.Harold
02-25-2008, 08:49 PM
Join Date: Aug 2006
Posts: 246
RE: enfield 1905
---
ORIGINAL: corey thompson

thanks, for the great info. my gun dont have a clip but i would like to find one. would this old gun be worth any money at all.

We'd have to see pictures to put a value estimate on it. Missing the magazine, and provided the rifle has been "sporterized", I'd say you have a $50.00 to $100.00 rifle now. Perhaps more depending upon the condition.
02-26-2008, 10:04 AM
RE: enfield 1905
---
ORIGINAL: mulvany

My cousin has a enfield 1905 that he got from an uncle. He is wondering information about a gun like this. It is an unknown caliber, with a large bolt action.It has several marks and several numbers and letters posted everywhere on it. Anyone with any information about it or how to find outinfo about it give us a shout. I live inSouthern Illinois. Thanks.
The British P-14 Enfiled and the U.S. Model 1917 Enfield are large, mauser-type rifles (locking lugs on the front of the bolt), but were designed and made much later than 1905, as trheir numbers (dates) indicate-1914 and 1917 respecively. These two rifles are pretty much identical except for caliber - the P14 is .303 British and the 1917 in a .30/'06.
It is likely that the one you have dated 1905 is a "Short, Magazine, Lee-Enfiled, or SMLE Rilfe No. 1 Mark III. This rifle has a 10-round, detachable-box magazine, and the bolt locks in the receiver using two lugs about halfway back on the sides of the bolt body. This rifle is also chambered for the .303 British cartridge, and was the British Army's primary battle rifle in WWI. A modifiedversion of the same design, designated Rifle No. 4, was also usedin WWII by the British.The SMLE in its various forms is the BEST combat bolt-action rifle ever issued!!
http://www.surplusrifle.com/smle/index.asp
The SMLE No. 1 Mark III looks like this:
Posting Rules
You may not post new threads
You may not post replies
You may not post attachments
You may not edit your posts
---
HTML code is Off
---