Self Defense handgun help. -NO LEGAL ADVICE NEEDED!-
02-13-2008, 04:49 PM
RE: Self Defense handgun help.
---
I hate lasers, anyone else feel the same? I'd much rather have a bright light on the end than a laser. I shot a friends with a laser and I felt like im looking at the laser dot and trying to move it rather than the gun, and I shoot better/more steady when I look though the sites to the target, so I'd consider a bright light over a laser, just my preference though.
02-13-2008, 04:52 PM
Nontypical Buck
Join Date: Nov 2005
Location: Mn.
Posts: 3,399
RE: Self Defense handgun help.
---
ORIGINAL: elLOCOmutha
That is so true...after 2-3 shots it should be over. Mightest well carry a AR with barrel mags if you can't get the job done in 2-3!
Or you can wear a Duster or just a long jacket and carry this(bottom)PLR-16 .223...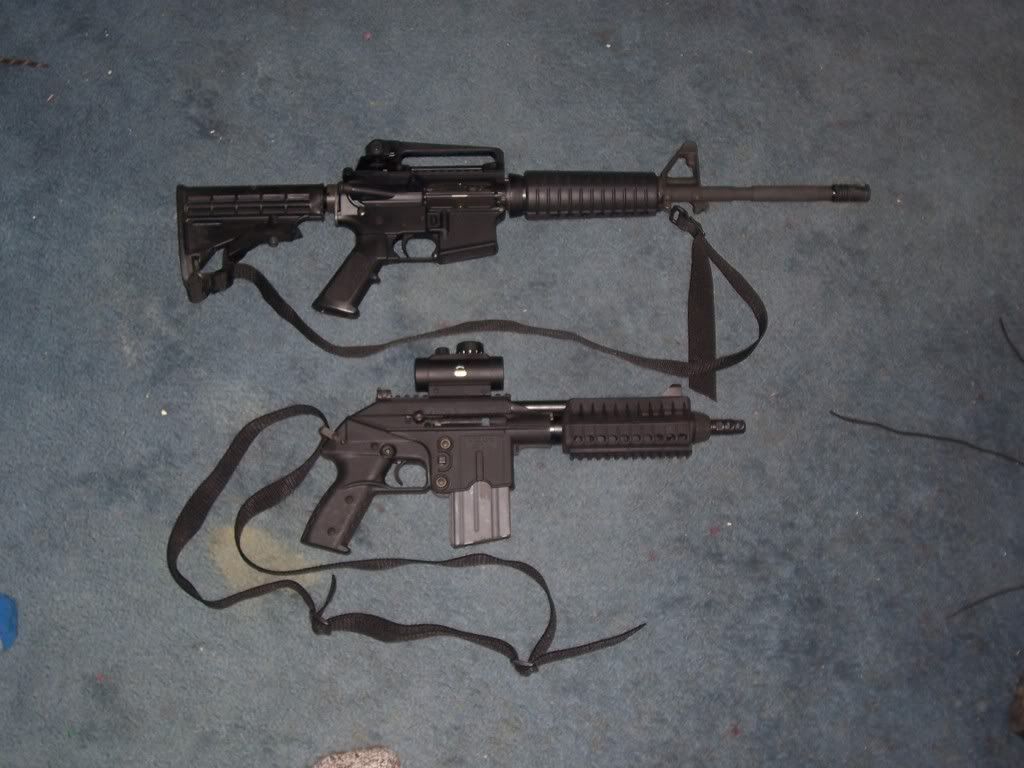 02-13-2008, 05:01 PM
RE: Self Defense handgun help.
---
I'm actually starting to lean towards the S&W revolvers...the Kahrs do sound nice though. Edit: LOL at the duster/trenchcoat :X!! How does that .223 kel-Tec shoot? Ive seen one in a shop, was really interesting.
02-13-2008, 05:10 PM
RE: Self Defense handgun help.
---
ORIGINAL: elLOCOmutha

Thanks i'll be sure to check out the PPK. The question in my head is....

Revolver or Semi Auto?

I've read and watched alot of videos saying one is better than the other, I guess it is up to personal preference. I like the reliability of the revolver but the fast reload of the semi auto handguns.
Ha... if you are having to reload in a defensive shooting as a private citizen then you will probably go up for murder 2... if not at least manslaughter, and the scum bag's family will likely hit you and win a wrongful death. Please don't be that tool bag who carries a spare mag everyday.... I mean yeah its a free country and all... but really man think about it.
Get a revolver... 1 7/8" barrel... hammerless. Easy to conceal, easy to carry, difficult to take away from someone, plenty of punch. You can shoot it from the pocket of your coat, or the lady can shoot it from her handbag. Never jams. There is no better choice for concealed carry.
And with regards to the straw purchase.... as your first post put it... thats the FIRST thing that popped into my mind. You say that at my gun counter, and I am NOT selling you a gun. I don't care what your excuse or intentions are. Ten years in jail ain't no joke. You can buy a handgun from a private citizen, absolutely. But I will say that in the instance of a concealed weapon that you may well have to use in just that circumstance someday, I would stick with a new handgun from a federally liscensed FFL dealer, with factory loaded recommended ammunition. Keep the lawyers away. Just some food for thought.... spending another $150 now might save you $15,000 in legal fees later.
02-13-2008, 05:23 PM
RE: Self Defense handgun help.
---
Check your local laws because in some states its not legal to buy a handgun from a private party either. Some states require the same paper work to buy from a private party. Better safe that sorry, check it ouit first to be sure.
02-13-2008, 05:36 PM
RE: Self Defense handgun help.
---
My first post says nothing about where or who i'm buying a handgun from. Anyways thx for the input...
In my state it is perfectly legal to buy a firearm from the want ad sections of newpapers. I also know a couple of people that I work with that are trying to sell a few, but they aren't really what i'm looking for.
The hammerless S&W is sounding good...I see that they even offer some with laser grips already on them. I have used the crimson trace on my brothers baretta 9mm and to tell you the truth I really really like it. I have alot better reaction time and can focuse on the whole picture instead of my gun sights. That is my personal preference though.

02-13-2008, 05:42 PM
Spike
Join Date: Jan 2008
Location: Midland County, MI
Posts: 38
RE: Self Defense handgun help.
---
The problem with a small frame revolver is the fact that it has such a short sight radius, it can be difficult to shoot accurately if you happen to be at greater than contact distance. If the individual shoots frequently and is competent, then the small frame revolver/small pistol may be effective.

I do disagree with the sentiment that you shouldn't or won't need a reload. You should plan to have at least one reload, just to be on the safe side. What if there are multiple persons in the area that for whatever reason want to go to you, and aren't intimidated by your gun or you shooting their buddy. Do you have enough? Personally, I feel it better to be safe than sorry with regard to that. On top of that, the extra reload thing is a good idea on semi automatics due to potential failures in which the easiest way to clear is to change magazines.

Unless your defense lawyer is a complete moron or the state you're in has a specific law against it, having an extra reload is not going to be an issue, unless you walk upto the guy you shot in self defenseand just empty the magazine into him after he's no longer a threat. Your defense attorney should be able to throw out any information about the weapon you used except the fact that it was either posessed legally or not at the time. That is all that is relevant. In a civil case, maybe it can make a difference, but many places are wising up and prohibit civil cases if you have been found not guilty of the murder case. As always, you may want to consult a practicing attorney in your area to make absolutely sure what applies and does not apply to you.

If you're going to carry a firearm, do not do a halfass job of it, you might as well train for malfunctions, and reloads, even if you never need to do one. Chances are you may not need a gun anyway if we're playing the odds. If you do choose to carry one, you might as well cover all the bases just to be as safe as you can be.

02-13-2008, 07:20 PM
RE: Self Defense handgun help.
---
ORIGINAL: elLOCOmutha

My first post says nothing about where or who i'm buying a handgun from.
Right... but it does say that you are buying it for someone else. I can be subpeoniaed in a court of law (even if I can't spell it correctly) to testify as an expert witness because I am an arms dealer. I am held to a higher standard, just as a concealed carry holder is. You are expected to know the law inside and out. You had best get used to the idea. In law, one or two words can
COMPLETELY
change the entire meaning of a law, document, or statement. If you had written,
I am looking for a good concealed carry pistol for my girlfriend
. Or
a friend and I are looking for some ideas on carry guns. Then it would be a non-issue.
But you came right out and said that
you are looking to buy one for someone else
. That is the definition of a straw purchase.... and whether that person is able to take possession of a firearm or not is totally irrelevant.Just read the first question on the certificationof transferee section of the 4473......
"Are you the actual buyer of the firearm(s) listed on the this form? Warning: You are not the not the actual buyer if you are acquiring the firearm(s) on behalf of another person. If you are not the actual buyer, the dealer cannot transfer the firearm(s) to you."
Making a false statement on a 4473 which is a falsifying a federal document is a felony. If the person you are buying for is not legally able to take possession of a firearm, then you can both spend a required minimum of ten years in federal lock-up.
You may make a gift of firearm to someone.. such as others have listed. You are responsible for the disposition of that firearm, and using your money to buy a gift for someone is totally fine. But "buying one for someone else" is illegal. You can change that statement around... but exactly as you put it is exactly as it is not allowed. I'm not trying to be a jerk to you, please understand this. Just a little heads up in the game you are getting ready to play with your freedom.
02-13-2008, 07:37 PM
RE: Self Defense handgun help.
---
Ok i'll give her the money to buy the friggin gun ok..now stfu about my freedoms and the law because 1. you aren't a lawyer and 2. you don't tell me what to do or how to buy it.
Was that stated clearly enough for you?
Here is a little heads up for you. I can buy a handgun/firearm from a private citizen and no matter how you twist my words and read into things you can't change that. Plenty of people around the U.S.A have/own firearms and don't have a fed paper trail.

Now I was not asking for advice and opinions on the Law or any laws pertaining to dealers and I could care less.
I want opinions on the best 9mm cal. or higher small carry handgun for my friend. You can't stop me from buying a handgun.
Oh and PS i'm not trying to be a jerk i'm just trying to talk about what the thinnest smallest handgun is for my friend so I can get it.
Nitpick all you want...

To get back to the topic..
I was looking at the Taurus Judge but have never held or shot one. It looks like a nice revolver that can be used in many situations. I wonder how heavy and bulky they are.