12GA From Hell
07-09-2011, 09:44 PM
Fork Horn
Join Date: Jan 2006
Location:
Posts: 483
---
A fellow in Texas picked up a Tula-Toz 4bore
pump gun like Big Al has. He is getting some
of the 3 inch brass 4ga cases from RMC.
RMC still has them if anyone needs them.
That gun takes a short 4ga case, either brass
or plastic if you can find them.This 4 gauge
is a .938 inch bore, smaller than our 1 inch one.
Pic is Al's gun.Bolt has 4 locking lugs...ED
07-15-2011, 12:34 AM
Fork Horn
Join Date: Jan 2006
Location:
Posts: 483
---
Here are pictures of the Falling Block breech block.
Front and side rear view....Notice the integral bottom
extensions are narrower than the top. These are
what the linkage is inside of and when breech is
levered down these fit though the slot in the stock.
And being narrower the slot isn't too wide so the
stock has enough strength. Botton extensions same
width for all action sizes.Just top different
for the size of action needed for big cartridges.
This breech is little rough as it has had a dozen
changes to it. But it holds a load in 4 bore
of 1500gr over 2600.Ed
07-17-2011, 10:27 PM
Fork Horn
Join Date: Jan 2006
Location:
Posts: 483
---
Some more slug ideas--First picture of 10ga 830gr
hollow base slug in 8ga wad cup, And 690gr hollowbase
69 caliber Dixie Gunworks slug that I swaged down a
little, in a 12ga wad cup.
2nd picture is the a new offering from the EU,a
new 300gr US-S slug with locked on base, discarding
petals, by European Cartridge. Accurate in smooth bores.
In 3" plastic they load to over 2100 with shotgun
powders. In a 3.5" plastic and our slower powders
I could get over 2800. Ed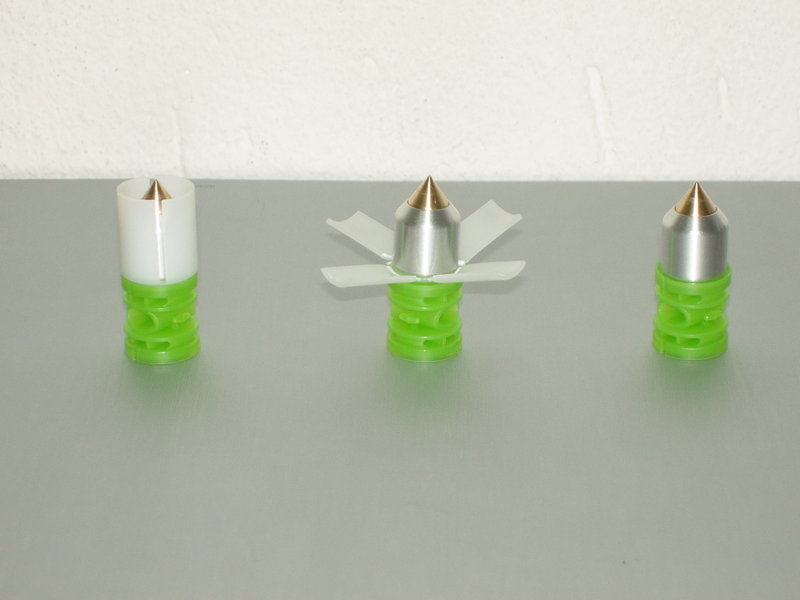 07-23-2011, 11:16 PM
Fork Horn
Join Date: Jan 2006
Location:
Posts: 483
---
That US-S pointed slug with discarding petals,
and locked on base, shown above is called the
Swift 12. And correction on the weight, it is 320 gr.
And they plan on testing and maybe supplying 3.5"
versions, planning on getting around 2500 fps with
shotgun powders. I know in our 3.85" case in the long
barrel Savage, I could get over 3000 with big amounts
of our slower powders we load with.
Bought some tubing caps And here is picture
of those copper tubing caps, you can make bullet
jackets out of, and fill with lead. In picture you see
a rough one I formed with punch, and with a die they be
perfectly formed. And with right die they could be
formed with round nose with edge step for perfect roll
crimping in plastic. And on the right see big caps that
would do 4 bore.There are caps between the two sizes
that would do 8ga...Ed
07-28-2011, 10:18 PM
Fork Horn
Join Date: Jan 2006
Location:
Posts: 483
---
More 12gs slug/sabot info-- About discarding sabots.
Most factories making sabot slugs make them relatively light,
300 to 350 grains, and that is why they are on average
more accurate than what guys try to reload with heavier
slugs in the sabots. Reason is light slugs don't damage
the sabot, while they are trying for high velocity.
Example is picture of Hornady SST sabot and it only has
a one way plastic seal over powder, and a hard
rubber cushion inside the sabot under the 300gr jkt
spitzer style slug. Many 12ga hunters say these are
the most accurate.
Another slug idea is a blunt nose jacketed slug of
675gr I made from one of RG's hollow point jkt slugs.
I cut part of jacket off of the front and swaged
it over to make blunt nose. These are for the guys
trying to make short loaded brass case rounds
in 2.5" brass and 2.62" brass to be no more than
2.75" overall to work in certain guns. it is
on left, 2nd pic. And gets good velocity with just
good BPGS seals under it and slower powder.
On right is US-S sabot with discarding petals, locked
on base we tried in short brass case, and can't, due
to length of sabot get in enough powder to get
the higher velocity with heavy 700gr US-S slug, the
guys want to get.....ED
08-02-2011, 11:41 PM
Fork Horn
Join Date: Jan 2006
Location:
Posts: 483
---
Here is picture some folks wanted of our
big cases with smaller 30-06 for comparison.
In picture, 1st my 2ga, 4ga, 8ga, 10ga, 12ga,
my 700HE long case, my 700H 3.25", and 06.
2nd picture is short 2 5/8" brass cases we
are checking loads in, to see how much speed
can be gotten.You can easily see the length of
short full bore lead slug, compared to the
saboted ones, allowing more powder in the short
slug load for more speed..
Now this doesn't mean saboted are no good, or
that I don't like these saboted types. Great for
smooth bores, the US-S with locked on base, are
the best there is, I think, for big game.Just
got to use longer cases. I always felt, that going
longer cases is worth the effort where practical ED
08-12-2011, 09:27 PM
Fork Horn
Join Date: Jan 2006
Location:
Posts: 483
---
Here is picture of my big 585 cases.
30-06 for size comparison.
3rd is 585HE - I have it in bolt, falling block,
break, etc, actions.
1st is 585 Hubel Super Magnum - Designed
for strong bolt guns. Have in a MRC PH.
Can get 20,000 ft lbs.
2nd 585 Rimmed Hubel Magnum and I have it
now as a single shot in an 1887 Win.
The 87 has a 30" heavy barrel. Case is
designed to use in break actions and run about
25,000 psi, but due to the size of the case
has enough powder so can get 15,000 ft lbs.
It is 4" long, could be called 24ga FH.Ed
08-20-2011, 11:41 PM
Fork Horn
Join Date: Jan 2006
Location:
Posts: 483
---
Only if he is on an old tv. Wouldn't
want to blow up a new one. We can do in
the big five. BUT Godszilla would take
a super speed 16 inch naval gun.
Some 10ga experimenting with slug loads.
In NEF with 32" factory, long bull barrel.
It is smooth so we use hollowbase slugs
Cases FED 3.5" plastic cases, roll crimped.
900gr full bore slugs -180 gr RE17- 1800 plus.
Use plastic powder seal and fiber wads.
Slug hollowbase and hard cast.
740gr 69cal hollowbase soft lead slug, in VP100
10 ga wadcup. Deep hollowbase slug ..Wadcup has own seal
and cushion. 180 gr RE17 -- 2000+ fps.
Here are pictures of a couple other different guns in
my long 585HE cartridge.. 1st is Olympic Arms
BBK bolt gun, in a target style stock with palm
swell pistol grip...2nd is the one I made on a CBC
single shot by mono-blocking in a heavy 585 cal
barrel. Barrels- BBK 1.32" at breech- CBC 1.18" breech
1.070 muzzles.Ed
---
Last edited by hubel458; 08-21-2011 at

02:36 AM

.