7mm-08
01-13-2012, 09:58 PM
Spike
Join Date: Sep 2010
Location: WIS
Posts: 44
---
I picked up a new x-bolt in 7mm-08 for my 16yr old daughter to hunt deer in wisconsin, She didnt hunt this fall but I did shoot this gun at the range a few times and it was alot of fun to shoot , it kicks very little and was very accurate with factory loads, I really enjoyed shooting this gun, and was even thinking of getting another one if she decides to keep hunting, I also shoot and own a 270 , 270wsm, 300wsm and a 7mmrem mag, but this thing is a gun u go shoot and u dont want to put it down, compared to some of the bigger cal i have fired at the range , so u wont go wrong by buying a 7=08 and will want to shoot alot......... good luck.....
02-13-2012, 11:21 AM
Spike
Join Date: Jul 2010
Location: South Alabama
Posts: 11
---
Have 2 7-08's at the moment, a older Model 7 with the 18" barrel that I picked up for my son and a Kimber Montana that I got for me.. Both guns shoot the 140gr Federal Fusion ammo very well and with modest recoil. Like that Kimber so much that I may pick up its big brother, a Montana in 280AI...
03-21-2012, 03:57 PM
Spike
Join Date: Jul 2008
Location: Australia, Brisbane
Posts: 5
---
HI, I have a model 16 weather warrior Savage in 7mm-08 i reload useing 140gr woodleigh projectiles that are made in Australia.
The last red deer i shot was in the front sholder which completely ruind that sholder for meat. (All red deer that i'v shot with 7mm-08 have never taken more then 2 steps after being shot)
04-18-2012, 07:07 AM
---
Originally Posted by
halfbakedi420
big difference on our dog deer here in texas..a 30-06 makes a great big hole of devastation, instantly dropping the animal...a 7mm08 leaves a lil bitty hole, dropping the animal instantly. wish i took pics, but my buddy is headin fer a 243 range round soon. i was "pushin" a 223 on him, even after all the kills he seen my kids get with it, he still thinks its too small.
little hole huh ?
well that depends, i roll my own. this was 2 weeks ago on an axis doe, 7-08 loaded with 120 gr nosler bt at 3100+ fps.
This is the entry wound.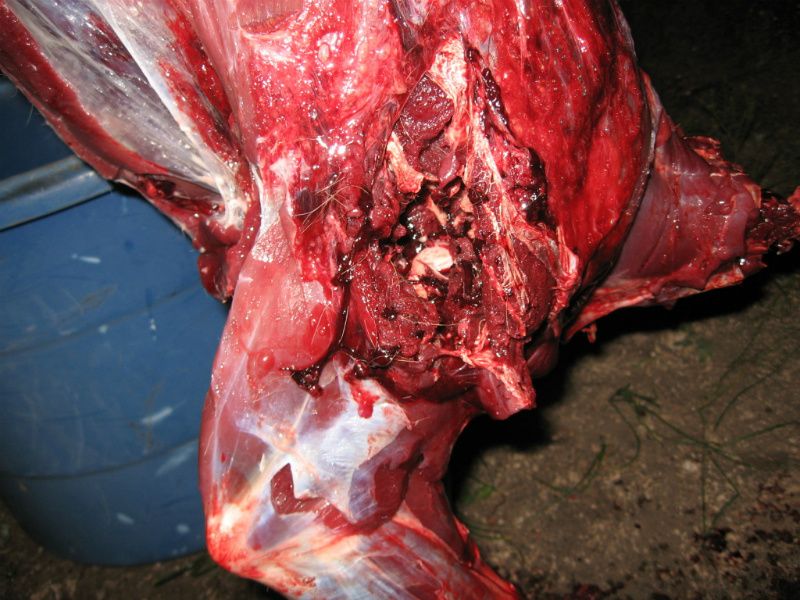 04-19-2012, 10:07 AM
Spike
Join Date: Sep 2009
Location: Virginia
Posts: 2
---
I love the 7mm-08. Very moderate recoil, plenty of manufacturers make it, and it's flat shooting and accurater. Ruger 77 is good value and I'e got a Savage Model 14 in 7mm-08 that's one of the most accurate out of the box rifles I've ever owned....It kills deer like clockwork and will do on elk assuming good shot placement. Very versatile caliber.
04-19-2012, 11:14 AM
Giant Nontypical
Join Date: Jan 2011
Location: Allegan, MI
Posts: 8,019
---
zrexpilot---What decent caliber/bullet wouldn't do the kind of damage shown in your picture when you hit them right on the point of the shoulder like that! Hit them in the ribs and you will have a lot smaller hole even with a bigger caliber!
04-21-2012, 04:47 PM
Nontypical Buck
Join Date: Jul 2007
Location: Southeast Missouri
Posts: 2,178
---
I agree with Topgun 3006....I shot a nice Big Doe last year with my Browning A-bolt Hunter .243...She stepped forward when I shot,the entrance hole was small because I hit her just behind the front leg but the bullet exited thru her shoulder on the other side because her other leg/shoulder was further back on her farside....did some pretty good damage and a large hole on the opposite side even with a 100 grain Hornady Custom bullet!


I vote for the 7mm-08 also...I have a beautiful Savage model 11 Bolt-action 7mm-08 in the wood stock with the Leupold 3X9X40mm Rifleman QDM scope and its a great shooting Rifle with less recoil using 140 grain bullets.

I dropped a nice Big 11-Point Buck last Nov and he may have taken 2 steps at the most,nice small entrance hole and I'm not even sure if the bullet exited the other side?Back up to 2 years ago....I was sitting in my stand and a nice Buck comes walking off a step hillside,I stood up and put the cross-hairs on the back of His kneck between the shoulder blades "Boom" he dropped in his tracks and I scored a nice 9-Point Buck with the same 7mm-08.The bullet passed thru and was lodged between the last rib and outter skin when we skinned him out!
04-21-2012, 07:01 PM
---
well responding to the first post that stated the lil 7 leaves little holes hows it any different if larger caliber leave lil holes in the ribs too.
nuther hole with the lil 7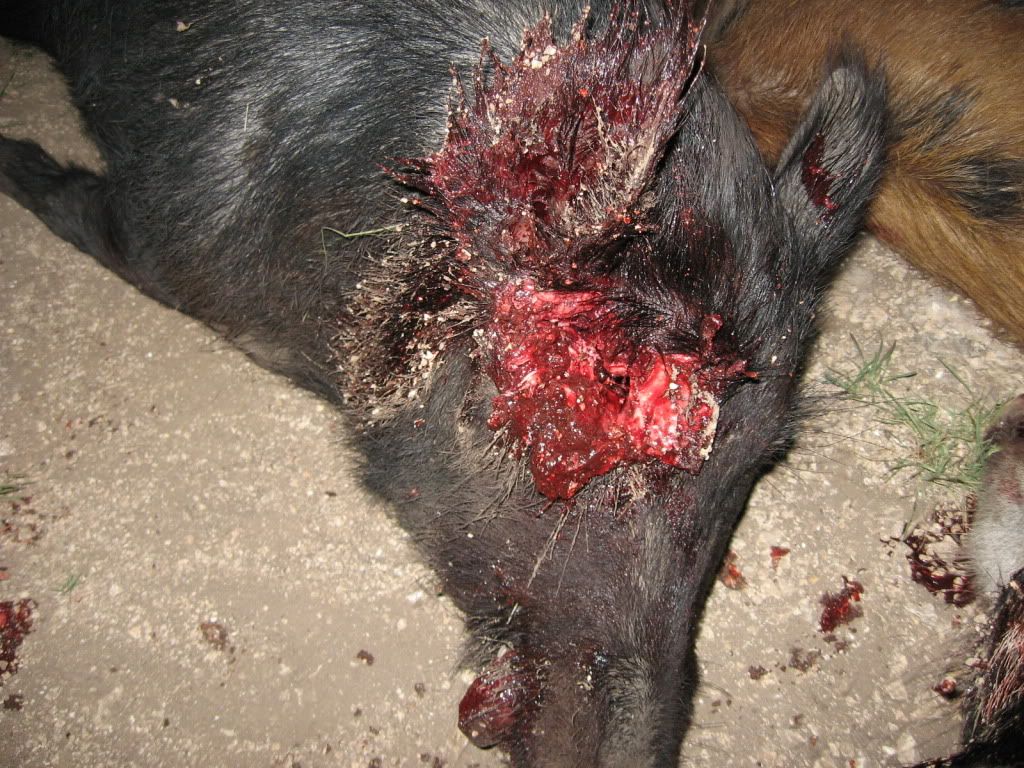 04-21-2012, 07:29 PM
Spike
Join Date: Feb 2012
Location: Wisconsin
Posts: 61
---
Very nice round, pros: accurate, easy to reload, powerful enough for most hunting in North America, can find it or components to reload in stores, and mild to shoot.

I wouldn't use the 7mm08 on Brown Bear and Elk.