tikka T3 rifles
09-06-2006, 06:36 AM
Typical Buck
Join Date: Feb 2003
Location: Hickory NC USA
Posts: 964
RE: tikka T3 rifles
---
OK have to give credit where credit is due,this 308 varmit really shoots,world of difference between it and the 25/06 I have.Got the better scope on and went to the range yesterday,shot several groups,and cleaned between each load took only 3 patches and was no sign of copper.Check out the 2 best groups I got.These are 5 shot groups at 100 yds,with the168 matchit took one shot to zero,and 3 shots with the 165 BTHP.
I have a 270wsm and useing the sierra 140 BTHP shoots as good as the 135 match also.
Tickled is an understatement.I may have to get another tikka.
09-13-2006, 05:25 AM
Typical Buck
Join Date: Feb 2003
Location: Hickory NC USA
Posts: 964
RE: tikka T3 rifles
---
Up date on the tikka 308,went to the range yesterday morning and this thing is unbelieable.I shot several loads useing bullets and different powder from 125 gr to 168 grain match.Only shot 3-shot groups out of the groups I shot at 100 yds got 2 one hole groups and at 300 got one one holer,let my budddy shoot it and he shot a one holer at 300.This thing is awesome.
Wish I could get the 25/06 to shoot like the 308.I had let my buddy take it and see what he could do with it,he does some gunsmith work,and he had brought it back yesterday after putting another scope on it.Some of the loads he tried last week that shot 1/2 in or lessgroups didn't come close to an inch this week.One day it shoots pretty good and the next range session it won't hit at all.He tried a load yesterday that I had shot a 1/4 in group on three different days and it wouldn't go under a 1 1/2 in yesterday.If he don't get it fixed its going back to tikka.
Have a buddy that has 2 sako's in 300 wsm,2 tikka's in 300wsm,one tikka in 30/06,one tikka in 243 and one like the one I have in 308 varmit and another buddy that has a tikka in 7/08 and all of these shoots,I have shot at least a 3-shot one holer in each one of them,the 308 he has I shot four 3-shot groups in a row,all were one holers,thats the reason I got me one of the 308 varmits.And I sure haven't been dissapointed with it like I have been with the 25/06.Goes to show you get good ones and bad ones in any brand.
09-15-2006, 09:48 PM
Nontypical Buck
Join Date: Feb 2003
Location: MN USA
Posts: 1,392
RE: tikka T3 rifles
---
Good to hear of your experiences with your .308 Tikka. Can't say what might be the reason for difference in your other. Assuming you range is outdoors. A lighter grain bullet of different characteristics can be affected more by even small windage or other factors, I'm sure you're well aware of.

09-18-2006, 08:24 PM
Typical Buck
Join Date: Feb 2003
Location: Hickory NC USA
Posts: 964
RE: tikka T3 rifles
---
This 308 keeps getting better.I had someIMR4320 that I had had for probably over 10 years,so decided to try it with a130 gr hornady SP.It shot 2 in one hole and one almost touching at 100 yds.Tried 3 at 300 and it was almost a one holer also.The more I shoot this thing the more I like.I measured .410 with this group.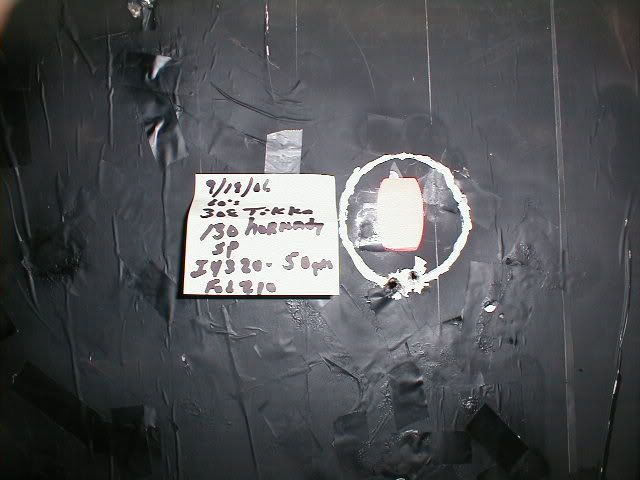 09-27-2006, 12:11 PM
Typical Buck
Join Date: Feb 2003
Location: Hickory NC USA
Posts: 964
RE: tikka T3 rifles
---
Back to the range yesterday with the tikka and a couple other calibers.Was working up a load to try the 155 A-max and didn't expect all three of these powders to shoot this good.The bottom right sure is a one holer.
09-28-2006, 02:14 PM
RE: tikka T3 rifles
---
Just how much exactly does a tikka cost? Are they a $1000 rifle or more affordable. I'm kinda' on a lower budget (below $500). If they are rather expensive, what would be a good substitute?
09-28-2006, 02:16 PM
Giant Nontypical
Join Date: Feb 2003
Location: fort mcmurray alberta canada
Posts: 5,667
RE: tikka T3 rifles
---