Making a decision on
12-08-2008, 07:44 AM
Making a decision on
---
Looking at the many crossbows available has been mind boggling. I thinkI am leaning toward the Excalibur line. They look simple and easy to maintain and everything I have read about their service has been positive. I am 70 years old and cocking the CB has crossed my mind.I was looking at the 225 pound limb but posts I have read say that thing is a task to cock. Now I am looking at the Vortex which is 200 pound limbs. Is there a noticeable difference in what is required to cock these two CB's? What weight and type bolts do I need to get.I also have read about the STS and BOO strings making a big difference in the noise. is that true. Have any of you used the Ground pouder quiver mount? What are your thoughts on it. I do hunt in Alabama some so the scope cannot magnify. That pretty much says red dot. Or maybe 2 different scopes. If so the Lumi Zone is whatI would buy. Is that a good choice?
12-08-2008, 09:01 AM
Typical Buck
Join Date: Feb 2003
Location: Ontario Canada
Posts: 604
RE: Making a decision on
---
I have cocked a 225lb bow and it is tough after a while. A shot here and there is not much of a problem, but for practicing, it will become WORK a lot faster then the lighter poundage bows. Even is waying that, my dad has the 185lb Excalibur and has used it for many years by hand cranking (no rope cocker) and he is 77 years old now. He had just started to use the rope cocker the last 2 years and usually only uses it during practice. He still unloads the bow by the HAND METHOD, which is using your hands to unload, opisite to loading.

As for your scope problem, I have heard of some people mounting the peep site on the bow and a scope as well. When they hunt in a area that will not allow them the use of their scope, the quick mount on the scope makes it easly to remove and replace. If I ever get another scope, the Lumi-zone will more then likly be the one I get.

Good luck.

12-08-2008, 11:06 AM
Nontypical Buck
Join Date: Feb 2006
Location: arkansas
Posts: 3,147
RE: Making a decision on
---
I've either owned or shot every model Excal offers. My first Excal was an Emax and I loved it. As I came across some of the other models available, I realized what a brute it is/was. I ordered a Phoenix and was real happy w/ it. Then I learned my Phoenix was actually a mis-labeled Exocet from the factory. An easy mistake to make as there is just a minor difference in rail length.

The 200 lb versions in any form are my favorites. They are noticably easier to cock w/ rope cocker than the Emax and are easier on servings.

I notice the Vortex is somewhat shorter than the Ecet, which should make cocking it even easier yet.

An STS system and a Groundpounder mount both use the same two holes in the riser and both mount independant of each other, so to use both you will have to do some nut and bolt engineering, no hill for a climber, lol.

I've used the stock peep and pin that comes w/ the bows. To be honest, everything I've shot w/ a scope I could have taken via those p & p sights. You may want to try them first and then go from there, they work amazingly well. I can throw mine on any Excal and be in the kill zone at 25 yds w/o change in adj needed, if you go thar route pm me anfd I'll give you the locations/heights, ect. Yes, the tolerances are that close.

Best bet on arrows, imho, is to talk to Danny Miller, fastest way to get a college education on Excals, lol. Btw, 'his' arrows got their nick name "Millers Killers" on here a while back. Quick description: GT L II's w/ brass inserts, 4" vanes at about 408 gr [currently].

You have a pm coming.

12-08-2008, 01:54 PM
RE: Making a decision on
---
I'm 68 with arthritis in both shoulders. I started with the Equinox (thumbhole stock version of 225 lb Egomax0 but found it too difficult to cock. Traded for the 200 lb Vortex and really like it. Much easier to cock despite only 25 lb difference.
It is an inch shorter overall also. I shoot Golg Tip Lazer II arrows with brass inserts and 2" Blazer vanes, for an overall weight of 405 grains and an FOC of over 20%. For hunting I use the 100 gr Slick Trick magnums. No need to practice with broadheads as they shoot to the same point as field tips.
I have LumiZones scopes on two of my bows. They are great but are a bit large.
On my Phoenix I use a TruGlo reflex sight. It has a series of four reticules to choose from each with 4 dots that are spaced at different distances. One can match the speed of the bow to the individual reticule for 20, 30, 40 yard aim points. It weighs only several ounces and does not have magnification. That rig is much lighter than the two scope sighted rigs. I've been hearing good reviews about crossbow Hawke scopes but have no personal experience.
12-08-2008, 02:33 PM
Cossak
---
12-08-2008, 02:47 PM
Nontypical Buck
Join Date: Feb 2006
Location: arkansas
Posts: 3,147
RE: Making a decision on
---
ORIGINAL: oldwun

Is there any advantage to having the Ground Pounder Mount? I think the STS would be more valuable to me. I had one on my Matthews SWXT and it was worked great!
You can use both the STS and GP mount, just have to fiddle a bit. The STS has threaded holes for Allen screws, the GP has holes for bolts that go thru it and the holes in riser. Miller sells an over the bow quiver mount that goes on a dovetail [male] on riser for option on which side to mount fibre optic pin. Wyvern has one that will work too. Any of the three are better than factory issue under the bow type. Here's a pic of Millers, which was the first available of the three and the main reason I have it and not one of the others.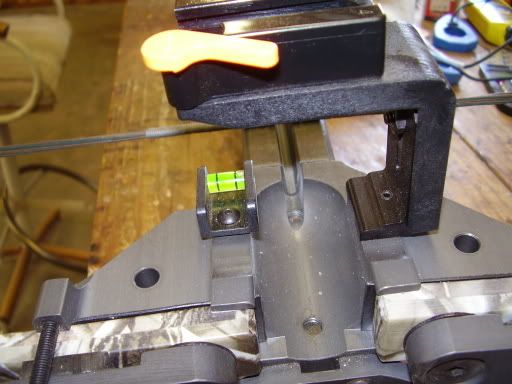 12-09-2008, 05:36 AM
RE: Making a decision on
---
personally if i wanted the 200 lb the vortex would be my choice. pro's it has great power it has hand/thumbhole stock to pull into shoulder. its the same length for cocking as the phoenix and almost the same weight. the peep sighted in at 25 yds is great. where i hunt in a thicket i use a scope reason i need to avoid limbs. where i am moving to its more open woods and i will use peep for the weight saving