Mobile tree platform vs fixed tree stand
12-05-2021, 10:26 AM
Spike
Join Date: Jan 2019
Posts: 45
Mobile tree platform vs fixed tree stand
---
Me and a friend of mine were having a debate. He swears by fixed tree stands as the best platform for deer hunting. I prefer my tree saddle because of its mobility and basically, i can go up any tree I want.

His point was that the biggest negative of my saddle was that it takes some time to set up and some noise. It takes me 20 minutes to set up and I guess makes some noise but not that much.

I never saw this as a huge negative, partially because you're always going to cause a disturbance coming in anyway. does anyone think he is right? We hunt in new England which is very thick anyway.
12-05-2021, 11:03 AM
---
He's not right or wrong. Do what works for you.

I mostly hunt from my feet. But I have ladder, hang on and climbing stands.

My hang on stands with climbing sticks is my preferred mobile stand set up now. But I have a ladder stand behind my dad's place that's been stationary there for years. And you can probably walk out there tonight and shoot a doe if you wanted to.

The obvious advantage of a mobile set up is the ability to move wherever you want to be. Like you, using a lineman's belt and climbing sticks I can get that stand hung anywhere in under twenty minutes. And I don't even make that much noise typically unless I screw up. Hanging the sticks and stand is quieter than my walk in most of the time. I've got a good system that works.

I added a second stand to it this year for my junior hunters. We did it Saturday for the first time. From leaving the truck to sitting in the stands was 40 minutes and we were 800 yards from where we parked.

-Jake
12-05-2021, 12:43 PM
Nontypical Buck
Join Date: Nov 2014
Posts: 2,743
---
there are pr's and con's to both
as stated use what ever you like
,
me personally I prefer using known stand sites/tree's
as then I know more or less yardages, what the view will be like, and I am 100% certian I can get in and out with less noise and leaving less scent on the ground doing so
the less energy you exert the less your body has to work and as such, the less scent it will make IMO

carrying in stands and setting them up, even the fastest one's and lightest one's
still cause you to burn more calories than if you wee not carrying one in and setting it up,taking down at end of day and so on!

another pro to set up stands is deer actually get used to them being there over time, all the m ore so if you have them over things like food plots and such, where having a set places stand makes very good sense, as deer hit food plots more consistently, than other food sources!

I typically only use preset stands on either lands I own or have permission to, so, that is a big part of where I use what type of stand!

like said, pro's and con's to both,,use what makes you happy!



12-06-2021, 03:14 PM
---
I have hunted out of fixed, lock ons and climber tree stands. Most of the fixed were over food plots which drew in deer. The lock on and climber stands would be put up and taken down or moved regularly. I always had my best luck on the first day or two that a temporary stand was used. For ease of use and comfort I like a climber providing the area has plenty of straight trees. The lock ons were accessed with strap on climbing sticks. No matter which temporary stand I used I have to mention I always used a HSS vest and stayed attached to the tree.
---
Last edited by Champlain Islander; 12-06-2021 at

03:18 PM

.
12-06-2021, 06:04 PM
---
I'm guilty of not using a harness in ladder stands sometimes.

But in my strap on and climbing stand I do.

Using a lineman's belt makes hanging the strap on stand and climbing sticks much easier anyway. It would be tough without the belt and harness.

The belt frees my hands up to hang the steps/stands.

-Jake
12-28-2021, 09:36 AM
---
My personal perferance is a hang on stand with ladder sticks. I also have ladder and climbing stands. I haven't used my loggy bayou climber in years only ladder and hang ons. ALWAYS use a harness and climbing belt when setting up a stand and once up use a lifeline rope to get up and down so I don't have to mess with a tree strap.
NOTE: Always check your stands at the end of the season. Either replace rusted cables and bolts or trash the stand. (Old stands make good campfire grills!)
12-28-2021, 03:51 PM
---
I have never hunted from a portable stand, I always hunted next to a tree that was in an area with lots of deer trails on public land. Then in the 80's I got permission to hunt my wife's family's property. It is a little over 100 acres and is mostly wooded with some grass hay fields and a huge pine plantation in the center. I looked around and found a spot thaat was a pinch point and befrore I could build a permanent stand one of the owners did it for me. I was successful year after year until the owner of the property my stand on sold her land and the new land owner said no. So I found another spot on the property that was even better and build a permanent stand big enough for my grandson and I. That stand was attached to 4 trees and every spring I would have to refasten the stand to the trees because of tree movement. It got to the point where I would have had to put 9 inch screws into the trees to secure the stand. I then moved about 50 yards away and erected a 360 tower stand and have never looked back.
I have been taking 1 or 2 deer a year form this stand since I built it. It really doesn't matter how mobile you are if you are where the deer want to be. That takes scouting every year.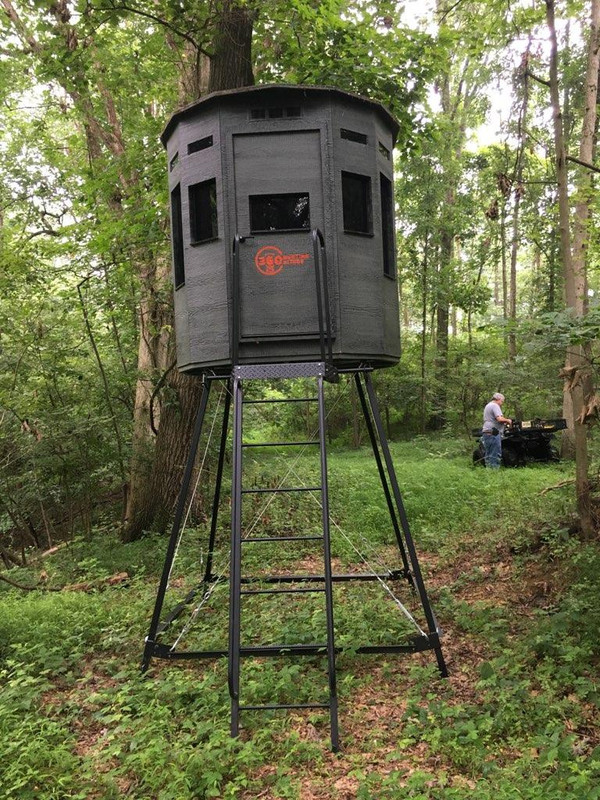 12-31-2021, 11:34 AM
---
I am tickled with the stand. 360 degrers visibility, 13 windows that open, 6'6 high and 6'wide. On cold days I fire up the my buddy propane heater for a while and no longer have to worry about the cold weather. I am not as young as I used to be,
---
Last edited by Oldtimr; 01-02-2022 at

07:57 AM

.