-
Bowhunting
(
https://www.huntingnet.com/forum/bowhunting-18/
)
- -
European Skull mount
(
https://www.huntingnet.com/forum/bowhunting/395509-european-skull-mount.html
)
| | |
| --- | --- |
| ManofTheFall | 11-10-2014 09:16 AM |
---
European Skull mount

I am wanting to try a Euro mount for the first time. I have looked at some you tube videos and did some reading up on them. There are so many different options. If anyone on here has done some what do you think the best ways are and how did yours turn out?
| | |
| --- | --- |
| rockport | 11-10-2014 10:11 AM |
---
Its tough to get it perfect without Beatles really.

I boil mine out then make a peroxide/baking soda paste to put on them.

What often happens though is you boil some fat into the skull and it will never come out but it still looks good just not amazing white like one done with Beatles
| | |
| --- | --- |
| rockport | 11-10-2014 10:32 AM |
---
Here is the latest couple I did that way
| | |
| --- | --- |
| DeerandbearhoG | 11-10-2014 12:04 PM |
---
The meat comes off easier if you let it rot a couple week. Keep it at a simmer rather than a boil and dont leave it in longer than 30 min, too long and the teeth a nose bone tend to fall out. best results are from picking meat off with a small knife and wire brush as oppose to boiling it off. I also like to open up the hole where the spine connects to the skull with a small saw or needlenose pliers to get the brains out.
---
1 Attachment(s)
How do you plan on mounting it when you're done with the processing? A lot of people use wire or even just a screw but I've found some mounting brackets on the web for real cheap. Best one I've used is from Heads of State Panels. Here's one of my skulls on their bracket...
| | |
| --- | --- |
| MudderChuck | 04-06-2015 07:31 PM |
---
I've seen a lot of guys mount theirs on a plate cut from a large birch tree. The guy who cut my mounting plates knew his wood, none have ever cracked. I've seen them wired on, one long screw through the skull or glued.

I trim off as much meat as practical and simmer it outside in a big aluminum pot, keeping the Rose, the Burr or base of the antlers (whatever you call it) out of the water. I had the Rose or base of the antlers partially dissolve once and discolor, I learned. I keep checking the water level and flaking the meat off. After a couple few hours you can use a screwdriver to start working the brains out. Getting the brains and nerves or whatever out of the sinus cavities can be interesting. You get in a rhythm after awhile, read the newspaper, check the head, watch the news, check the head.

The biggest trick is keeping the very end of the nose (cartilage) intact or as much as practical. Timing is important.

I think some discoloration is OK, I don't try for that white on white look, but I do use some peroxide. It is going to yellow some with age anyway.

I also keep the bottom jaw and glue it on the skull. Just because I like the look.

I tried doing it in the house a couple of times, the smell of simmering brains upset the wife some. :)
| | |
| --- | --- |
| RyanVT | 05-19-2015 07:34 AM |
---
Hey

1 Attachment(s)
| | |
| --- | --- |
| fastetti | 05-22-2015 07:15 PM |
---
I've done four and now the easiest way to do them is to send them off to a guy in Wisconsin that does thousands a year and when he is done, send him the $50 it cost. He uses beetles and they come out much better IMO.
| | |
| --- | --- |
| Rob in VT | 04-22-2016 06:43 PM |
---
Here is my 2015 Vermont whitetail on a Skull Hooker table top stand.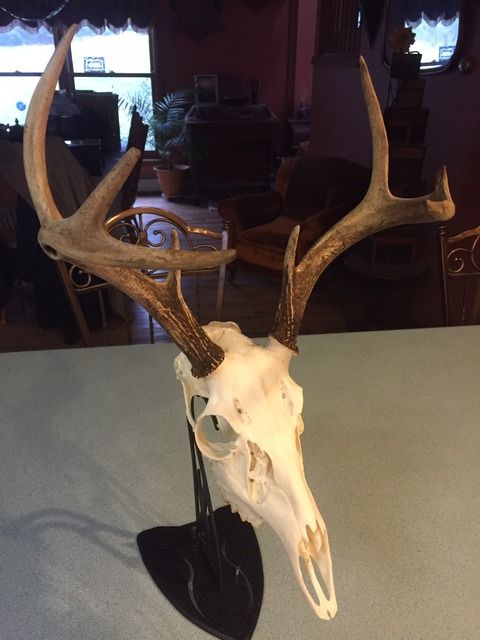 | | |
| --- | --- |
| Tufrthnails | 04-22-2016 06:48 PM |
---
Here in FL I stick them in the ground with a drum over them to keep the critters away for around 4 months then with light simmer it comes really clean. The peroxide treatment after that. I'm getting better with the peroxide mix. I ended up painting a couple I didn't like the uneven whitening on.
All times are GMT -8. The time now is

09:34 PM

.

Copyright © 2021 MH Sub I, LLC dba Internet Brands. All rights reserved. Use of this site indicates your consent to the Terms of Use.