Silence of the Limbs
12-04-2011, 06:58 AM
Nontypical Buck
Join Date: Feb 2003
Location: Heaven IA USA
Posts: 2,597
Silence of the Limbs
---
I was much younger when I first laid eyes on her and she was much older than I. That was not an issue for me, I was completely dazzled by her natural beauty, intoxicated by her unmistakable fragrance, and fantasized endlessly about what the possibilities of this relationship could bring about. The memories of our encounter would seductively call to me when I was working and visit me during the still of the night in my dreams. I longed to explore every inch of this American beauty, every curve, every rise, and every valley. I wanted to be alone with her, feel her touch, watch her breathe, and bask in the glory of her being. My lust knew no bounds. I was totally bewitched by these libidinous thoughts unmercifully placed in my head by the queen of all mothers, Mother Nature. I yearned for the day we could be together when she would "lay down", surrender to my will, give up her most intimate secrets, and lay them at my feet.
The day finally came when I secured permission to court my beloved. However it was made unmistakably clear to me that I could never own her for she belonged to another. Yes she would allow me in but I would either accept the fact that others would come and go or I could look elsewhere. Some would frown on that. There are those that would see this as a "deal breaker" but I saw it as an opportunity! I accepted the liabilities and started a relationship that I never dreamed could give me the thrills she has for about twenty years. I spent so much time with her that it drove most of the other guys away. They would see my vehicle parked at her place nearly everyday and leave her alone.
One would think she would have grown tired of me (more than one has), but every time I called on her she greeted me with the same loving enthusiasm as she did the first time we met. I spent endless hours with her hunting turkeys and deer. When I got to know her really well she began to relinquish secrets to me that apparently others had overlooked. Each season she pointed out places where I could strategically place a stand that would all allow me to take down a mature buck.
Countless mornings were spent listening to thunderous gobbles lighting up the valleys. It was after all, in her embrace that I learned to call turkeys. Numerous boss tom's paid the ultimate price as a result of her ability to make me nearly invisible. Many evenings were spent together in the darkness listening to the sweet serenade of the coyote. Yes, I felt like I had died and gone to heaven, life was beautiful! But paradise doesn't always last forever …
As with so many relationships problems often develop when one is absent for a period of time. I had been in Colorado hunting elk for a number of weeks when the trouble started. I got wind of it the day I got back. As soon as I could I jumped in my truck and ran to her side frightened of what I might find.
There was a plethora of emotions coursing through my being as I made my way to her location. I was jealous that someone else held this power over her but more than anything else I was afraid. Afraid that this final act would bring our relationship to an abrupt end. Afraid of the change it would make in my life and afraid of the huge void it would leave behind. In my mind she could never be replaced.
When I arrived and gazed upon her countenance I actually got nauseated. It was no secret our relationship would now forever be changed. In my eyes she had been defiled and the "trust" we shared between us had been breached. I was filled with anger and bewilderment. "Why?" I asked.
In reality she had no say in what had happened. She was silently being violated in the name of progress. Gashed, gouged, and gored she had never cried out. She never complained of misuse as she was being robbed of her majesty, and she never shed a tear. I would do that for her.
The machines that now possessed her real-estate ripped limb and root from her bowels in a numbing sort of shock and awe. The fruits of her labor over many decades now lay in waste, stacked up in mountains of broken limbs and trunks that reminded me of dead bodies. To compare the sight to the holocaust would indeed be sacrilegious I won't go that far, however what I beheld still ripped my heart out!
The smoke and haze from the burning of those "bodies" hangs in the air as a sad reminder there is a price to be paid for progress. I don't blame the young farmer for wanting to improve his bottom line. Who wouldn't want to make a better living for their family? It is just that when the entire State of Iowa is only 6-8 percent wooded one hates to see one hundred acres of timber torn down.
This years buck may very well indeed be the last one I will take from these falling timbers. There will be some side hills left but it will obviously never be the same as it was. I will however have this memory forever:
It was a perfect night for a bow hunt. There was a slight Northwest breeze with a bit of a nip to it. We were slightly past peek of the rut but chasing was still occurring. It was just about sunset when I caught the tips of antlers moving right to left through the brush about sixty yards in front of me. I called to him and he made a left hand turn which brought him closer to me.
It was immediately obvious that after 185 hours of sitting in a treestand and letting 51 bucks walk by this season, this was the one I wanted. As he made his way to my location I could see he was panting. Over the past several weeks he had no doubt expended large amounts of energy following powerful urges inside him that he never questioned.
His is a universe we understand very little about really. He possesses senses we can only dream about and to define what they are as well as their limits is really in the end only a guess. In our world we are guided among other things largely by logic, he survives among other things mainly by instinct. As it turns out his greatest strength is also his greatest weakness. Yes the thing that saves him one day can cost him his life the next---instinct!
I ready myself as he approaches and although he is now well within range I have no angle for a shot. He stops, a left hand turn brings him broadside to me and a right hand turn means his chances of living another day increase dramatically. He of course has no idea I am poised to reign judgment down upon his magnificent "horned head" at the first opportunity offered. Then for reasons only known to him ( I believe they call it instinct) he turns to the right and I feel things getting away from me in a hurry.
I give a long bbbbrrrrrrtttttttt on the grunt tube, he continues walking. I repeat, he stops, swaps ends, and heads my direction (I believe they call it instinct). My senses now begin to tingle with excitement. I fully expect to invade the space of this buck with my arrow. As he disappears behind a tree the string on my bow finds the corner of my mouth and the end of my old nose.
They say history repeats itself, perhaps it is true. When I was a young guy wrestling or playing ball the crowd noise vanished as I concentrated on the job at hand. As this magnificent specimen walked toward me the silence was deafening. At that moment the world consisted of two entities, him and me and nothing else. The calling of scolding birds, the chatter of mischievous squirrels, the clatter of dry leaves moving in the breeze all cease as it were to emit sound. My focus is burning a hole on a lethal spot on a good buck standing 10 yards in front of me, I now own the advantage.
The unsuspecting buck looks up at me but it is too late. The touch of the release causes a deadly chain reaction of irreversible events to be set in motion as the string seeks brace and the shaft is sent on a lethal mission. The silence is broken by the slamming of the arrow into flesh and bone.
This magnificent ungulate attempts to flee from the perceived danger but he only gets about forty yards before he stops to look around. From my vantage point I can see his "life force" literally being pumped out of him. He becomes unsteady and collapses on the spot. Game, set, match!
Truth be told, it is a bitter-sweet moment for this hunter. I am very thankful to be the one to lay claim to this four legged soldier that has successfully evaded so many hunters, eluded ruthless predators and survived vicious battles with his own kind over the years. I am honored to be the first human to touch this beautiful animal, but, if I could, if the Almighty gave me the power, I would revive him so we could play this same game again another time…..
Like many before him this buck's fate was brought to bear by the relationship of this doomed woodland to the hunter. It was as if the forest saved its best gift for last. Though the wind whistling through her limbs will be silenced and the majestic oaks traded for corn stalks, in the trails of my mind there will always be a multitude of fond remembrances of the decades of events that unfolded on this hollowed ground. I will forever be grateful for the lessons I learned in these hills for I have been the blessed recipient of this forest's gifts. There are those that judge the skill of a hunter by the size of his trophies. My experience with this timber tells me often times it is the land that "gives up" the trophy. Farewell Mother Woods.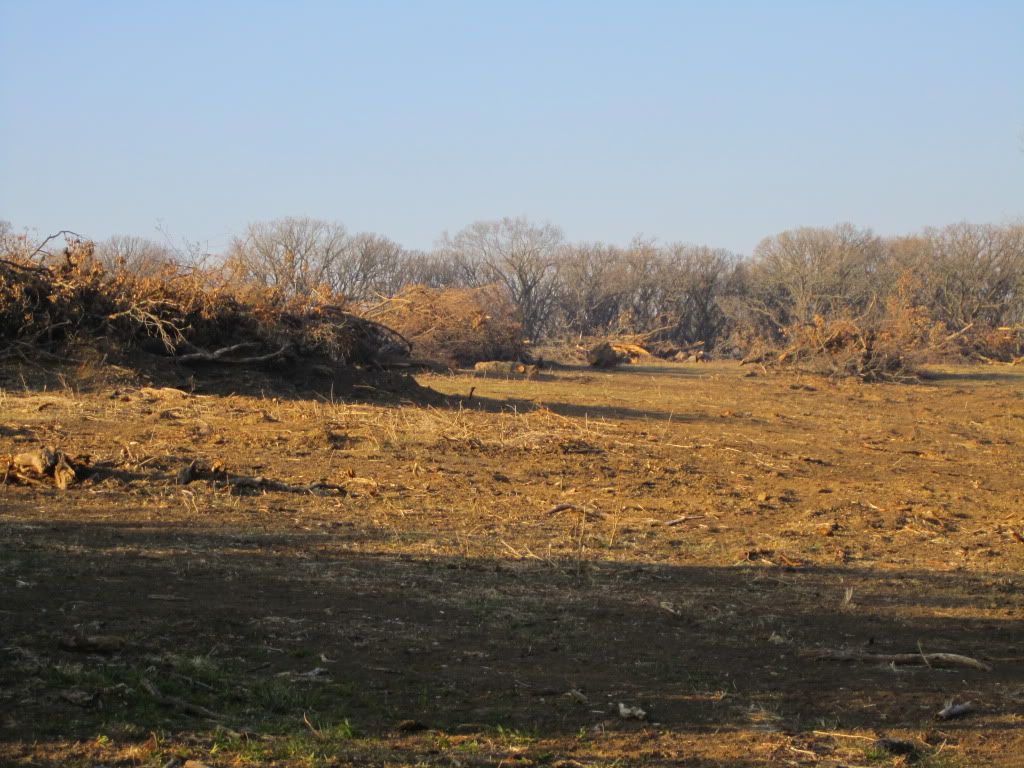 The beginning of the end for Mother Woods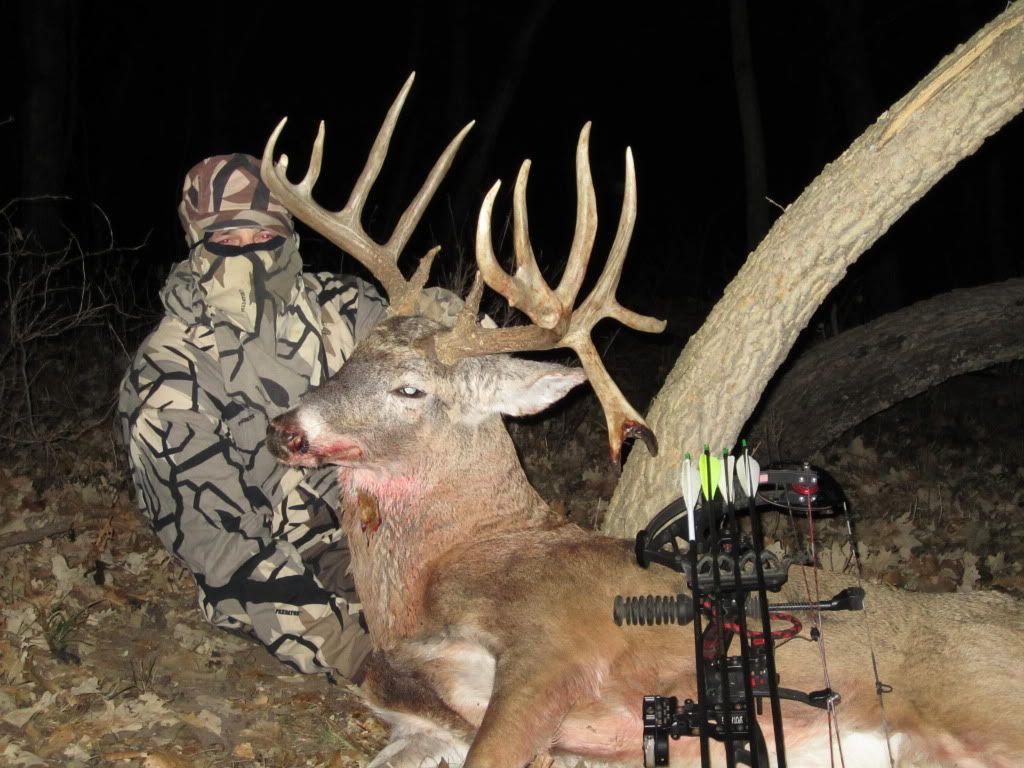 Mother woods final gift to me
12-04-2011, 08:01 AM
---
Great writing, enjoyed it very much. That is one slammer of a buck and will always be a great reminder of your "lover." I have the same emotions about my spots, even calling them the "Holy Land."

Blessings.......Pastorjim
12-04-2011, 06:16 PM
Fork Horn
Join Date: Oct 2007
Posts: 277
---
Wow, I don't even know what to say. Your story was so elequently written. There are alot of people out there that are just hunting and don't stop to relish the gift of mother nature. I've have always taken the time to enjoy my experiences in the woods and have never felt more at peace, then when I'm there. Congratulations on a magnificant animal, but even moreso that you've seen it as more that just a place to hunt.
12-05-2011, 06:15 AM