-
Bowhunting
(
https://www.huntingnet.com/forum/bowhunting-18/
)
| | |
| --- | --- |
| AK NIMROD | 01-25-2011 02:31 AM |
---
Please tip a cold one and say a prayer for AK NIMROD

Hello HuntingNet forum fellow bowhunters,
My name is Robert McCabe, Patrick McCabe or as know on this Forum as AK NIMROD"S son.
My Dad is at the Mayo Clinic in Rochester MN. He has been diagnosed with angio sarcoma a very rare form of cancer there is no medical cure. This has all come about in the last month and a half. Most in the last two weeks.
The following is from close hunting friend that was posted in the Alaska outdoor forum, thank you Jerry.


IN OBSERVANCE OF SO MANY OF PAT'S POSTS, I WILL DO THIS IN CAPS. IT TOOK A LONG TIME TO TEACH THAT OLD GUY THAT ON LINE IT MEANS YOUR SHOUTING, BUT I GUESS HE WAS JUST ALWAYS TRYING TO MAKE SURE WE WERE LISTENING.

HERE IS THE LATEST JOURNAL ENTRY FROM THE CARING BRIDGE SITE. HIS FAMILY IS ALL BY HIS SIDE, AND I JUST GOT OFF THE PHONE WITH HIS SON ROB. TIME IS SHORT FOR PAT, BUT HE WILL LIVE ON FOREVER WITH SO MANY OF US.

If only you can believe Dad. I will start out saying today has been a rough day for the family. Dad had visits from all his doctors today; the oncologist and the radiation oncologist both came in giving Dad his options for treatment. Those options are chemo or/and radiation. Dad declined both forms of treatment. His quality of life is more important to him at this point. The treatment they would be able to give him wouldn't be a fix to the cancer unfortunately. His cancer has grown alot and has spread onto the left lining of the lung. The cancer he has they are calling an angiosarcoma. It has rapidly spread in the last two weeks. So Dad decided to have his ventilator tube pulled, he was coughing so much and we believe that he was beginning to suffer. Unfortunately the family has prepared for the worse.
The tube was pulled, he coughed a little and then asked for pizza, a milkshake and beer. Can hardly believe it....well, Uncle Jack went to the cafeteria and got a pizza; ok stole a pizza cause the line was too long he'll go back later, the nurse ordered a chocolate shake and the resident Dr. has been trying to track down a beer. As for now things are going OK, he's very raspy and highly drugged but cracking jokes and asking where bingo starts. This fight is in GODS hands now.
Thank you all so much.
Keep him in your prayers and let's hope for the best.
Patrina and family.

To read more please go to Caringbridge.org Then in the web site new (right side of screen) type patrickmccabe


Thank you all in advance from a fellow bowhunter,
Robert McCabe :cry::cry:

| | |
| --- | --- |
| ronmc1954 | 01-25-2011 03:06 AM |
---
God and my prayers are with you AK NIMROD and your family.
God Bless

Ron
| | |
| --- | --- |
| ADVWannabee | 01-25-2011 04:38 AM |
---
Prayer sent.
| | |
| --- | --- |
| DeerandbearhoG | 01-25-2011 05:23 AM |
---
Very Sorry to hear that. Prayer sent.
| | |
| --- | --- |
| fshafly2 | 01-25-2011 06:22 AM |
---
Robert
I will raise a cold one to your father tonight!
I'll never forget the generosity Pat & your family bestowed on me, hosting my visit to Alaska several years ago. I will cherish the memories.
Respectfully,
Andy Pedersen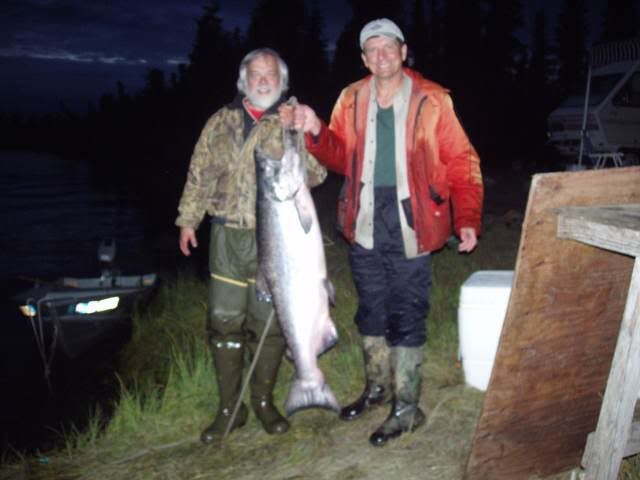 | | |
| --- | --- |
| matt068 | 01-25-2011 06:28 AM |
---
I feel your pain we are experiencing same thing w/ my father in law at this very moment May we both find peace and comfort in the prayers of the many great people on this site and love of our families God bless and consider a few tipped in his honor
| | |
| --- | --- |
| Schultzy | 01-25-2011 11:54 AM |
---
So sad! One sure wonders why the guy upstairs takes the good folks away while their still young. Many prayers go out to your family. I too will have a beer on you Pat!!
| | |
| --- | --- |
| lifesadrag | 01-25-2011 01:24 PM |
---
You got it! and prayers sent.....Very sorry to hear. God bless!
| | |
| --- | --- |
| stikbow26 | 01-25-2011 03:59 PM |
---
Prayers sent from Michigan and a cold one tip... May you and your family cherish the time that is left..
| | |
| --- | --- |
| buckhunter_31 | 01-25-2011 04:45 PM |
---
sorry to hear about that i will keep him in my prayers and have a beer for him.
All times are GMT -8. The time now is

09:34 AM

.

Copyright © 2021 MH Sub I, LLC dba Internet Brands. All rights reserved. Use of this site indicates your consent to the Terms of Use.