Halloween buck w/pictures and story (as promised
11-02-2010, 12:59 PM
Halloween buck w/pictures and story (as promised
---
Here is the story with better pictures folks. Showed up at the property I hunt around 2:30pm, as soon as I get out of the truck I hear way off to the west a chain saw running "darn, I forgot the landowner told me she was cutting deadfall Sunday".
I sit on the tailgate of the truck and decide heck with it I am here may as well hunt, I will go to the creek/swamp stand (farthest stand from were they are cutting). I get in stand around 2:50, I text a friend and tell him what is up and I may just head home and do some honey-do chores to keep the wife happy. He responds "your there, may as well stay, maybe they will finish up soon". My text back to him was " yeah, may as well stay".
Now I am settled in for the next three hours not expecting much of this evenings hunt. As I pondered life and how thankful I was to have property to hunt I suddenly realized the chain saws had stopped and it had been awhile. Quick look at the watch and it is 3:50, "Hmm, maybe I will get lucky and a young doe will wonder by".
I sat until 5:15 not seeing anything until I happen to look up the small hill and a little off to my left, There is a big bodied deer moving down through the thicket heading for the swamp. I quickly stand, turn and ready my bow, the deer entered and exited my one opening for a shot fast, he was moving with his nose down to the ground and was clearly on a mission.
As he exited the thicket and entered the swamp I heard him splashing through the water, I grunted hard once and instantly the splashing from his quicken pace stopped. I grunted again and the splashing starts again but I can tell it is coming back out of the swamp. Luckily I am one of those guys who ranges everything as soon as I get secure in stand, "28 yards I tell myself if he comes back out the way he went in.
Bingo, he pops out on the exact same trail and stops but I got a problem, NO CLEAR SHOT !!! I bend down, steady myself find a small hole to shoot through and let the arrow go for my only shot which was a mid to high lung shot. WHACK, the arrow hits him and he falls to the ground. He got hit high shoulder from a slight deflection off one tiny leaf. He expired rather quickly and I soon was down off my stand standing over him thanking the good Lord for the chance to hunt such a marvelous animal.
35 years I have bow hunted and for 33 years ( 2 years could not hunt due to military deployment) I always wanted a halloween buck. Finally this long term goal has been accomplished. Enjoy the pictures, will score him as soon as possible.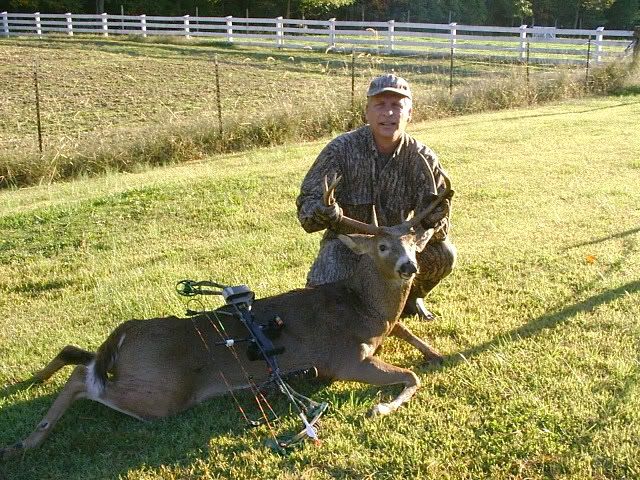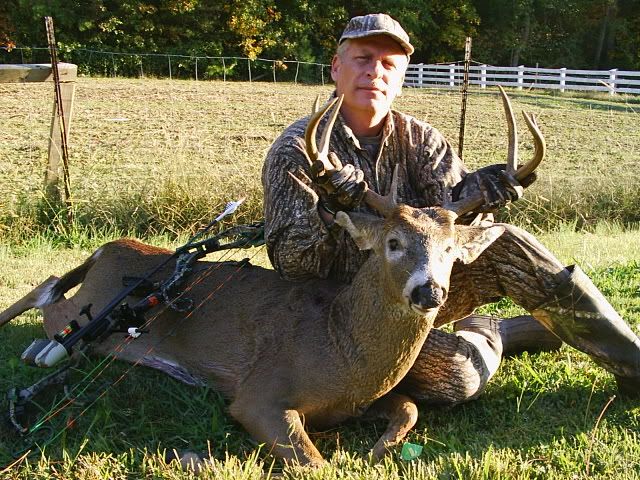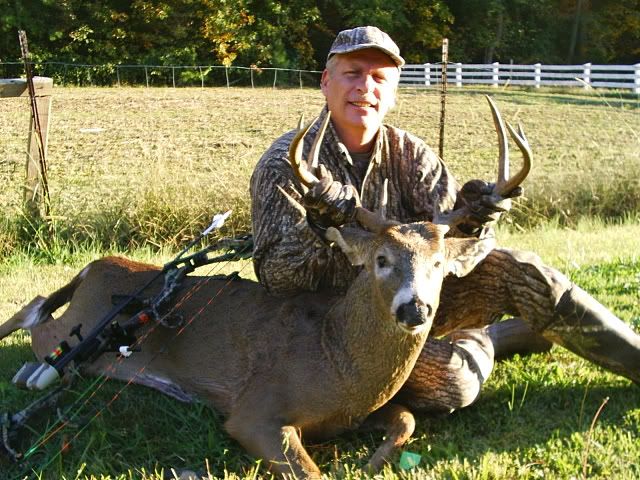 Team #7
Dave
Posting Rules
You may not post new threads
You may not post replies
You may not post attachments
You may not edit your posts
---
HTML code is Off
---