Long road to Kansas Buck!
10-26-2010, 07:38 PM
Long road to Kansas Buck!
---
May of 2009 found my daughter and son in law pulling up in the yard with a 24' truck to move my wife back to Kansas, with me following later after doing some painting (fly fishing the Hex hatch) and laying some hardwood floors.
Many of sleepless night I had thinking of some of the monster bucks I had seen in Kansas when I had lived there befor, and I knew I would need to find new places to hunt on private ground but had figured I could always get a permit to hunt Ft Riley where I had taken a couple of good bucks befor, Little did I know they had changed to a limited number of permits and that I had got there to late to get one!
The wife had got us permission to hunt a 160 here at the house befor I got there but as big as that sounds, this is farm land and just did not provided room for more than a few stands.
With less than a month till season opening, I had no where to hunt, lucky I went down to scout out some public land south of us and stoped to help an old man load some fire wood, come to find out he owned alot of the land around the public and was good enough to let me hunt. Not a great place, but I didn't need to worry about someone setting a stand up right by me.
2009 season, long story short.
The wife ended up getting shots at 2 differnt bucks in 2009. One, her arrow had sliped thruogh the prongs on her rest and she hit right in the ground at the hoof of the first buck and the second she just misjudged her yardage and skint the brisket. She had several other encounters with one we call Shooter but no shots were ever offerd.
As for me I ended up passing on 2 great bucks but both had broken racks. To top it off I ended up having a Heart Attack near the end of the season and had to quit hunting for the year.
In 2010 we picked up another 160 acres to the east and spent most of our spare time looking for Shooters sheds. Even though we did not find them, we learned as much as we could about where all the rubs, scrapes, traviling routes and bedding areas were.
By the time season started I had me a Ft Riley permit and the wife had 6 Bucks on her hit list withen 2 1/2 squares of the house to hunt.
Shooter
Big Wicked (Ugly)
Flyer
Pistol Peet and
Big 6 #1 & 2
Early season provides lots of action around the wifes stands but just cant drop the string on one of the big ones, she has passed on 2 does and a 7 & 8pt so far.
Then it gets crazy, she gets crop dusted twice, then caught in the middle of a cattle round up, to top it off someone puts their stand up withen a hundred yards from her on the neighboring property cutting her off from a west, northwest wind, bedding area travel route.
I had planed on putting my stands up on Ft Riley the weekend of the 23rd but the wife told me I should hunt with her and try to kill one of the big ones by the house befor someone else did.
Wednesday found me scouting a spot for one of my stands on a wooded fence line (40 yards wide) kind of in between a bean, alfalfa, and silage field. I found a good tree in no time and also found a great spot to hunt off of the ground. I learned along time ago to never scout without your bow and decided to take advantage of the northwest wind and hunt that spot right then off the ground.
An hour would pass till I seen a big Coyote pop out of the silage a little over 30 yards in front of me and I started to shoot it, then thought to myself the temperature is droping and Big Ugly is going to show. I pulled my Stratten Grunt Tube out and gave it one long and 2 quick grunts watching the coyote to see if he had a reaction from it, now over 100 yards away. Something caught my attention over my left shoulder, a dam squirrel, I turned back just in time to see Big Uglys head coming through the gap between the silage and the weeds along the fence line, He's bigger than I thought!
He takes 2 maybe 3 steps out in the open and looks right in my direction where the grunts had come from, it was then I rearized what the wife ment when she said its head looked like a pea under all that bone!
He puts his head down and continues to travel the worn path in the alfalfa along the fence line going to his scrape, I know if I don't get an arrow in him befor he gets to the trees on my left I won't get a shot. I get the old Hoyt Pro Elite drawn and get him stoped but just as I release a snuffer guided Gold Tip in his direction he takes a step, then runs about100 yards out into the alfalfa field with his tail up, stops and looks back in my direction. Right about the time I'm thinking to myself there is no way in hell I missed a 26 yard shot I seen him stagger to the right, I think to myself he's going down and then he turns and walks back towards the fence line flicking his tail.
I wait about a half hour till I got about 10 minutes of good light left and sneak out to look for blood, NONE!
Not seeing where the arrow hit and not finding any blood, it was a no brainer to go to the house, after checking to make sure the weather was going to hold out for me, I setteled in for a sleepless night.
It was all I could do to wait for good light Thursday morning. I found 3 drops of blood and that was it, even where he had stood in the field there was none. I checked up and down the fence line that he had to jump, no blood.
Knowing their travel routes I knew if he did not double back he would go accross the low spot in the bean field to get to a creek crossing and head east. I could not find a speck of blood across the bean field but soon as I peeked over the bank of the creek there he lay.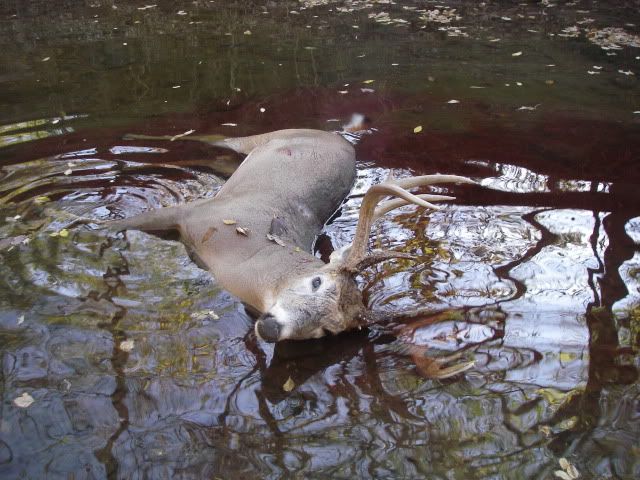 The wife says I owe her big time now! Good luck this season
.
10-27-2010, 04:44 AM
Nontypical Buck
Join Date: Feb 2003
Location: Heaven IA USA
Posts: 2,597
---
Great Story Sliverflicker!!! Loved it.

Even on a "scouting trip" one never knows what might come down the trail. Just goes to show it is hard to beat those life lessons we call experience, good job!

Outstanding buck, what a monster!!! Congratulations big time.
---
Last edited by Antler Eater; 10-28-2010 at

04:00 AM

.