If it had been rifle season, I'd have the biggest buck of my life...ever happen to u?
10-13-2010, 04:57 AM
---
You have to shoot what you feel comfortable with. My hat is off to you for not taking a shot that you where not good with and end up possibly wounding and never finding it, then you don't get a second chance at him. Everyone is different with what they are comfortable with. Only shoot to you and your equipments capability, and that makes you and ethical hunter, JMO..... Its hard to hold off on a monster. I hope you get another chance at him....
---
Last edited by V8Ranger; 10-13-2010 at

09:10 AM

.
10-13-2010, 08:32 AM
---
i think just about every bowhunter has had that big one just out of range. last year was my brush with my big 10. i snort wheezed him into 43 yards and wasnt comfortable with the distance being on the ground. i heard the leaves crunching but didnt draw as he appeared out of the corn field. he turned and walked away. i just froze bc i didnt want him seeing me and take the chance of running him off the property. hopefully ill get him this year.
10-13-2010, 11:52 AM
Nontypical Buck
Join Date: Feb 2003
Location: Harford Co Maryland USA
Posts: 4,966
---
I can even count how many times that's happened to me real trophies inside EASY gun range, but no bow shot. Last time for me was last Saturday evening and the same reason -- 15 yards away and facing me straight on. And he was HUGE!

I feel your pain!
10-13-2010, 12:14 PM
Fork Horn
Join Date: Sep 2010
Location: Kansas
Posts: 190
---
just last friday i was sitting on the road that the deer cross from there bedding area to there feeding area and i thought i sat within range of where they crossed but i had a 10 pointer jump the fence a hundred yards away and im by no means robin hood, its frustrating but oh well if i dont get a monster buck with my bow this year i know i will get one during rifle so im ok with it. although i was watching the sportsman channel last night and watched a guy put the smack down on a mulie at 88 yards with a bow i couldnt believe he was taking that shot but it did pay off for him
10-13-2010, 01:08 PM
Fork Horn
Join Date: Dec 2008
Location: Wisconsin
Posts: 320
---
A couple of years ago I had the largest buck I've ever seen while hunting walk 50-60 yards away from me. That's way outside my comfort zone, so I didn't take a shot, even though it pained me to watch him go on his merry way. The real kicker is I had a good feeling about that trail based on my scouting, but there wasn't a suitable tree closer to the trail for my climbing stand (either too small or too big). Stand placement is everything.
10-13-2010, 04:47 PM
---
I hear your pain!! In the 15 years I've been hunting with a recurve I could damn near of filled my walls with P&Y bucks going from 130 to 150 Inches If I was still shooting a compound. My max range Is right around that 20 yard mark give or take. Most of these bucks that I had to pass on were In that 20 to 30 yard range. Frustrating It can be but that's bowhunting and that's what happens when you shoot a short range bow like I do.

I love the challenge though!! I just need to step It up more as a bowhunter.
10-13-2010, 05:31 PM
---
Had this guy at 160 yards last year while hunting with a bow. 180" 10 point... I wanted a rifle so bad I could cry, but at least I came out with some pics on my digital camera. Not great pics because the camera didn't have a zoom lens, but you get the idea. Just part of bow hunting man! Get used to it, it will happen again..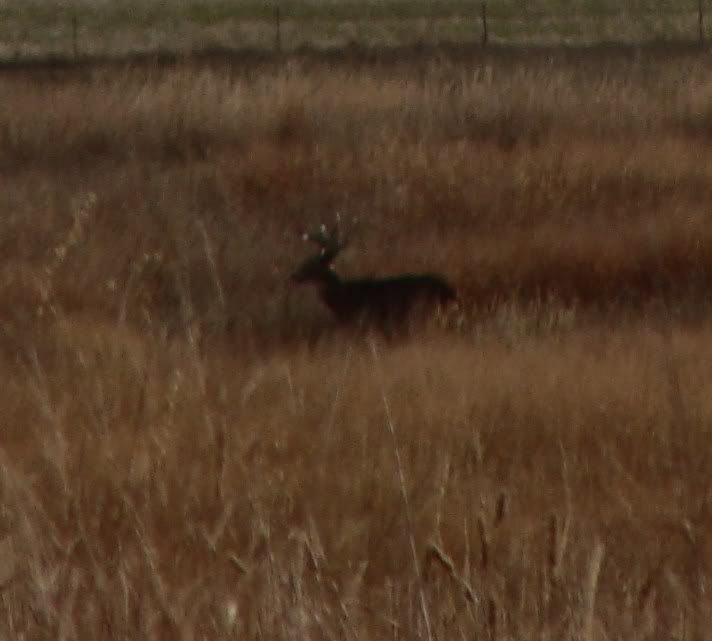 10-13-2010, 09:32 PM
Fork Horn
Join Date: Oct 2007
Location: Tuscaloosa, Al
Posts: 313
---
yea i know your feeling. last year i had a big 10 come in just right out past 40 yards very slight quartering away. I can shoot very well at 40 yards on a target getting 2-3 inch groups but with all that adrenalin i dont feel comfterble shooting a deer out that far. Sad thing is he never came any closer and i aint seen him again!! But i have respect for you not taking that shot. its hard not to do that when you got the biggest deer ever right on you!!! but i hope you get another chance at him good luck!!
10-14-2010, 05:07 AM
---
Quartering to you shots are never a good idea. I personally have never seen one work out. And if you say there isn't any bone there well I don't know what to tell you. The shoulders, breast plate, scapulas are all in that area. You only have a baseball size hole to shoot through if you are shooting the front of the deer. If you are trying for the heart on a quartering to deer, you have the shoulders and leg bones blocking you. Low percentage.

Good job on not taking a risky shot.